Actionable data insights for Medicare
Reveal the impact that AI can have on filling gaps in the complexities of patient programs and the complete healthcare customer experience.
Read More
Watch a demo to learn how Authenticx analyzes customer conversations to surface recurring trends and meaning.
"]
Your patients are talking. Are you listening?
Drill down and pinpoint specific areas on the member experience to understand brand detractors and communication gaps to improve the open enrollment cycle.
See Authenticx in Action
Why Are Star Ratings Important To Medicare Advantage Plans
Medicare Advantage plans, or Medicare Part C plans, are Medicare plans that are offered by private companies and may attempt to bridge gaps between other Medicare plans, such as medicare part A and B. These plans are an alternative to original Medicare, cover everything original Medicare does, and often enable holders to receive coverage for a wide range of potential medical services and needs. So, why are star ratings important to medicare advantage plans?
They can offer coverage beyond that of original Medicare, and they can be an important part of retirement for many individuals. Medicare Advantage plans will typically cover everything covered in a traditional Medicare plan, plus may offer additional coverage such as for dental, vision, and hearing.
When searching for the perfect medicare advantage plan, you may have noticed that there are star ratings assigned to each one. Or, if you haven't noticed, you may be interested to know that there are. CMS star ratings for health plans can be highly important to individuals looking for the right medicare advantage plan for their needs. So, why are they so important to medicare advantage plans?
For one, they can offer you a simple way to compare the relative potential merits of various plans without the need to metaphorically compare apples to oranges. While not all Medicare Advantage plans may offer the same coverage and benefits, Medicare Advantage star ratings are standard, so they can be used to compare plans.
These Medicare Advantage plan star ratings are standardized and overseen by The Centers for Medicare & Medicaid Services–or CMS–and they range from 1 to 5 stars. They're based on a range of factors, such as costs, quality of care, and people's satisfaction with the services.
Though these won't necessarily tell you what the best and worst Medicare Advantage plans are for you, they can help you get a better idea of how they might suit you. As you search for the perfect plan, you may find that it's beneficial to look at CMS star ratings. Medicare Advantage plans can vary greatly, however, so it'll also be important to remain mindful of what type of coverage you'll need and what your budget is.
CMS Star ratings for plans can be an important part of your search for the right medicare advantage plan for your unique needs. Since choosing the right Medicare Advantage plan can affect your life significantly, star ratings of various plans can be quite helpful in helping determine which plan may fit your needs the best.
What Are Medicare Star Ratings
So what are Medicare star ratings? Medicare Advantage and part D star ratings are designed to indicate the relative performance of different available Medicare Advantage plans. They range from 1 to 5 stars and indicate levels of quality ranging from poor to excellent. The CMS uses information such as the experiences of previously enrolled users to determine these ratings, and they're updated annually, so they're, generally speaking, fairly up to date.
Though star ratings might not tell you exactly what benefits a plan offers, what coverage it offers, or how much it costs, they'll help you better understand how the experiences of enrollees have gone in terms of quality and satisfaction. This can be extremely helpful when navigating the sometimes complex process of finding the right plan.
Though they can be highly useful to those looking for the right Medicare Advantage plan, CMS star ratings can be useful for more than just finding the right Medicare Advantage plan or Medicare Part D plan, as CMS star ratings aren't only used for Medicare Advantage and Medicare Part D prescription plans.
There are also CMS star ratings for hospitals. These ratings may help you assess overall hospital quality. Star Ratings for hospitals take into account several factors–mortality, safety, readmission, patient experience, and timely and effective care.
Overall, CMS Medicare star ratings are a highly useful tool–one which can help you better navigate the sometimes confusing process of evaluating plans and finding the perfect one for your unique needs. However, they won't tell you everything you need to know about the individual plans–just their rating. It will still be important to spend some time thinking about what your needs are, what your budget is, and other relevant factors. You'll also want to gain an understanding of what coverage and benefits various plans offer.
What Measures Are Included in Star Ratings
We've already discussed a little bit about how CMS star ratings for Medicare Advantage plans cover important measures that help them create a standardized system that enrollees and prospective enrollees can use to compare different plans. We also discussed what measures the CMS star ratings for overall hospital quality take into account. So what measures are included in star ratings? And how are Medicare star ratings calculated?
While medicare advantage star rating methodology can be quite complex and may be subject to change, we can explore a few of the factors that are considered when these star ratings are created. If you're wondering how are CMS Star ratings calculated, it can get a bit confusing. The CMS explains that Medicare Advantage with Part D plans is scored using up to as many as 38 performance and quality measures. The weighting of some of the measures may change over time.
Measures vary greatly and include things such as customer service, rating of healthcare quality, and getting appointments and care quickly. They also include measures such as care for older adults, breast cancer screening, reducing the risk of falling, care coordination, annual flu vaccines, and much more.
In general, measures used on the CMS star ratings for Medicare Advantage plans pertain to important considerations for many Americans. They can help you better understand what level of care quality you might expect from a certain plan.
All in all, the star ratings take into account a staggering amount of measures in order to bring users a comprehensive understanding of a potential Medicare Advantage plan. Using these star ratings, you may be able to get a better idea of how different plans might work for you.
How It Works
Gain a deeper level understanding of contact center conversations with AI solutions.
See a Preview
Aggregate
Pull customer interaction data across vendors, products, and services into a single source of truth.
Analyze
Collect quantitative and qualitative information to understand patterns and uncover opportunities.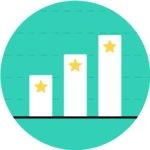 Activate
Confidently take action with insights that close the gap between your organization and your customers.
CMS Star Rating Lookup
CMS Star ratings can be quite helpful to those looking for a Medicare Advantage plan. We've explored a bit about how they're created, as well as what they can help you understand about different Medicare Advantage plans, but–where do you find these ratings? Fortunately, there's a CMS star rating look-up option. Through the Medicare Finder Tool supplied by the CMS, users are able to use their zip code to find Medicare Advantage plans as well as CMS star rating data.
If you're wondering where to find CMS Medicare Advantage star ratings, you'll want to start by using a web browser to navigate to the CMS website at CMS.gov. From there, you can navigate to the Medicare Finder Tool. Here you'll see two options. You can either log in or enter your zip code. From there, you'll be able to see various Medicare plans, and in the case of part C and part D plans, you'll also be able to see their CMS star ratings.
It's important to always double-check the URL at the top or bottom of the webpage and ensure that it ends in a ".gov." If you're ever unsure, you can always navigate to CMS.gov. From there, you'll be able to find the Medicare Finder Tool.
Medicare Star Rating System
The Medicare star rating system is an excellent framework and tool that enables you to better understand the wide range of options available to you when it comes to Medicare Advantage plans. The Medicare star rating system is standardized, uses enrollee data, and is overseen by a government entity, so it offers you an even-handed view of the various quality ratings of different Medicare Advantage plans.
Medicare Advantage and Medicare Part D star ratings can help narrow down the search between different plans that offer the coverage you want and more. With Medicare Advantage star ratings explained, you may wonder how you can find the highest-rated plans.
5-star ratings, the highest achievable, maybe the thing you're looking for, but first, you'll want to check and make sure that there are any in your state.
If you're wondering what states have 5-star medicare advantage plans, you can find that information on the CMS website. You may also be wondering how many 5-star Medicare plans there are. The truth is, this is a hard rating to acquire, and they may be more difficult to find. Plans with a 5-star rating will have a special symbol on them, which you can read more about and view here.
Fortunately, there also may be a special enrollment period that allows you to switch to a 5-star plan around the end of the year. To learn more about these ratings, you can check the CMS Stars technical notes here.
However you go about your search, by better understanding the CMS Medicare Advantage star system, you'll be able to better navigate the process of finding the perfect Medicare Advantage plan for your needs.