Tell the 'what' and 'why' of CX.
Bring data to life, connect to concepts valuable and personal that balance technological innovation and the impact how healthcare understands the customer journey.
Tell Stories with Data
Find honest thoughts and feelings of your customers with existing conversational data to transform your CX. Download the guide!
"]
A Qualitative Analysis of the Entire Patient Journey
Using Authenticx AI, a life sciences company was able to remove patient barriers to improve sentiment and adherence rates.
Read the Customer Story
Customer Support Solution
Customer support is the lifeblood of any industry that serves customers. However, in healthcare – it can appear a little differently on the outside. A patient isn't really a customer, are they? While some might say no, many economic and healthcare professionals have argued that healthcare is becoming more commercialized than ever. With the rise of telehealth and other remote healthcare options, patients are realizing that they have options when it comes to healthcare – and they choose where to spend their dollars very carefully. 
The patient experience doesn't just begin in the doctor's office or even in the waiting room – the patient journey begins when they discover a healthcare provider. It might be through social media, a flyer, a search ad, or any other means of discovery. From that moment, every interaction a patient has with a healthcare organization informs their experience and impression of the brand. It's important to track as many elements of the patient journey as possible through a comprehensive customer support solution. 
In the same way that the patient journey begins far before the examination room – it also doesn't end there. Patients who are coming home from a doctor's visit have often been given some kind of instruction, prescribed medication, or received some type of service, like vaccination or well-checkup. A patient engagement solution can stick with a patient as they process their appointment and assist them with any questions they may have. 
There are a few different ways that a patient support solution might look like in practice. It may look like a patient portal, where patients can communicate directly with their health team and acquire relevant resources for their diagnoses and health information. Other types of customer service applications may not be as visible to the patient, however, the insights gleaned from them can still have a big impact on the patient's experience.
Some customer support solutions, like Authenticx, encourage healthcare organizations to take advantage of conversations that are already happening via their official channels like phone and email. Authenticx is a conversation intelligence platform powered by AI that is capable of identifying and sorting conversation trends like poor bedside manner, calls constantly being rerouted or dropped, and more.
Healthcare customer support solutions empower healthcare professionals to provide patient-centered care while improving their services and offerings. Many customer support solutions help healthcare providers get to the core of what patient-centered care really is – who are their patients, and what do they want? If a healthcare organization doesn't have quality information about their patients, it can be difficult to tailor care solutions specifically for them.
Customer Tools
There are a few different kinds of customer tools that healthcare organizations can use to take control of the patient experience and do their best to ensure that they are providing high-quality care. Here is a list of customer service tools and management tools that are often used in a healthcare setting:
EHR – short for Electronic Health Record, EHR software is one of the most popular customer support tools. An EHR doesn't only serve the customer – it helps everyone in the healthcare organization keep the information up to date, easy to follow, and protected. An EHR allows a healthcare provider to enter new information into a digital record that transfers with the patient wherever they go so that all new healthcare providers have access to the same healthcare information.
Another customer support tool is a patient engagement portal. While we mentioned patient engagement portals briefly before, they are one of the best customer support tools a healthcare provider can utilize in providing patient-centered care. Patient engagement portals can also be an important touchpoint for customer experience marketing and customer experience surveys. Patient engagement portals are meant to be central hubs for patients when they are not at the doctor's office. Patients can communicate directly with their care teams and ask questions about medication, care routines, and more. This type of communication is vital to a patient's health journey – it's important that they feel heard and listened to. 
Other types of customer service tools and software include tools like Authenticx, which transforms data collected from conversations that are already happening and transforms it into usable action points that healthcare providers can use to improve the patient experience.
There are lots of other kinds of tools and software that may appear on a customer service tools list, such as a help ticketing system, live chat software, and more. It's important to identify which kinds of tools would be most helpful for your healthcare organization or to choose a provider with a comprehensive suite of tools.
How It Works
Gain a deeper level understanding of contact center conversations with AI solutions.
See a Preview
Aggregate
Pull customer interaction data across vendors, products, and services into a single source of truth.
Analyze
Collect quantitative and qualitative information to understand patterns and uncover opportunities.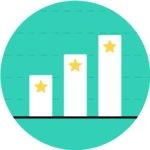 Activate
Confidently take action with insights that close the gap between your organization and your customers.
Types Of Customer Service Systems
The types of customer service systems that a healthcare provider employs can have a big impact on their customer experience and patient journey. This article published by Time Magazine identified a common phenomenon patients experience as "patient burnout." Patients in the US are waiting longer and longer for appointments that last maybe 30 minutes, and then receive large bills for quality care that they don't feel they received. The U.S. spends more per person on healthcare than any other developed country in the world, but they have some of the lowest satisfaction scores and achieves below-average health outcomes. 
This gives healthcare providers a lot to live up to in terms of customer experience and the patient journey. While these made a small appearance on the customer service tools list previously, help desk software or ticketing system software is one way that healthcare providers attempt to provide quality care for their patients. Customer service CRM software is another commonly used tool that healthcare providers can use to monitor the patient experience as a whole. It can be used for contact management and ticket management. It also provides an interaction history and allows multi-channel support such as phone, email, chat social media, and more.
This software can be useful, however, it often requires a lot of work on an analyst's behalf to identify meaningful trends through the ticketing system and determine what kind of impact they are having on the patient experience. They are best used in partnership with a social listening tool or some other kind of AI-powered software that is capable of identifying trends through conversation and packaging that data into easy-to-understand reports and dashboards. 
The challenge lies in translating the data generated from other customer support solutions into actionable insights. Healthcare providers must delve into the collected information to uncover patterns, preferences, and pain points within the patient journey. This kind of work is highly detailed and often requires specialized staff to perform. However, AI advancements like the kinds utilized by Authenticx offer data-driven insights through conversational intelligence. AI technology can process patient feedback through channels that are already occurring, such as patient portals, customer support calls, emails, and text messages. 
The integration of AI-powered tools alongside other customer satisfaction systems that are currently in use will likely lead to the best outcomes.
Customer Experience Platform
Of all the support software examples we've explored today, it's important to identify a comprehensive solution that will have the biggest impact on patient experience. If a customer experience platform doesn't provide a straightforward way to learn from it and apply insights to the future of a healthcare organization, it's not performing as it should. 
Authenticx is a customer experience platform that makes it simple to tap into the conversations your patients are already having and gain valuable insight. Authenticx is a top customer service software for its AI-powered abilities to provide valuable information across multiple healthcare sectors including customer experience, marketing, insurance, and more. 
Authenticx includes multi-channel support, analyzing conversations by phone, email, and more. It maximizes the benefit of conversations that patients are routinely having with healthcare staff or vendors (call centers). This type of real-time, unsolicited feedback can be a gold mine for operations leaders, experience leaders, marketing leaders, and more.
Authenticx provides next-generation text and sentiment analysis. Their natural language processing algorithms were built specifically for healthcare. The key features such as autoscoring, Smart Predict, Speech Analyticx, and others work together to provide expert insights into customer data with incredible context and accuracy. Authenticx can not only be used to improve the patient experience but it can also be used to evaluate the quality of healthcare vendors such as call centers and determine if they're detracting from the brand as a whole.
Real-time analytics and reporting are other features that make Authenticx one of the best options on a customer service tools list. While it is not a CRM in itself, Authenticx is the perfect complement for the best CRM for customer service. Real-time analytics and reporting allow leaders to make changes where and when necessary, instead of waiting for quarterly reports. 
Voice of the Customer is also an essential aspect of a customer experience platform. Authenticx knows and understands the Voice of the Customer. Authenticx takes the VoC and translates it into data and easy-to-absorb information. Healthcare providers can see at a glance what is most important to their customers, where the healthcare organization is falling short, and what might solve the problem. VoC dashboards make it easy to find CX disruptions (eddies), which are places in the customer experience where your patients are getting stuck.
Authenticx is also helpful for increasing compliance standards and monitoring them. Because Authenticx handles sensitive healthcare information, it must be HIPAA compliant and is very careful about its digital security.