Insights that speak to the head and the heart.
Authenticx generates NLU algorithms specifically for healthcare to share immersive and intelligent insights.
Learn More
Authenticx analyzes customer conversations to surface recurring trends.
How are you currently monitoring patient satisfaction?
Collecting data is only part of the equation. Understanding begins by listening and engaging with the story your patients are sharing.
See Authenticx in Action
Over 50,000 customer interactions demonstrate how pervasive disruptions in the healthcare customer journey continue to be.
Patient Satisfaction in Healthcare
Patient satisfaction is becoming more crucial to healthcare practitioners. Many healthcare providers are placing a higher priority on patient satisfaction and quality of care.
In recent years, patient satisfaction has gained traction in the healthcare industry. Patients want to become more involved in making important decisions regarding their health. They may also anticipate higher commitment and dedication from their healthcare providers. As a result, healthcare providers need to tailor their marketing strategies to meet patient expectations.
Why is patient experience important? To answer this question, it is necessary to understand why patient satisfaction in healthcare matters. Patient satisfaction relates to how well a patient is being treated. This may include both the quality of care as well as the patient's level of happiness with the treatment provided. Patient satisfaction gives healthcare providers critical information on their quality of care and an understanding of patient needs.
Many healthcare providers consider patient satisfaction a priority and regard patient happiness as a key criterion for success. Clinical outcomes, patient loyalty, and claims can be influenced by patient satisfaction.
While medical professionals such as physicians and nurses provide direct clinical care, there are other aspects of the healthcare delivery system that interact with patients outside of the treatment rooms. These may include patient registration teams contacting patients prior to procedures or admissions; calls to obtain insurance clearance before beginning with treatments; other calls to settle billing and payment concerns, and sessions with a social worker or a nurse during and after patient treatment to ensure that patients are recuperating well and are following doctor's orders, among other things.
As an artificial intelligence (AI) software solution provider, Authenticx can analyze conversational data at scale to bring actionable insights to an organization.
How to Improve Patient Satisfaction in Healthcare
There are several ways on how to improve patient satisfaction in healthcare.
One of the strategies to improve patient satisfaction is for healthcare providers to address any issues by leveraging technology to review their plans and track all encounters, which can be beneficial both for them and their patients.
At Authenticx, these disruptions are termed an Eddy Effect. The Eddy Effect occurs when customers experience frustrating interactions along their customer journeys. Identifying these disruptive 'Eddies' can be an important first step in learning ways to improve patient satisfaction.
When clients return to a company following a disruption in their customer journey and experience the same Eddy Effect, they feel "stuck" in the same cyclical problem.
These Eddies waste company resources, frustrate customers, and create a negative impact on provider care. Authenticx can help healthcare companies humanize their customer interaction data at scale. Eddies that may be hidden within customer interactions can be detected by Authenticx's consumer listening platform, which combines AI technology with human analysis with creative ways to increase patient satisfaction.
Authenticx can analyze a vast amount of customer conversations to uncover the symptoms of Eddies in the customers' own voice. Authenticx helps organizations identify the underlying causes of these Eddies so they can take appropriate actions to fix issues and improve their brand experience. This can help reduce turnover rate and increase patient retention.
Importance of Patient Satisfaction in Healthcare
Why is patient satisfaction important in healthcare? While healthcare organizations may strive to achieve patient satisfaction, it can be hard if they are unable to do much with the customer data they collect. Clinical and financial outcomes often take precedence over patient satisfaction, and this can reduce patient experience to clinical evaluations. Care can start to feel impersonal and the significance of patient satisfaction may be overlooked.
Each patient has a unique set of worries, needs, and traits. Thus, personal connection and compassionate care should be prioritized when providing healthcare.
How It Works
Gain a deeper level understanding of contact center conversations with AI solutions.
See a Preview
Aggregate
Pull customer interaction data across vendors, products, and services into a single source of truth.
Analyze
Collect quantitative and qualitative information to understand patterns and uncover opportunities.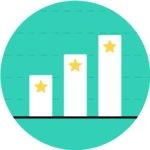 Activate
Confidently take action with insights that close the gap between your organization and your customers.
Tools to Measure Patient Satisfaction
One strategy to improve patient experience is to create a helpful online presence that reflects a healthcare provider's branding and utilized to attract prospective patients. With these patient satisfaction indicators, patients can find out what to expect from a certain provider before scheduling an appointment. Patient testimonials can also be included on a website which can help develop trust and build credibility.
Providers may also utilize an online tool for scheduling appointments, with many patients preferring to book appointments online through a web browser, email or text message.
Using conversational AI-powered digital health solutions are an important tool to enhance patient satisfaction when patients contact support services. Conversational AI replaces the need for standard and repetitive call scripts during patient engagement. By integrating with a backend system, a conversational AI software can recognize callers and locate their records. Moreover, conversational AI can identify patients by name and can determine the best time to contact them, adding a personal touch while also speeding up the calling process.
For most healthcare organizations, listening at scale may prove to be a challenge. Authenticx's AI platform can assist companies in analyzing and evaluating their current interactions by collecting all customer interactions into a single location. The platform then organizes and evaluates conversation performance, and provides actionable insights to help organizations make more informed decisions.
Authenticx sifts through large amounts of client contacts and uncovers the most important points using AI and Natural Language Processing. Authenticx assists users seeking automated solutions to gain insights from their customer interactions.
How to Measure Patient Satisfaction in Healthcare
There are various ways to measure patient satisfaction in healthcare. Sending an automated patient satisfaction questionnaire to patients via text or email immediately after their visit can be an effective way to assess patient experience. Using a patient satisfaction survey can show customers that their feedback is valued, and this may encourage them to engage more with a particular brand. Even negative feedback can help enhance service quality, which can lead to increased patient satisfaction and positive ratings.
Responding to both positive and negative feedback is just as important as it is to gather patient feedback. Patients are more likely to trust a health service provider that is attentive to their needs. Authenticx connects with existing customer interaction data to learn about customer profiles, their issues and concerns, and how well their needs are being met. This can enable healthcare businesses to organize and create conversational data using a customized dashboard to obtain actionable insights that can propel their business choices in the right direction.
Patient Satisfaction Survey in Healthcare
There's an ongoing importance of patient satisfaction surveys. Although the terms "patient satisfaction" and "patient experience" may sometimes be used interchangeably, they are not synonymous.
To assess patient experience, some patient satisfaction survey examples include when patients are asked if their experience happened as expected. Patient satisfaction, on the other hand, refers to the quality of whether or not patient expectations were met.
Patient satisfaction survey results in healthcare can be used by organizations to identify areas for improvement, which can result in better care and more satisfied patients. It is key in today's healthcare industry to deliver the best possible treatment to patients. In order to compete with other medical services, healthcare providers need to collect and evaluate patient feedback in order to take action when expectations are not being met.