Your patients are talking. Are you listening?
Healthcare is complex (and confusing your customers). Conversational analytics listens to customer interactions already happening and offers actionable insights.
Learn More
Authenticx analyzes customer conversations to surface recurring trends.
Patient experience in healthcare is changing.
Looking to improve their digital product PX, a life sciences company discovered areas for growth in clarity, shipping, and ordering methods with Authenticx insights.
View Case Study
Over 50,000 patient interactions demonstrate how pervasive disruptions in the healthcare patient journey continue to be.
Patient Satisfaction Scores
Today, customer experience and satisfaction are the top priorities for businesses of all sizes, industries, and types. But, this focus is nothing new for the healthcare industry. Since the beginning, healthcare professionals and facilities have worked to ensure their patients get the best care and experience possible. After all, the industry is all about offering support that improves patient satisfaction and quality of care for those in need of its services. So, while the importance of patient satisfaction in healthcare may not be new to the industry, there are still ways that healthcare facilities and providers can improve their patient satisfaction scores. These scores give you an immediate and accurate assessment of the quality of your services and how satisfied (or unsatisfied) your patients are. Unfortunately, knowing how to use these scores to improve your healthcare services effectively can be challenging. But, with the rise of customer satisfaction and customer journey software and applications, there are many new tools and techniques that can help you do just that.
Some of these include software and online platforms that can help your organization analyze and gather insights from your patients more effectively. In other words, your healthcare organization can use software like Authenticx to aggregate and analyze the patient satisfaction scores that your patients give your services and use that information to create valuable and actionable insights that you can use to improve your patient experience. With technology today, you can easily track your patient data from across many different channels to review and analyze in one location. This allows you to gather insights from patient surveys, patient support conversations, and any other interactions your patients have with your facility, staff, or another part of your organization. Combining all of this information into a single location, as you can with a tool like Authenticx, allows you to more effectively analyze and understand where your patients need the most support from your best source, your patients themselves. 
One incredibly effective technique for measuring patient satisfaction is leveraging patient satisfaction survey results. Now, patient surveys in healthcare are nothing new. The industry has been using surveys and questionnaires to gather feedback for decades. However, the methods by which you can offer these surveys and collect insights have evolved as technology and customer support programs have improved. Today, you can send an automated email or text after each visit or procedure with the exact questions you want your patients to answer. This makes it easier for your patients to respond to your survey questions and also makes it easier for you to record the responses in a single location. 
Patient Satisfaction Survey
After that introduction of patient satisfaction and its importance, you may wonder how you can promote better patient satisfaction in your own healthcare organization. While you can use several tools and techniques to measure your patients' overall satisfaction, one of the most widely used in the healthcare industry is the patient satisfaction survey. There are various forms of patient satisfaction surveys, and each one serves its own purpose in helping you understand where your patients could use more support. Some common patient satisfaction survey examples include the comprehensive national standardized HCAHPS survey and shorter individual, procedure- or department-specific surveys. 
A patient satisfaction survey in healthcare is like the student feedback forms teachers ask for at the end of a semester. They notify the provider (whether a teacher or healthcare provider) about what worked and what did not. Since these surveys are a great way to gather honest and accurate patient feedback, they can be an excellent tool in helping you understand where you can improve your offerings to best support and care for your patients. This is, after all, the primary goal of any healthcare organization, so these surveys are truly an integral part of the healthcare industry as a whole.
However, keep in mind that not everyone will answer a patient satisfaction survey. While surveys provide critical insight into how your patients are interacting with your organization, they cannot ask every single valuable question. For this reason, it is typically best to collect data and insights from your other patient interactions in addition to traditional surveys. With an AI software solution like Authenticx, you can easily gather valuable patient feedback from surveys and your call and message centers into a single space to ensure you are not missing out on any valuable insights or issues your patients are having with your facility or providers.
HCAHPS Survey
One specific survey that is widely recognized as a great measure of patient satisfaction is the HCAHPS survey. The HCAHPS (Hospital Consumer Assessment of Healthcare Providers and Systems) and its non-hospital exclusive alternative CAHPS surveys are national, standardized surveys that hospitals and other healthcare facilities use. The HCAHPS measures customer satisfaction with 29 easy-to-report and standardized questions asking patients to reflect on their care and their experience with a healthcare facility. The standardized HCAHPS survey questions are an excellent way of reporting the quality of care across many different healthcare facilities. This can help you better understand where you stand compared to your competitors and where you can still improve to ensure that your customers are satisfied with your services.
One advantage of this survey compared to other types of patient satisfaction surveys is that the HCAHPS survey results also called the HCAHPS scores, are public. This means that you can look up HCAHPS scores by the hospital to accurately compare your own facility to others around you. This can help you better understand why customers may prefer your organization over another and where other organizations may have the upper hand. 
Another benefit of leveraging HCAHPS scores, questions, and survey results in your organization is an easy and effective way to assess reimbursement rates for medical services. If your healthcare organization gets higher scores on the HCAHPS, reimbursement rates for your healthcare organization increase. This is because the more satisfied your customers are with your organization and your services, the more Medicare will reimburse for your services.
How It Works
Gain a deeper level understanding of contact center conversations with AI solutions.
See a Preview
Aggregate
Pull customer interaction data across vendors, products, and services into a single source of truth.
Analyze
Collect quantitative and qualitative information to understand patterns and uncover opportunities.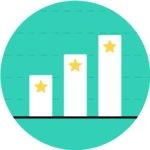 Activate
Confidently take action with insights that close the gap between your organization and your customers.
How To Improve Patient Satisfaction
Why is patient experience important for your healthcare organization? Just like customer experience, patient experience refers to how a patient feels about your organization and the services they have received. As a healthcare provider, it is your job to offer your patients the type of support and medical assistance they need to live healthy and informed lives. But it is also your job to ensure that your patients understand and are pleased with the experiences they are getting with your organization.
What is patient satisfaction in healthcare? Now that you have established what patient experience is, you may wonder how it factors into patient satisfaction. Simply put, patient satisfaction in healthcare refers to how pleased your patients are with your services, support, and facility. The primary focus of measuring patient satisfaction is to assess how satisfied your patients are with your services, healthcare providers, and patient access professionals. Using this information, you can work to improve the areas of your organization that are not scoring high on your patient satisfaction surveys.
However, it can be challenging to accurately assess how to improve patient satisfaction most effectively if you are only considering survey results. This is because while surveys are an integral part of your overall patient satisfaction research, they typically offer a partial picture of what is going on with your patient experiences. This is where using a powerful AI platform like Authenticx can help. Authenticx's platform allows you to easily gather valuable insights on how to best improve your patient satisfaction from your survey results, patient calls, messages, and any other source of patient interaction data.
Patient Satisfaction Examples
To assess your company's overall patient satisfaction, look at your data and analyze what your patients are readily offering — their concerns and insights. Looking at patient satisfaction statistics for the industry as a whole can be helpful, but when it comes to your own patients, you need to focus on their worries. For example, a regional hospital conducted a study on patient satisfaction in hospitals centering around the nursing triage line in their organization. The hospital focused on key questions surrounding the scheduling process and customer frustration. As a result, they could determine who was calling the nurses, what they needed, where resources were being used inefficiently, and what customers felt when they called.
There are also many other ways of improving patient satisfaction scores and outcomes, such as working to eliminate patient confusion and customer friction for your patients. One way to do this is to start a new patient satisfaction project where you focus your attention on, first, assessing where friction occurs for your patients in your services. In the case of a top-five insurer, this friction point was with their mail-order pharmacy. Second, you can use the data you have collected to determine how to best combat these points of frustration and confusion. For our insurer example, this was confusion and complaints about messaging, the delivery process, order cancellations, and running out of medication before receiving a refill. In short, this strategy can help you quickly and efficiently identify the root cause of your customers' frustrations and eliminate it so you can improve your system exactly where your customers need it the most.