Your customers are talking. Are you listening?
Healthcare is complex (and confusing your customers). Conversational analytics listens to customer interactions already happening and offers actionable insights.
Learn More
Authenticx analyzes customer conversations to surface recurring trends.
When is the last time market research gave actionable insights?
Collecting data is only part of the equation. Understanding begins by listening and engaging with the story your patients are sharing.
See Authenticx in Action
Healthcare Market Research
The exploratory methods in healthcare market research are advancing and evolving every day. In industries that deal with customers, especially the healthcare industry, research is a necessity for businesses that want to improve their customers' experiences. The importance of market analysis in healthcare is great considering the fact that it's an industry specifically catered to something as personal as individual health.
A common way healthcare establishments assess their customer market and seek to understand their needs is through research methods like surveys, direct questioning, and more. However, today the concept of using customer interaction data for healthcare market research is becoming much more popular. This type of data is a strong source for both qualitative and quantitative data analysis.
To elaborate, customer interaction data is information collected from contact and help centers, which customers consult for support. This process occurs in a variety of mediums, such as phone calls via call centers, emails to customer support, and text-based conversation with representatives. These customer interactions, which are typically transcribed or recorded, present an opportunity to analyze a wealth of data that could provide further insight into their wants and needs.
Authenticx is a company that recognizes the value of customer interaction data. This software company provides technology that businesses can use to collect and analyze customer interaction data from call centers. With the help of artificial intelligence, Authenticx aims to activate customer interaction data at scale to develop a greater understanding of customers, especially those in consultation with healthcare providers.
Authenticx believes this kind of focused and thorough study into customers' voices has the potential to reveal transformational opportunities in healthcare that other research methods currently don't. Going beyond surveys, Authenticx's software aggregates the thoughts of customers so you can get real-time insights, then use those insights to take action.
Patient Market Research
For a long time now, administering healthcare market research surveys has been a fairly common way to collect customer and patient intel. While there are some helpful aspects of surveying for patient market research, survey questions don't always provide a way for patients to fully describe their experiences. Targeted questioning could limit the variety of answers patients can give, as well as possibly restrict their ability to discuss the issues that really matter to them.
When it comes to market research with patients, Authenticx believes that a lot of the information and feedback companies seek is already in their possession. Rather than compiling data from soulless feedback surveys, you could gain far more customer data by analyzing their real statements and voices through customer support centers. The first step to understanding is listening and Authenticx is a strong advocate for taking full advantage of the raw data already at your disposal. By leveraging the quantitative and qualitative data you currently have, such as email, text, and phone exchanges with customers, you could accelerate what's already in motion and get the real-time insights you're looking for.
Authenticx's software could help you aggregate, analyze, and activate your data and analyses in a way that promotes a stronger connection between you and your customers. This reconnection has the potential to open many doors for your organization and the healthcare industry in general. Instead of hosting an in-person healthcare market research panel or engaging in other surveying methods that could create friction for the customer, you could hear their comments on your services from a candid perspective.
If you're searching for a more authentic way of conducting market research, one possibility could be simply listening to their honest comments. Authenticx could assist you in collecting these comments and organizing them in a productive manner.
Healthcare Marketing Research Topics
For marketers in particular, customer interaction data could be especially helpful for gaining useful insights into healthcare marketing research. If you aren't quite sure of which healthcare marketing research topics are most important to dive deeper into, you could consider going straight to the source (i.e. customer interaction data) and see what the people have to say. Authenticx provides software that works to surface this actionable customer feedback from the customer interactions you already have on hand in order to help you make more informed decisions.
Authenticx's services could be especially useful for healthcare marketers looking for greater ROI. By combining qualitative and quantitative customer interaction data, marketers can not only discover opportunities and address customer concerns, but grow revenue overall. Rather than investing money in surveys and other types of research, you could increase profitability and grow revenue with data-backed insights. This kind of perspective could give you the information you need to bolster your current strategy so you can attract and attain more customers.
One successful healthcare market analysis example of a client that worked with Authenticx is a specific enterprise healthcare insurer. This client was having trouble with losing new deals and overloading their call center due to poor website experiences. In a span of two months using Authenticx software and services, the enterprise healthcare insurer was able to reduce complaint calls regarding poor website experiences by 80% and a 20% increase in their click-to-pay rate.
Authenticx's strategy of aggregation, analysis, and activation has shown to be effective for other members of the healthcare industry. Authenticx is taking large strides in the healthcare market research environment, looking past traditional surveys for new sources of information. Luckily, these "new" sources of information often also happen to be the very same sources you already have full access to.
How It Works
Gain a deeper level understanding of contact center conversations with AI solutions.
See a Preview
Aggregate
Pull customer interaction data across vendors, products, and services into a single source of truth.
Analyze
Collect quantitative and qualitative information to understand patterns and uncover opportunities.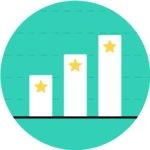 Activate
Confidently take action with insights that close the gap between your organization and your customers.
Healthcare Market Research Jobs
Why work in healthcare market research? Healthcare market research jobs can offer numerous benefits to healthcare companies. A market research analyst can analyze customer interaction data, providing useful qualitative and quantitative insights regarding operations, compliance, and marketing. Even when it comes to healthcare management jobs, market research could play a large part in how the people in management positions approach problems and make decisions.
Authenticx offers software that could be helpful for market research in healthcare. The software can assist you in collecting the qualitative and quantitative data you already have, which could potentially hold great insight into your targeted customer market. With a dashboard that's easy to navigate, you could organize this data based on the company's current initiatives, as well as in a way that reflects your organization's top priorities.
Once the data is aggregated and analyzed, healthcare market researchers can then use the insights gained to act on a deeper level of customer understanding. This advanced degree of understanding can help close the gap between your organization and customers. Market analysts are especially useful for this reason, as they can deliver the most important information to executives so they can then improve their connection with their customers.
Hospital Market Research
While numerical or quantitative data may be viewed as most useful for hospital market research by some, hospitals and other healthcare centers can benefit from collecting qualitative data as well. Customer interaction data could provide a unique kind of qualitative data by extracting relevant feedback from customers. For example, qualitative research companies could comb through audio clips, tagging the ones where patients provide useful feedback.
Most healthcare centers have a call center, which means they also have access to existing customer interaction data. However, many of those healthcare centers may not be utilizing that data to its full potential. This customer interaction data could contain vital information about common complaints, suggestions, and more.
Authenticx seeks to tap into this customer interaction data from healthcare centers, acting as an additional marketing channel. This marketing channel is characterized by unsolicited customer feedback, which has the potential to reveal further marketing insights. Once the data has been aggregated, it can be analyzed to collect feedback about initiatives and campaigns, as well as allow you to be immersed into the customer experience.
These analyses all contribute to a stage of activation to drive an improved customer experience while also removing barriers for revenue generation.
Healthcare Market Research Companies
Healthcare market research companies have the opportunity to unlock a seemingly endless amount of insights on healthcare companies by leveraging customer interaction data. Related market research jobs that focus on customer interaction data could also greatly benefit from software that goes through massive amounts of data. Authenticx uses artificial intelligence to analyze customer interaction data and offer actionable insight.
Unsurprisingly, it seems that the top market research companies, especially the top healthcare market research companies, are able to collect substantial amounts of data from multiple sources. Authenticx's software could serve as a tool for such establishments, as it is designed to aggregate, analyze, and activate based on your pre existing data.
Authenticx could be a possible marketing solution for those who aim to build a human-centered brand. By maximizing underutilized resources, measuring real-time brand perception, and driving action with authentic insights, Authenticx could be an option in your pursuit to increase your understanding and awareness of your customers. Branching out and past traditional survey-based market research to customer interaction data analysis could yield very promising results in terms of customer insight. This emerging marketing channel has the potential to reveal a more accurate perspective of customers than surveys ever could.