Identify agent skill gaps without increasing QA.
Employees are experiencing burnout and leaving healthcare. Allocate resources to develop effective onboarding and professional development that decreases spend and increases retention.
Learn More
Contact centers reflect brand perception and how agents become the voice of the company. Learn how AI and scripts work together to establish best practices.
"]
Leveraging Conversations in Call Center Vendor Training
Using Authenticx AI, a life sciences company identified brand detractors while transitioning call center vendors to reassess approval and highlight areas of agent miscommunication.
Read the Customer Story
KPI For Call Center Agents
A KPI, or a key performance indicator, is a goal or metric that indicates how effectively an organization or individual is at achieving specific business objectives. KPIs are used in every industry and can be utilized to track performance over time and progress toward strategic targets. In a call center, key performance indicators are used to measure the efficiency and quality of the customer support provided by the call center agent. There are a handful of industry-wide standards of KPI for call center agents that contact centers can use to assess how well their organization is meeting customer needs, managing their workforce, achieving operational goals, and more.  
Key performance indicators can also vary between contact centers. While there are some call center industry statistics that have become a standard across the industry, some contact centers may have developed individual KPIs in order to hold their agents to a higher standard. KPIs are used to indicate performance and can be used as a marketing tool – every potential client wants a contact center that is performing well and can get them the positive results they are looking for. There can also be differences amongst call center KPI benchmarks by industry. An e-commerce call center would likely have different call center metrics industry standards than a contact center for a healthcare organization would. 
Wait time is an example of a KPI that many industries use – nearly all industries have a call center wait time industry standard. No one likes to call up a toll-free number and then be placed on hold to have a question answered or a concern validated. Long wait times decrease customer satisfaction, so it is a goal of every contact center to make wait times as short as possible. 
It is important to have accurate data surrounding KPIs, as they are one of the most vital metrics that contact centers and clients alike can use to measure contact center performance. Many contact centers or their clients can use social listening software to determine how well call center agents are representing the agency and the client, and if they are meeting essential KPI targets.
Call Center Agent Performance Metrics
There are a few call center agent performance metrics that can be used across industries. A few call center KPI examples include:
Average Handle Time (AHT)
AHT is a KPI for the average amount of time it takes for a cell center agent to handle a customer interaction, including the time spent talking to the customer and any follow-up tasks, such as documentation. Lower AHT is often desired as it indicates efficiency. 
First Call Resolution (FCR)
FCR is a KPI that measures the percentage of customer issues that are resolved with the first contact with a call center agent without the need for follow-up calls or interactions. A high FCR rate is preferred as it indicates effective problem-solving and customer satisfaction. FCR can be especially important in a healthcare context, as these are sensitive issues with tangible consequences. 
Call Abandonment Rate
A KPI for call abandonment measures the number of calls that are abandoned by customers waiting in line to speak to an agent. A high abandonment rate can indicate problematic wait times or high customer frustration.
Average Speed of Answer (ASA)
ASA measures the average amount of time that it takes for calls to be answered by a call center agent after they've been routed to the queue. A quick ASA indicates efficiency and can help assess call center responsiveness.
Occupancy rate
This KPI measures the percentage of time that agents are actively engaged with customer calls and tasks compared to their total available working time. This metric helps monitor agent workload and efficiency and is important to avoid burnout.
Quality Assurance score
This KPI assesses the quality of interactions between agents and the customers, often through a standardized scoring system based on criteria like agent knowledge, communication skills, and adherence to company guidelines. This is often accomplished by artificial intelligence that is capable of understanding call metric meanings and ranking human speech by sentiment.
Agent Adherence
This KPI measures the extent to which agents follow their scheduled work hours and breaks. It helps ensure that staffing levels are maintained to meet call demand.
Net Promoter Score (NPS)
This is a KPI used by many industries to measure customer loyalty and the likelihood of recommending the call center's services to others. It is often obtained through post-interaction surveys.
When analyzing call center performance, it's essential to consider a variety of call center metrics examples, such as average handle time, first call resolution, and customer satisfaction scores.
KPI For Call Center Team Leader
While every contact center is different, some standard KPIs for call center team leaders to analyze for success would most likely include:
First Call Resolution
Call Handle Time
Average Wait Time
Occupancy Rate
Agent Adherence
Quality Assurance scores
And other metrics as necessary
While all KPIs should be tracked and monitored, these leadership KPIs examples can quickly be used to determine if an agent is working at their most optimal level. If a team leader finds that these KPIs are below optimal, they can create a performance improvement plan with the agent and give the agent learning opportunities to provide them with upskilling opportunities. 
It can be confusing at first to learn how to measure leadership KPIs – however, many leadership KPIs are just a collection of KPIs that are already being tracked and recorded. More team leader KPI examples include: 
Company profitability
Workforce attitudes
Employee development
These are statistics that are likely being tracked by human resources or senior management – but every team leader plays an important role in fostering their success. Team leaders are often examples for call center agents and can encourage or discourage an agent's development. 
When analyzing KPI progress and success, it is vital that team leaders have accurate data and tools that can assist them. In a healthcare context, some call centers may also have additional KPIs to track, such as HIPAA compliance, patient education, medical accuracy, and more. Some call centers make use of software that has natural language processing capabilities, like Authenticx, to assist their clients with quick and simple access to accurately recorded KPI information.
When team leaders are tracking KPIs, it enables them to make the leadership decisions necessary to improve the overall output of the team and the company. It's important to prioritize the KPIs that have the biggest impact on business goals.
How It Works
Gain a deeper level understanding of contact center conversations with AI solutions.
See a Preview
Aggregate
Pull customer interaction data across vendors, products, and services into a single source of truth.
Analyze
Collect quantitative and qualitative information to understand patterns and uncover opportunities.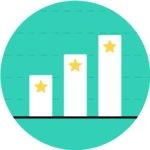 Activate
Confidently take action with insights that close the gap between your organization and your customers.
Call Center Agent Performance Scorecard
A call center agent performance scorecard is a tool for tracking, evaluating, and monitoring agent performance. A Contact center agent scorecard acts as a baseline for companies to improve their customer experience by identifying areas for agent improvement. Agent scorecards provide actionable insights into agent productivity and competency. There are several call center metrics & calculations that can be included on a call center agent scorecard. 
Scorecards are likely to vary from inbound call center metrics vs outbound call center metrics. These are two different kinds of contact centers and have different goals, so their KPIs and call metrics are not often similar. 
In order for an agent to adequately perform at or above a KPI, it is important that they understand the call metrics' meaning. Standards should be clearly communicated and defined. The use of scorecards is one way to make sure that every agent knows where they stand when it comes to performance. 
An example of a call center agent performance scorecard should include a selection of relevant KPIs that reflect the agent's performance. Commonly included KPIs include average handle time, first call resolution, quality assurance scores, adherence, and more. Scorecards should include the agent's rate against the center's standard or goal KPI. This provides a clear understanding of performance expectations. 
Some scorecards include trends or historical data, which allows agents to see how their performance has changed over time. This type of information should always be aggregated and available to senior leadership so that visible trends are able to be deduced. 
Other examples of agent benchmarks or KPIs to include on a scorecard are:
Agent adherence to schedule and documentation
Patient focus
Soft skills
Tone, language, and clarity
These KPIs are often more difficult to quantify without the use of natural language processing software, but they can have a strong impact on results.
How To Improve Call Center Agent Performance
When researching how to improve call center agent performance, it is vital that any information acquired about the agents' performance is accurate and verifiable. A call center metrics dashboard or a scorecard is one way to explain call metrics to agents and ensure that every team member is on the same page regarding performance. 
Natural language processing software is more than likely going to be one of the most comprehensive and useful tools to be used when evaluating call center team leader skills and agent performance. NLP software can give insight into metrics that other types of software struggle to quantify, such as caller and agent sentiment, topics discussed, and more. Other software tools used to determine call center effectiveness also rarely track conversation topics over time, making it difficult to identify what Authenticx calls the "Eddy Effect."
"Eddies" are problem spots in a patient's customer journey that sends them rebounding to where they started. This happens repeatedly, decreasing customer satisfaction and resulting in lost revenue. This can often happen at the call center – perhaps a patient call is rerouted too often, or the wait time is too long, or the call center agent doesn't understand the medical terms used and gives the patient incorrect information. Software that is not built for healthcare will likely have a hard time understanding the intricacies and specifics of healthcare communication – which is why Authenticx was built.
Authenticx enables healthcare organizations the ability to listen at scale. It gives healthcare providers the actionable insights necessary to determine how their contact centers are performing and if additional training is necessary. Authenticx is able to identify trends in patient calls and deliver necessary context to healthcare leaders for the purpose of making meaningful decisions that will impact the patient journey.