Identify barriers that are impacting agent performance
Re-think how analysts review and evaluate conversations with intelligence tools built specifically for healthcare.
What is impacting your quality scores?
Download the Checklist: 5 Ways to Listen to the Voice of your Customers
This checklist shares 5 ways to build an effective, immersive insights program that listens to the voice of your customers providing honest and raw feedback.
How Artificial Intelligence Is Changing the Way Healthcare Listens
Artificial intelligence is helping healthcare listen at scale. Understand how and why artificial intelligence is changing how healthcare improves customer experience.
Read More
Call Center Agent Performance Scorecard
A call center agent performance scorecard is a tool used to score and evaluate agents' job performance. Scorecards can be a great way to determine what agents are doing well and how they could do better.
With an overall score in mind, they can get a better idea of how they're performing in general and work towards improvement. For example, one scorecard might focus on customer service, while another might look specifically at the tone of voice and keywords used. There are many different types of agent scorecards, so no matter what metrics or components you're monitoring, you can benefit from scoring your agents.
An agent scorecard template can help you get started creating and using scorecards. For example, if you're looking to score your employees, you can use an employee performance scorecard template.
One of the great things about working with a call center agent scorecard template is that, although most of the scorecard is outlined for you, you can still tailor it to your individual business needs. It provides a solid framework to get started with, but still allows you the freedom to experiment and customize it according to your preferences.
Using a call center agent performance scorecard template helps you get a better sense of what should be included in a scorecard. Important things to look for include greetings, introductions, and whether or not the agents are able to effectively address customer pain points.
Filling out your scorecard with relevant metrics and criteria is key to watching for and finding the right things in calls. Without defining these metrics ahead of time, it can be difficult to catch critical moments. Call center agent performance scorecards make it easy for users to track performance in multiple areas and ultimately determine their level of success overall.
Call Center Quality Monitoring Scorecard
One of the primary advantages of using a call center quality monitoring scorecard is that you can more easily observe interactions between agents and customers and grade agents on their effectiveness. With a call center QA scorecard template, you can accurately assess quality control and determine what measures, if any, should be taken going forward to improve agents' performance.
In addition to using a QA scorecard template, you can also view QA scorecard examples to see how other businesses have structured their scorecards and what criteria they listen for in calls.
Rather than trying to come up with a good format on your own, you can use a template for inspiration and tailor it to your business needs and preferences. This can help ensure you hit on all critical points and monitor the right things when evaluating calls.
Quality assurance is a crucial aspect of any customer-related call, and so it's important that businesses know how to track it, whether through a scorecard or otherwise.
How to Create a Call Center Scorecard
Learning how to create a call center scorecard is the first step in conducting a successful call evaluation. You can use a call center scorecard template, which does most of the heavy lifting for you and outlines the most effective framework for tracking relevant criteria.
You might also turn to call center scorecard examples for ideas on how to monitor agent performance and what KPIs to monitor. They can also help you decide what not to do in your own evaluation.
For instance, if you find that certain metrics or criteria are irrelevant to your business operations, you can discard them and focus on other things. Different scorecards can be used to monitor different types of calls.
If you're monitoring a service desk agent, you should use a service desk agent scorecard template. Likewise, if you're listening in on calls that are specifically centered around customer service, you can consider using a customer service scorecard template.
Call Center Scorecard Metrics
There are many types of call center scorecard metrics that you can monitor. Some of the most common are customer satisfaction, transfer rate, and average time in queue. Metrics are used to assess the performance of agents, especially in relation to customer service, and are critical to evaluating the overall success of your call center.
Call center quality assurance grading depends heavily on metrics like these. More specifically, call center quality depends on the ability to monitor these metrics. As such, it can be helpful to use a sales performance dashboard template that displays each of these metrics on a dashboard. This is a great way to view metrics and assess performance without having to pull data from disparate systems.
In addition, studying sample comments for good customer service can be helpful when coaching agents on customer interaction protocols. Rather than leaving them to their own devices and hoping they'll come up with the right thing to say on the spot, you can train them ahead of time to effectively respond to customers.
Call centers can use Authenticx to collect ongoing data without causing friction for customers. The platform brings a human aspect to conversational intelligence in healthcare. It analyzes conversations to uncover trends and help businesses track the metrics that are most important to them. Authenticx takes things a step beyond traditional scorecards and enables users to truly get to the heart of conversations to understand customers' needs.
How It Works
Gain a deeper level understanding of contact center conversations with AI solutions.
See a Preview
Aggregate
Pull customer interaction data across vendors, products, and services into a single source of truth.
Analyze
Collect quantitative and qualitative information to understand patterns and uncover opportunities.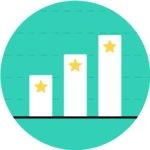 Activate
Confidently take action with insights that close the gap between your organization and your customers.
Customer Satisfaction Performance Review
When conducting a customer satisfaction performance review, it's important to gather all relevant criteria and compile it into a helpful report that speaks to agents at their level.
Jumbled or disorganized feedback can leave them feeling confused, and so call centers should work to make this information as digestible as possible. One of the ways they can do so is by using a customer performance review template. Templates like these outline the specific questions that should be asked. These templates also outline the various criteria that should be considered in the assessment.
You might also discuss customer service goals for performance review reports. Letting agents know where they're at and what steps they might take to improve their performance down the road is an essential component of call center reviews.
Your customer service performance review questions should not only focus on agents' current performance, but their long-term goals. A review template can help you structure your reviews effectively and ensure that you touch on all crucial points.
Call Center Reports Templates
Call center reports templates can be used to structure reports. There are different types of templates for different call centers and job types. For example, if you work at an outbound call center, you might try looking specifically for an outbound call center reports template. This will be better aligned with your business goals than a template designed for inbound centers.
It's important to tailor your performance review template to your specific business needs for maximum results. This can ensure quality and continuity across the board.
A performance dashboard template can also be useful for those wanting to create dashboards to get an overview of agents' performance. Dashboard information is critical to generating reports, so it pays to have quick, easy access to this data, and dashboards help call centers to keep it organized.
Authenticx gives call centers a comprehensive view of their agents' performance by using conversational data to evaluate their voices. This can reveal key insights that can be used to better understand customers' needs and drive business decision-making.
The platform's Eddy Effect Dashboard centralizes relevant data. It offers users a detailed look into their performance analytics and key metrics such as costs and call length. Information obtained via the Eddy Effect Dashboard can help call centers create informative reports for agents. No matter which specific metrics you're looking to track, it can be helpful to view them in an easy-to-use dashboard. This eliminates the need to jump from platform to platform to obtain various types of data.
Authenticx for Operations enables users to collect and analyze metrics, compile their findings into reports for agents, and more. Authenticx allows users to get the most out of the conversational data they already have.
It also helps them identify disruptions and extract more meaningful customer insights. With Authenticx, you can transform your call center and provide more helpful reporting to your agents. This can lead to better customer outcomes and, ultimately, increased revenue for your business.