Invest to optimize your digital front door.
Operations leaders need to be able to confidently identify disruptions impacting customers across the enterprise. Authenticx was founded to surface meaningful insights from unstructured data.
Learn More
Authenticx analyzes customer conversations to surface recurring trends.
Leverage your healthcare call center for actionable intel.
Improve compliance and increase quality scores across call centers by listening to customer interactions at scale.
See Authenticx in Action
Call Center Quality Assurance
Quality assurance is critical for individuals working in call centers. Software geared toward call center quality assurance is a massive asset for call center workers seeking ways to identify any disruptions that negatively impact their customers.
Following the proper call center quality assurance guidelines, call center employees can regularly monitor customer metrics to guarantee that customers are happy with their individual experiences. Given the importance of call center quality assurance metrics for company call centers, your organization must implement software that thoroughly analyzes and dissects customer interaction data.
Software like Authenticx is crucial because it provides companies in the healthcare industry to analyze customer interaction data with AI capabilities. Authenticx uses AI to analyze phone calls when customers contact an organization's call center service. With Authenticx, healthcare companies can tap into the customer interaction data gathered when customers reach out to a call center. B
ecause many healthcare organizations face inefficient and perfunctory quality monitoring issues, healthcare call center workers must take actionable steps to improve the customer journey.
Among the various benefits of Authenticx's call center quality assurance software is the software's ability to provide healthcare organizations with immersive insights, essential context often missed by NPS and surveys, and combine data across silos, channels, and teams.
Authenticx allows healthcare workers to aggregate and organize the audio and visual data from call centers to better understand customer concerns and make impactful changes.
With Authenticx's fully immersive quantitative and qualitative insights, healthcare organizations can start organizing their data and contextualizing customer metrics to create actionable changes that make a significant difference.
Authenticx is key to understanding your customers and meeting the needs of customers that have previously gone unmet. With the consistent evaluation and metrics provided by Authenticx's software, healthcare call centers can start identifying areas of weakness in their customer service operations.
How To Create A Call Center Scorecard
A valuable asset for healthcare workers managing their organization's call center is a call center scorecard for quality assurance. A call center scorecard template is essential for organizations seeking ways to improve the quality of service their call center provides and benefits both agents and customers.
Authenticx helps organizations determine how to create a call center scorecard that is effective, and that adheres to quality assurance guidelines. With Authenticx, call centers can link their telephone platforms, so they have insights into how each contact center is performing.
A call center quality assurance scorecard is a valuable asset to complete quality evaluations within an organization's call center. By tracking performance with a scorecard, call centers can ensure that they meet the necessary qualifications and exceed customer expectations.
A call center quality assurance scorecard template should include various aspects of individual calls. By keeping track of a scorecard template, call center employees can ensure that they are maintaining professionalism with each customer, adapting to the customer's needs, getting the necessary information from a customer, and going through the appropriate procedures to address a customer's concerns.
Given the importance of high-quality performance in customer service call centers, organizations must follow a scorecard to improve their customers' experience. By linking telephone platforms with Authenticx's software, call centers can track the performance of each contact center while measuring performance against a thorough scorecard template.
This allows organizations to interact with customers in a way that fully addresses their concerns and ensures actionable, practical changes.
Call Center Quality Assurance Training
Many organizations fail to analyze the performance of individual agents within their call centers. Because of this, evaluating call centers for their quality can be challenging, as organizations overlook the importance of call center quality assurance training.
Without a comprehensive view of agent performance, call centers may struggle to meet the needs of their customers. A call center quality assurance checklist is vital for organizations seeking ways to analyze and comprehend their quality assurance metrics.
Authenticx's software works as a call center quality auditor for healthcare companies struggling to analyze customer interaction data. While a call center quality analyst can cover the basics of quality assurance metrics, organizations must implement software that uses customer interaction data with AI to analyze phone calls when customers contact support services.
Without comprehensive call center quality assurance training, organizations struggle to provide customers with the services they seek. By implementing mandatory call center quality assurance training and using the help of software like Authenticx, organizations can ensure that their customers are satisfied.
Authenticx can be used as an organization's call center quality analyst because its AI software provides a comprehensive report of call center performance. By doing this, Authenticx allows organizations to streamline their quality assurance processes while aggregating their data and metrics to address their customers' needs thoroughly.
Authenticx's various features for healthcare companies improve customer-centric insights and simplify the process of identifying areas where disruptions occur. Authenticx enables organizations to access the customer data they need from call centers to form stronger connections with the customers they serve.
How It Works
Gain a deeper level understanding of contact center conversations with AI solutions.
Learn More
Aggregate
Pull customer interaction data across vendors, products, and services into a single source of truth.
Analyze
Collect quantitative and qualitative information to understand patterns and uncover opportunities.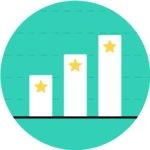 Activate
Confidently take action with insights that close the gap between your organization and your customers.
Quality Assurance Scoring Methods
Healthcare organizations use various quality assurance scoring methods when analyzing their customer interaction metrics. However, many call centers run into issues because their quality assurance scoring methods are not scalable.
Using a quality assurance scorecard template is a great starting point for call centers falling behind on customer satisfaction reports. Because of the usefulness of a quality assurance scorecard, many organizations fail to implement other methods of scoring, such as software like Authenticx with AI that can be used as a quality assurance analyst tool.
For those working as a quality assurance specialist, you understand the importance of providing customer service that exceeds the standards of your competitors and satisfies the people you aim to serve. However, quality assurance specialists can still benefit from software like Authenticx to ensure that there are no errors in the quality assurance process and that no areas of a quality assurance scorecard are missed.
Even the most skilled specialists risk manual error during the quality assurance process. Because of this, AI software to analyze phone calls when customers call is essential for healthcare organizations that require change. Authenticx helps organizations combine existing customer interactions within a call center and across channels organized around your organization's specific needs.
Authenticx humanizes conversational intelligence at scale by aggregating, analyzing, and activating customer data. Authenticx is essential for organizations requiring both quantitative and qualitative data from their call centers. By using Authenticx's software as another quality assurance scoring method, organizations guarantee customer satisfaction through intelligent adjustments to enact effective change.
Call Center Quality Monitoring Scorecard
One of the most critical aspects of quality assurance is the ability for organizations to have a call monitoring form template. This template simplifies the process of monitoring trends within a call center.
Authenticx is vital for healthcare organizations struggling to monitor trends to implement continual quality improvement and accountability. Authenticx makes it possible for call centers to evaluate and monitor compliance across customer interactions, making improving relationships between customers and the organization.
Using a sample call center quality monitoring form for your organization is one of the most promising ways to improve how your call center functions and how satisfied customers are with your organization's service.
Healthcare organizations should always be seeking ways to improve their call centers and develop an accurate and comprehensive call center quality monitoring scorecard. By doing this, call centers can better address their customers' needs and improve their agents' efficiency.
Additionally, software like Authenticx makes it easy for organizations to implement a call center audit template used during evaluations. An audit template should cover all the details needed for effective quality assurance monitoring within a call center. While your organization may use its quality monitoring scorecard or audit template, these templates are likely missing information and prone to error.
All errors can cause damage to your organization if they build up over time. Therefore, organizations should consider Authenticx's software to continuously monitor trends and implement improvements that will show changes in customer satisfaction metrics.
Quality Assurance Questions For Customer Service
As your organization implements Authenticx's software to analyze customer interaction data better, it is essential that you also consider quality assurance questions for customer service. To truly listen to your customers, your organization's call center quality assurance must consider various questions that can help determine how to implement customer feedback into actionable changes.
A call center agent scorecard template must be based on customer feedback to ensure that organizations can fully understand customer concerns while taking steps toward impactful changes.
While your organization may use a scorecard or a call center quality assurance template, you must create templates tailored to the specific and unique needs of your organization's customers.
Not all customers seek the exact solutions to their issues. For this reason, your organization must use advanced quality assurance questions when asking for customer feedback. A QA feedback template might include questions regarding an agent's performance, such as whether or not they were cordial with a customer and if they were able to address a customer's unique concerns or direct the customer to an individual that can help solve their issues.
For this reason, software like Authenticx is critical. Authenticx provides organizations with essential data needed to understand customer concerns and create a feedback template based on customer responses. By implementing Authenticx's software, healthcare companies can enact changes that matter in improving customer relationships. Authenticx allows the organization's call centers to tap into customer interaction data to create templates and questions that encourage positive change.