Your customers are talking. Are you listening?
Tap into existing customer conversations to reveal qualitative feedback. This unfiltered, renewable source of insights accounts for every customer voice – even those who don't respond to surveys.
Learn More
Actionable customer feedback without survey fatigue. See Authenticx in action:
When is the last time survey analytics gave actionable feedback?
Collecting data is only part of the equation. Understanding begins by listening and engaging with the story your patients are sharing.
Read the Case Study
Patient Satisfaction Surveys In Healthcare
Over the past few years, there has been an increasing level of importance placed on customer satisfaction in many different industries. While this may be a new focus for industries like clothing retail or other retail industries, it is not new for the healthcare industry. In healthcare, every service that you provide is for the customer (or patients). And as a healthcare provider or organization, it is essential that you know how your patients are feeling about your current services and what you can do to make their experiences better in the future. But how can you know how your patients' experiences are going? One of the most common ways to measure patient satisfaction in healthcare is by creating and analyzing a patient satisfaction survey. These surveys are oftentimes integral to a healthcare provider's ability to understand and better serve their patients.
In reality, the importance of patient satisfaction surveys is often understated in healthcare organizations. Without these surveys, it would be very difficult for healthcare organizations to understand what changes or improvements could be made to better the overall patient experience of their patients. Since patient satisfaction surveys provide such crucial information about the patient's experience after the completion of a service in your facility, it is important that you can internalize and use all of the information that your patients are providing you with.
One solution that can help ensure you are not missing out on valuable insights from your patients is Authenticx's platform. Authenticx helps you to gain these patient insights from all of the customer interaction data that you have stored in your customer service center as well as gain real-time feedback from patients as they call, message, or answer your patient satisfaction survey questions all in one easy-to-view platform. By collecting all of these patient responses into one platform, Authenticx makes it easy for you to assess how your healthcare facility is performing and how you can better your patient experience for the future. Additionally, the insights gathered here can help you to inform your patient satisfaction surveys and make sure that you are using these surveys to the best of your ability in helping you understand your patients and their needs.
Patient Satisfaction Questionnaire in Hospitals
In healthcare facilities — especially hospitals — it has been a long-standing practice to give patients satisfaction questionnaires after their procedure or service is completed. These questionnaires help the hospital (or another healthcare facility) to understand how that patient is feeling about the experience they had at the facility. A questionnaire on patient satisfaction in a hospital will usually include questions about how their experience was with the nursing staff, if they felt informed about what was happening when it was happening, and if they felt that the staff they spoke to (receptionists, nurses, etc.) were friendly and helpful.
The answers that patients give to these hospital patient satisfaction survey questions help the hospital to implement changes and improvements to provide better service to future patients. But, one of the most important things that hospitals need to keep in mind is making sure that the patient satisfaction survey questionnaire hospital questions are relevant and provide enough space for the patient to go into as much (or little) detail about their level of satisfaction with the service they received. To do this, it is important for the healthcare facility to be well informed of the common struggles or concerns that many of their patients have so that these can be addressed on the questionnaires. One way to make sure you're not missing out on any of these important issues is by utilizing the data valuable patient insights you get daily in your customer interactions with the help of Authenticx's platform.
Types of Patient Satisfaction Surveys
Figuring out the right questions and the right format for your patient satisfaction surveys can be challenging — especially because there are different types of patient satisfaction surveys, such as a validated patient satisfaction survey, that each work well for certain situations. For example, the type of patient survey that someone gets at the hospital is likely to be quite different from the kinds of patient experience survey questions that someone is likely to get in a different healthcare facility.
Finding the right questions for your particular healthcare facility can be difficult if you are unsure where to begin or unsure of the concerns that your patients are having. To combat this uncertainty, you need to find out what your patients are needing from you. And before you think that's what you need the survey for, there is actually an easier and more efficient way to determine what your patients are concerned about — and you have already done the hard part! Every single day patients tell your customer service team exactly what is troubling them and freely offer commentary on their experiences without being prompted. Authenticx's platform helps you to take all of this incredibly valuable data, compile it into one single platform of information, analyze it, and turn it into actionable insights that help you provide a better customer experience for your patients.
Patient Satisfaction Survey Examples
Because patient satisfaction surveys have been so crucial to healthcare facilities throughout the years, you can find many different patient satisfaction survey examples online that any healthcare facility can use as inspiration for their own patient experience questionnaire. However, since each healthcare facility has different patients, different staff, and therefore different concerns, it is important that if you are working on drafting your own patient satisfaction survey questionnaire, you do not simply adopt an example you found online and not personalize it to your specific healthcare facility.
While examples can be extremely helpful and a great starting point, you want your questionnaire to actually help you better understand and support your patients. To do this, you need to include questions that are actually relevant to your patients and their experiences. One incredibly easy way of finding out what questions to ask for your healthcare facility is to see what your patients are already asking you. Using Authenticx's platform you can collect all of your patients' valuable insights into one location where you can analyze and take action on the most common concerns to make your facility more effective in helping your patients.
How It Works
Gain a deeper level understanding of contact center conversations with AI solutions.
See a Preview
Aggregate
Pull customer interaction data across vendors, products, and services into a single source of truth.
Analyze
Collect quantitative and qualitative information to understand patterns and uncover opportunities.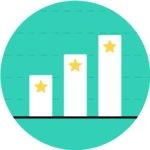 Activate
Confidently take action with insights that close the gap between your organization and your customers.
How to Measure Patient Satisfaction in Healthcare
In healthcare, measuring patient satisfaction is one of the most effective ways to understand if your facility is doing well or not. After all, if a patient is not happy with your services, they are not likely to stick around — especially not with the variety of healthcare facilities available for them to choose from. That being said, it can be challenging to know how to measure patient satisfaction in healthcare facilities, especially if you have not been getting clear answers from any surveys you have provided.
The most common way to measure patient satisfaction is with a patient satisfaction survey, in healthcare this type of survey is very common. However, these patient surveys in healthcare do not always provide clear answers or the necessary context surrounding a patient's concern or question. To combat these shortcomings of patient satisfaction surveys, why not utilize the valuable wealth of customer interaction data that you are already storing in your call center. Authenticx can help you not only more effectively understand your patients' concerns by allowing you to hear their concerns directly from them but also help you to create actionable plans that will help you implement changes and better help your patients feel satisfied with their experiences.
Tools to Measure Patient Satisfaction
Traditionally, the healthcare industry would use exclusively patient satisfaction surveys and questionnaires to assess how well they were performing and to measure the overall satisfaction — or lack thereof — of their patients. And while patient satisfaction survey questions are still incredibly helpful in getting feedback from your patients, with the rise of new technology, there are actually easier and more effective ways of measuring how satisfied your patients are really feeling.
This is not to say that utilizing a patient satisfaction survey template that is customized and adapted to your specific healthcare facility cannot be helpful, it is simply important to note that this is no longer the only way to measure patient satisfaction. When used in conjunction with other measurement methods, you can actually gain an incredible idea of how well your patients are feeling about your services and what you still may need to improve. One of these other methods and an incredibly effective way to measure patient satisfaction is to hear directly from your patients. Using Authenticx's platform you can gather data directly from your customer interactions to identify where your patients' concerns are and what their satisfaction level is. The software utilizes natural language processing and AI to uncover the most important insights easily and quickly — even in the sea of customer interaction data stored in your call centers. Authenticx allows you to listen directly to your patients so that you never lose sight of who you are doing this for. You can hear insights directly from your patients and then these insights can be used to help you create actionable plans to improve your patients' overall experience with your healthcare facility.
Patient Satisfaction Project
Improving patient satisfaction is a continuous process and no healthcare facility is going to be able to have the absolute perfect patient experience for every single patient every single time. People are very different and they require different things to feel satisfied. However, it is incredibly important that healthcare providers continually perform patient satisfaction research for their own healthcare facilities so that they can provide the best service that they can for every single patient.
To help healthcare providers continually improve their patient experiences, Authenticx's software helps you to collect, categorize, tag, and analyze any incoming feedback from patients. Whether the feedback is coming from patient satisfaction survey report notes, incoming patient calls, or even messages from patients to your customer service team, Authenticx is there to uncover the most important patient insights and surface them for you to hear as well. These insights can then be used to make sure that you are continually working to improve your patient experience and make your healthcare facility that much better for the next patient.