A comprehensive view of agent performance
Traditional quality feedback doesn't account for the human side of the experience. Maximize existing conversation data to uncover actionable call center insights.
Learn More
Improve your call metrics and their quality of care by blending regulations with human connection. Get answers about your script strategy.
"]
Leverage your healthcare call center for actionable intel.
Improve compliance and increase quality scores across call centers by listening to customer interactions at scale.
See Authenticx in Action
Quality Feedback in Call Center
Gathering quality feedback in call center data is imperative to gaining insights into your company's work processes and making necessary changes to improve the customer experience. If you manage a call center and receive calls from external parties, you likely want to regularly gather and assess feedback in order to continually improve upon your existing practices. How you respond to callers can reflect on your business as a whole. Therefore, by encouraging feedback, you can get a sense of what's working well and what isn't.
There are several crucial components to take into account with call center feedback. Collecting call quality feedback can inform you on what the customer is experiencing on their end and what problems they frequently encounter, whether that is poor call sound quality, rude or inattentive agents, or an overall lack of understanding on the call center's part concerning how to resolve an issue. Such problems can only be addressed if they are brought to the call center's attention, and that can only happen through feedback and customer input.
It's no secret that it's important to provide customers with what they need as quickly and efficiently as possible to increase the odds that they will return and continue interacting with your company for future matters. Unsolicited customer feedback is a powerful way to gauge how well your call center is performing. Feedback may be given directly to agents by customers, or it may be given by someone else at the call center. Regardless, listening to and internalizing quality feedback is essential to creating and improving the caller experience. Understanding what issues look like from the customer end is extremely valuable when trying to plan future moves, as it can give businesses an idea of how their call center can be useful both in the short and the long term.
What Is Quality Feedback?
What exactly is quality feedback? Simply put, quality feedback, as it relates to call centers, refers to the feedback given to agents to inform them of what they're doing right and what could be done better. Quality feedback is often data-driven and backed with demonstrable examples. More specifically, showing an agent how something could be changed to benefit them and the customer would be considered quality feedback because it is thorough, precise, and to the point.
Learning how to give feedback can be a skill in and of itself, as many people may struggle to point out the flaws in another person's performance. Constructive criticism doesn't always have to be painful, however, especially if given alongside more positive feedback. You could begin by noting some of the things the agent is doing well, and follow it up with some tips on how to improve. You might also look at quality feedback examples given by other businesses or call centers to get an idea of how to give quality feedback.
Customer interaction data is also useful for evaluating agent performance and the patient experience. This data is pulled from the recorded interactions between customers and customer support personnel and can include emails, phone calls, text support, and any other support channel.
Best Call Center Software
The best call center software depends heavily on your business, industry, and specific needs. As such, you may need to shop around for something that's going to work best for whatever it is you're hoping to accomplish with your call center, whether it's general customer inquiries and support, or an even larger business operation. Your call center software of choice should ideally provide options for collecting feedback and monitoring the interactions between agents and customers so as to provide a holistic picture of the center's performance.
Performance feedback examples can include anything from the number of customers helped in a given day to how well an agent was able to address and solve a given problem over the phone. Positive feedback examples are valuable for learning how to give positive feedback in a way that's useful to the agent. You may not want to simply tell them "good job," but provide concrete examples of what they are doing well and how it's benefiting customers and the wider company. As mentioned previously, some call center software platforms make it easy for businesses to track interactions, therefore providing them with more information with which they can give quality feedback.
How It Works
Gain a deeper level understanding of contact center conversations with AI solutions.
See a Preview
Aggregate
Pull customer interaction data across vendors, products, and services into a single source of truth.
Analyze
Collect quantitative and qualitative information to understand patterns and uncover opportunities.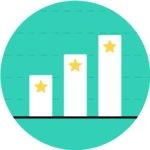 Activate
Confidently take action with insights that close the gap between your organization and your customers.
QA Feedback Examples
Quality assurance (QA) is the process of ensuring that call center agents deliver the standard of support as set by their company. In essence, it holds those within the organization accountable for delivering quality results to callers and mandating a high standard of customer service. In healthcare, QA is especially important for call centers to provide patients with what they need. Part of this process involves collecting call center quality feedback, and then working to internalize and act on that feedback in a positive way.
QA feedback examples include, first and most, call center quality assurance feedback. By diving in and taking a closer look at the customer experience, call centers can learn how to better support their client base as their needs and expectations evolve over time. You might also consider the quality of the call itself. Was the customer able to get through on the line quickly and efficiently? Was there any sort of sound disruption or static that prevented them from being able to hear the agent speak, or vice versa? These are all examples of QA feedback that call centers should take into account when evaluating their business processes and working to implement changes.
Call Center Analytics
It's important to track call center analytics, as they can provide key insights into how your business is doing in terms of QA. Call center analytics software and a call center AI tool can also be used to monitor this information. Conversational AI software such as Authenticx can help you analyze customer interaction data. With your inputs in one place, Authenticx's software can help categorize and customize your priorities to get the best results. You can organize by needs, interests, drivers, sources, and other contextual indicators. This platform also allows users to collect quantitative and qualitative data around selected initiatives and access it all through a single customizable dashboard.
Once you have analyzed your data, Authenticx makes it possible for you to confidently take action with insights that close the gap between your organization and customers. Users experience a combination of audio and visual outputs from the customer directly, leverage insights and trends made visible across multiple data sources, and get the right information to executives so they can connect with your customers.
Call Center Voice Analytics Software
In addition to providing data-driven insights, conversational AI software can capture audio clips from customer interaction data as a qualitative measure of patient experience. If there is an important or common line pulled from a conversation during a customer interaction, then patient experience software can highlight those phrases and save them to be evaluated later. In this way, call center voice analytics software can prove extremely helpful for businesses wanting to gain a clear understanding of exactly what is being said in agent-customer conversation.
Call monitoring feedback can be useful in a number of different ways, but knowing how to use the data derived from monitoring is even more important. Based on what you hear from the recordings, create call evaluation feedback for agents to let them know what they are doing well and what they might do differently going forward. It doesn't do anyone any good to simply listen in on other people's conversations—you must have a good reason for it and find a way to use these recordings to enhance the customer experience and help agents become better at their jobs.
Positive Feedback For Call Center Agents
Positive feedback for call center agents is a crucial component of providing quality feedback. While it's important to point out things they could do better, it's also important to offer good feedback comments as a way to boost their morale and encourage them to keep on doing the things that are resulting in quality outcomes. Be sure to provide positive feedback for good customer service. You could reward agents who are performing exceptionally well at meeting set standards and responding to quality feedback in a productive way.
There are many tangible feedback examples on how to broach the topic with call center agents. That said, although quality feedback can come in many different forms, it should ultimately aim to inform agents on what is working well and why. Point out specific things they are doing right, as this will give them a better understanding of what is expected as far as customer support is concerned. Explaining the positives can be just as informative as detailing the negatives. It could help to strive to be precise in your feedback, offering specific examples and things you have noticed that you feel should be acknowledged. Agents generally appreciate when their efforts are recognized, so this can also be a great way to encourage even better performance in the future.