Your customers are talking. Are you listening?
Tap into existing customer conversations to reveal qualitative feedback. This unfiltered, renewable source of insights accounts for every customer voice – even those who don't respond to surveys.
Start Listening
Authenticx analyzes customer conversations to surface recurring trends.
Leverage your healthcare call center for actionable intel.
Improve compliance and increase quality scores across call centers by listening to customer interactions at scale.
See Authenticx in Action
Healthcare Call Center Services
Over the past few years, society has made a discernible push towards shifting the focus of businesses of all industries to a more customer-centric and customer experience-oriented approach by way of health care call center services.
One industry that adopted this approach a long time ago is the healthcare industry. In healthcare, the customers, or patients, are what the industry is focused on — after all, they are the ones being treated and cared for by healthcare professionals.
Since the rest of society has decided to catch up and also put their customer experience to the forefront of their marketing, advertising, and other efforts, there are some new and innovative technologies that healthcare providers can use to better understand and serve their customers. One example of this is customer experience software.
Customer experience software can help businesses of all sizes and industries to better understand their customers and ensure that they are making changes to their structures and processes that benefit their customers rather than the opposite.
For the healthcare industry, one of the most widespread practices used to collect data and insights from patients is by using hospital experience (or other healthcare experience) survey questionnaires. But, there is actually a much more effective way to ensure that you are getting all of the insights and concerns from your customers that you need. Utilizing your health care call center data.
Oftentimes healthcare facilities will store this data and leave it completely unused. However, hidden in this stored and forgotten data are valuable customer insights and answers to questions like what your customers actually want, whether or not you are fulfilling your promises and reflecting your values, how you can improve your services or increase sales, and what customers think about your website or other digital presences.
The unfortunate truth is that questionnaires require a customer to voluntarily fill them out and they are retrospective — meaning that the patient has to think back and recall their experience — which can lead to missed details or insights that could be valuable to you.
So, rather than just storing your data in a database somewhere and forgetting it exists, let your healthcare call center jobs be more than just answering a phone for your patients, let it help you get a better glimpse into patient insights and get the much-needed context for their concerns.
Call Center Best Practices
With the increasing focus and desire to improve customer experience in businesses of all industries, many consumers have begun to expect this type of service and, especially in healthcare, may have a higher chance of reporting a negative experience if they do not feel they are being listened to or that their concerns or insights are not being heard.
Because of this, it is incredibly important that when you are considering how to run a medical call center in the best way possible, you are considering utilizing the valuable customer insights and concerns that they are willingly offering you in their interactions with your call center employees.
Using a platform like Authenticx can help you to easily analyze these customer interactions and highlight the most important insights to you on an easy-to-use dashboard. You can even listen to the customer's concern directly from the customer with audio snippets of the concern and context so that you can better ensure that you understand the situation your customers are in and how to best help them.
Another type of business in the healthcare industry that can greatly benefit from a platform like Authenticx is the insurance industry.
Oftentimes insurance offices may use a health insurance call center script that helps them to go through and address any common questions or concerns from their customers, however, a lot of times a customer may have a concern outside of those questions and like with a questionnaire, they may feel like they are not being heard for the issues that they are having.
With Authenticx, you can monitor these calls and pick out the valuable insights that can help you to better serve your customers and improve your member services call quality score.
Healthcare Customer Service
Improving your customer service and making sure that your customers (or patients) feel like they are being listened to and understood by your business and their insights are valued by your employees.
Especially in today's society where the focus of businesses of all different industries has shifted to be more customer-centric, it is essential that you can demonstrate to your customers that they are valuable to you and you take their concerns and insights into account when making decisions about improving your business.
One way that the healthcare industry can do this is to ensure that they have well-informed and effective healthcare customer service training. This will help your call center employees to make sure that they can better understand and evaluate the customer calls that they are getting each day.
Good healthcare call center training can mark the difference between achieving an improved customer experience and a very stagnant customer experience that your customers are not going to be pleased with.
To improve your healthcare call center training, you can utilize conversation analysis software, like Authenticx, to analyze where your customers are needing more support and evaluate the performance and effectiveness of your agents on a monthly basis to see where more training may be needed.
How It Works
Gain a deeper level understanding of contact center conversations with AI solutions.
Learn More
Aggregate
Pull customer interaction data across vendors, products, and services into a single source of truth.
Analyze
Collect quantitative and qualitative information to understand patterns and uncover opportunities.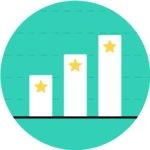 Activate
Confidently take action with insights that close the gap between your organization and your customers.
Healthcare Call Center Benchmarks
When you are looking to improve your healthcare customer service utilizing the data stored in your healthcare call centers, it can be incredibly important to know what kinds of benchmarks you are looking to achieve.
In other words, even if you are using the best healthcare call center technology, without ideas and a general trajectory for where you want to go, it can be extremely difficult to actually achieve any changes that are beneficial to your customers.
In order to determine which areas of your customer experience are needing improvement, you can use a technology like Authenticx to listen to and analyze the data stored in your call centers so that you can utilize that information — that comes directly from your customers — to improve your customer service and customer experience.
Using Authenticx's customer experience software, you can easily comb through all of the data stored in your call centers and identify the biggest (and also the smaller) disruptions in your customer experience so that you can improve the customer journey as a whole.
Centralized Call Center
A healthcare call center is extremely important for collecting valuable insights and concerns from your customers. But, it is also important to know just how your call center employees or other employees are responding to customer calls — after all, call centers store customer interactions with these employees.
Finding out how your call center employees are answering calls can help you to understand where additional training is needed. Offering better doctor call center training can help you to ensure that your patients are better understood and their concerns and insights are more effectively gathered so you can utilize them to improve your customer experience overall.
Using a software solution, like Authenticx, you can more easily track and analyze your quality scores over all of your healthcare call center vendors.
Essentially, with a platform like Authenticx, you can more easily identify and evaluate your call center data and determine how to implement better practices to make sure that customers are happy and satisfied with their customer service. Authenticx can also help healthcare providers to easily and effectively measure employee performance and uncover any areas where more training may be required.
Health Call Center Software
As more businesses are finding it more important to utilize customer data to improve customer experience, there has been an increasing number of call center workforce management software solutions available on the market today. Because there are so many software solutions available today, it can be difficult to figure out exactly which call center software features are going to be the most beneficial for your business.
As a healthcare provider, you will want to ensure that any software solution you use is a HIPAA-compliant call center software solution so that you can be sure that you are not going to be violating any HIPAA rules when you are analyzing your call center data.
One call centre software solution may be better for your business than another. For example, an interactive intelligence call center software can help you to dramatically improve your customer experience. Another incredibly useful software option is a conversational analysis software solution, like Authenticx. Authenticx's software can help to easily analyze the valuable insights that your customers are giving you on a daily basis.
Call Center Healthcare Standards
In the healthcare industry, it is incredibly important that all facilities and providers are meeting compliance requirements and industry standards for everything — especially when it comes to recorded customer interactions. Because of this, you'll want to look for a software solution that has a healthcare customer service certification and complies with these compliance standards so that you do not have to worry about violating these standards.
With a software solution, like Authenticx, you can ensure that your call centers are meeting these standards and following the requirements of the industry. This makes utilizing a solution like Authenticx a great option that helps you to comply with industry standards as well as better analyze and identify key insights that can help your business better improve its customer service.