Identify areas of opportunity for improvement.
Build a proactive, quality-focused customer approach with Authenticx
Learn more
Authenticx analyzes customer conversations to surface recurring trends.
Agent Performance Report
For organizations that utilize call centers to handle customer service, it can be challenging to maximize the effectiveness of that service without software like Authenticx. Authenticx exists so that healthcare organizations could take advantage of customer interactions that were already occurring regularly – phone calls – and determine the most common patient pain points and how to resolve them.
By analyzing agent performance reports, clients can determine data points such as:
-Who is calling the line and why
-If their issue is resolved & how quickly
-What kind of training solutions do your agents need
With software like Authenticx, there's no need for creating call center agent performance report templates. Authenticx generates agent performance report templates automatically utilizing machine learning and AI so that there's no need to create a paperwork process externally.
To see an agent report sample, visit this product tour to see Authenticx in action. Agents are the first point of contact for your customers, so it is essential to analyze their data and determine how they are performing in regards to identifying and solving customer issues or alerting another member of the team if necessary. Utilizing agent reports also helps clients to determine if their agents are being trained correctly or if there is room for development.
Agents play a significant role in the usefulness of the call center and the type of data that is collected from patients. In order to solve a patient's issue or to uncover a trend as a whole, agents first need to make the patient feel comfortable enough to disclose what the problem truly is. Using agent performance reports can determine which agents are skilled at this type of problem-solving and which ones may need additional training support.
Agent Performance Dashboard
If you're wondering where to find the agent reports, that would be in the call center agent performance dashboard. The Authenticx software has multiple dashboards that help conceptualize and present data, including an agent performance dashboard.
The Authenticx navigation menu includes tons of functionality for healthcare professionals, including monitoring the performance of an agent. Dashboards are useful tools that help deliver data that can be utilized to alleviate customer issues as well as give support to administrators, marketers, and sales teams.
Analyzing the agent reports also gives healthcare clients an opportunity to determine what sort of, if any, training or coaching may be needed to ensure that patients are having the best experience possible when interacting with their facility. The types of conversations that call center agents are having with the patient would have been happening anyway. Authenticx just makes it possible for the data of that conversation to be shared.
The impact of this data-sharing could be increased customer satisfaction and employee development. It could even have an impact on the organization's bottom line as a whole. When customers are unhappy with a service that they receive, they are more likely to leave and go to a competitor.
Authenticx makes it possible to determine what exactly is making a customer who calls unhappy and provides healthcare clients with the information that they need to determine a plan for resolution.
Call Center Report
The agent dashboard isn't the only tool that healthcare providers can use to gain insight into agent quality. Authenticx's Smart Sample feature also can provide a look into how agents and customers interact while they are on call.
The Smart Sample feature makes it easy for clients to view the issues that are disturbing a customer's journey most frequently. This feature uses machine learning and artificial intelligence to parse through customer calls and determine what exactly they are calling about. This data is then aggregated into a call center report.
In keeping with call center reporting best practices, this collection of data can save valuable time by allowing analysts to focus on the most relevant details rather than sorting through tons of unprocessed data to find key points.
Another important feature of Authenticx is Smart Predict. Check out call center reports samples and learn more about Smart Predict here. Smart Predict can determine if the agent was a proactive listener if they took accountability for any issue presented by the customer, and how well they managed the conversation.
Call Center Analytics Dashboard
Thanks to Authenticx's easy-to-use dashboard reporting systems, there's no need to download call center KPI dashboard templates OR call center performance dashboard templates from the internet. Using manual dashboards can allow for quite a bit of human error. They require analyst time for upkeep and are rarely adjustable or scalable to your current solutions.
Authenticx's call center analytics dashboard measures agent performance within the software, removing the need to download an agent performance dashboard template or a call center daily report template. Thanks to the native reporting system, all of the information clients need is a click away, with no need for manually adjusting an Excel dashboard.
Smart Sample pulls the patient's self-described struggles directly from the conversation so that organizations can identify themes and rally to find a solution.
The Montage Builder feature allows marketing and sales departments to celebrate the success of a solution and humanize a customer's story. The information gathered from call centers is more than just data – it's the story of a real human being's life experience. Using the call center analytics dashboard can help determine how well that human being was helped along in their customer journey and what support can be provided by a healthcare provider.
How It Works
Gain a deeper level understanding of contact center conversations with AI solutions.
See a Preview
Aggregate
Pull customer interaction data across vendors, products, and services into a single source of truth.
Analyze
Collect quantitative and qualitative information to understand patterns and uncover opportunities.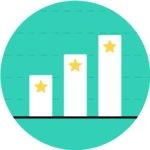 Activate
Confidently take action with insights that close the gap between your organization and your customers.
Performance Appraisal Dashboard
As with any business tool, it's essential that healthcare providers are regularly auditing their call center to determine if it's adding value to their service and client solutions. Healthcare clients can use agent analytics data as a performance appraisal dashboard of sorts.
The results of conversations happening on the line are right in front of you with Authenticx. Using the software, it eliminates a need on behalf of the healthcare provider or the call center to come up with a team performance tracker template or a daily performance tracker template.
The beauty of Authenticx is that any relevant data is being collected via conversations that are already happening by phone, chat, and email. The resolutions to these conversations are also stored in the software, meaning that an organization looking for a daily performance tracker template for their call center only needs to review the Authenticx reports to determine how their agents are performing.
Authenticx was created by healthcare professionals for healthcare professionals. The data that passes through the hands of call center agents every day could be vital to solving organization-wide problems. By taking a systematic approach to aggregating and contextualizing the data that call centers receive, organizations can use those insights to enact real solutions.
Sample Inbound Call Center Reports
When working in healthcare administration, marketing, and sales, it can sometimes be difficult to know exactly what type of metrics to qualify or identify what part of the customer journey is being bogged down by issues that Authenticx calls the Eddy Effect.
This is part of why many analysts may find themselves searching for outbound call center reports templates and sample inbound call center reports. With Authenticx, every kind of report and dashboard necessary to facilitate positive impact is available natively within the software.
Authenticx takes data from conversations that were already occurring between agents and your patients and then sorts, conceptualizes, and contextualizes that data to provide healthcare professionals with key insights into their customer's experience.
Sample inbound call center reports and call center weekly report templates are not necessary to source externally and can save administrators, analysts, and other employees valuable time that can be reallocated to serving patients and finding solutions.
Performance Report Template
While Authenticx doesn't track or provide sales performance report templates, it does include a supervisor dashboard that can provide the sales team with information that they need to increase sales. Authenticx was created so that vital information typically held by client services or client success teams (also known as customer service) could be distributed across the organization and used to enact real change and make a difference in the customer experience.
These positive changes can also have an impact on an organization's bottom line as the proper solution could increase customer loyalty and retention.
Authenticx provides a solution to healthcare organizations that need to know where their pipeline has a leak. Patients and call center agents interact every day, and if the information gained from those interactions isn't being sorted in a way that provides meaningful insights, positive change is less likely to occur. An agent performance report helps monitor and coach employees.
This software takes numerical data and helps contextualize it by highlighting the human beings who are on the phone. Authenticx can change the way that healthcare enterprise organizations make their decisions by showing them how or why their patients are behaving.