We all know navigating healthcare is complicated.
Your patients are frustrated and stuck. And your organization is wasting company resources resolving these disruptions. Isn't it time to identify and diagnose these pain points?
Stop PX Breakdowns. Get the Guide >
Authenticx analyzes customer conversations to surface recurring trends.
Patient Satisfaction Research
Patient satisfaction definition refers to patients' sentiments about the care and treatment they receive from their attending physicians and healthcare providers. Patient satisfaction research shows that, in general, patients often rank their overall experience based on their most recent service visit.
Patient satisfaction and quality of care can lead to better health outcomes. For this reason, organizations may need to refocus their goals and priorities toward meeting patient needs and requirements. Hospitals and healthcare institutions are more likely to see an improvement in their financial performance by enhancing the overall patient experience.
Empathy plays an important role in healthcare provision and ensuring that patients' needs are met. Empathy may be defined as the physicians' competence and ability to understand patients' needs, as well as their perceptions and feelings. Empathy may also refer to how doctors can provide the best quality of care possible and how to communicate with their patients more effectively. This can result in improved clinical outcomes, as well as enable patients to cope better after having a consultation with their healthcare providers.
With the introduction of patient satisfaction as an important measure of healthcare quality, healthcare practitioners may benefit from empowering patients to participate actively in their healthcare decisions and treatment options. In addition, to develop a trusting connection with their providers, patients should be able to speak with their physicians about any particular issues and concerns they may have, offer suggestions, and ask even the toughest health-related questions.
Authenticx utilizes conversational analytics to uncover recurring trends from recorded customer conversations. Authenticx's conversation intelligence software uses natural language processing technology, machine learning, and artificial intelligence to analyze massive amounts of customer data. Authenticx can help healthcare organizations gain important insights and analyze feedback from customers to improve patient satisfaction.
Authenticx's conversational analytics dashboard, which can be customized to meet the specific needs of your organization, allows you to view all of the data collected by the Authenticx conversational analysis software in one single platform anytime, anywhere. This dashboard can provide both visual and audio reporting based on client interactions via phone, chat, and email.
Patient Satisfaction In Healthcare
According to Patient Satisfaction with Healthcare Services: A Critical Review published in 2016, patient satisfaction can contribute to better health outcomes. Patients who are satisfied with the level of care provided by a hospital are more likely to follow medical discharge instructions. Second, patient satisfaction can improve an organization's bottom line due to increased patient referrals, which are a significant source of revenue for many healthcare institutions.
Statistics on patient satisfaction in healthcare show that 86% of customers believe that the quality of customer service experience they receive is an important indicator of their healthcare experience. This means that when customers experience disruptions in their customer journey, this can reduce customer satisfaction in both the quality of service and the provision of care.
Healthcare institutions can obtain insight into how their patients perceive the various areas of services they provide by conducting a patient satisfaction survey in healthcare. This allows healthcare practitioners to better analyze whether or not they can bridge the gap between what their patients require and the services they offer, as well as identify their areas for development.
By conducting patient satisfaction research, healthcare organizations can measure if patients are satisfied with the quality and delivery of services they receive from different departments, such as the ambulatory care unit, emergency department, and inpatient care. Through patient satisfaction research, hospitals may be able to assess their internal strengths and weaknesses, as well as external opportunities and threats.
How to Measure Satisfaction
Patient satisfaction research typically includes conducting patient satisfaction surveys. Patient satisfaction surveys can help companies analyze their service quality in addition to the care they deliver. Front desk personnel, for example, can leave a good first impression by making patients feel welcome, providing relevant information, and answering general queries.
Long wait times, on the other hand, could negatively impact overall customer satisfaction. One way to reduce patient wait times is to gather patient information and completing all documentation prior to their scheduled appointment. Another possible solution is to provide alternate care sites, such as urgent care clinics, for cases that require immediate attention but are not life-threatening. Hospitals may also distribute patient satisfaction survey questionnaires in order to track patients' treatment timelines and identify potential bottlenecks so that patient flow can be improved.
Besides patient satisfaction surveys, there are various ways on how to measure patient satisfaction in healthcare. Healthcare institutions may provide a platform that will allow patients to express their feedback and grievances. For example, healthcare call centers can assist in properly managing patients' appointments by ensuring that they get the right schedule with the right physician.
Authenticx can assist organizations in unlocking conversational data to improve patient experience by evaluating and activating existing customer interaction data. Authenticx can help healthcare institutions gain actionable insights while preventing survey fatigue. Survey fatigue happens when patients get disengaged or tired of the survey process. With Authenticx, organizations may be able to resolve disruptions in their customers' journey by hearing customers' voices and surfacing critical insights.
Types of Satisfaction Surveys
There are different patient satisfaction survey examples that organizations may use to assess patient experience at multiple touchpoints across their patient journeys. There are also patient satisfaction survey templates that hospitals and medical facilities may download, print, and distribute to their patients.
When creating patient satisfaction survey questions, it is important to ask relevant questions that matter to the patients. You may ask patients about their overall experience, from the pre-admission procedures such as scheduling appointments and waiting periods to hospital admission, treatment, and diagnosis, through to the discharge processes as well as post-discharge follow-up services.
You can send patient surveys via postal mail, by emailing links, or through text messaging. By gathering patient experience feedback, healthcare institutions and medical facilities can better assess their service performance and the quality of care provided to patients, as well as identify actionable insights and make informed, proactive decisions.
A patient feedback software such as Authenticx can activate and analyze patient interaction data at scale. Authenticx makes use of existing qualitative and quantitative data, integrates information across teams to break down silos, and gathers important insights in real time. The software from Authenticx can analyze and organize patient data, which can be viewed from a single dashboard, to reflect business priorities and needs. Institutions may utilize Authenticx to organize and tag their existing patient satisfaction data, enabling them to share information across departments.
How It Works
Gain a deeper level understanding of contact center conversations with AI solutions.
See a Preview
Aggregate
Pull customer interaction data across vendors, products, and services into a single source of truth.
Analyze
Collect quantitative and qualitative information to understand patterns and uncover opportunities.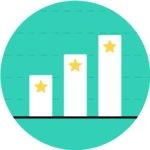 Activate
Confidently take action with insights that close the gap between your organization and your customers.
Study on Patient Satisfaction in Hospitals
Healthcare institutions may create hospital patient satisfaction survey questions as part of their patient satisfaction research. Organizations can improve their healthcare system performance by better understanding and boosting patient satisfaction. Furthermore, healthcare providers may gain insights on how to improve their marketing strategies in order to promote patient loyalty and drive more referral visits.
By creating a patient satisfaction survey questionnaire, hospitals can obtain an overview of overall patient experience. For example, patients may be asked to fill out a form to evaluate their nursing care experience during their hospital stay. Patients can also be asked to rate their other experiences, such as the length of time they waited in the reception area for a physician appointment, the quality of their after-hours care, whether the medical staff is courteous and attentive to their needs, the facility's design and readiness to treat patients, and so on. A questionnaire for patient satisfaction in OPD, or outpatient department, may include a patient's assessment on registration procedures, the quality and availability of medical equipment, distance of health facility from patient home, and other factors.
Patient Satisfaction Report
Before starting on a patient satisfaction project, it is considered a good idea to look over several patient satisfaction examples, which may include various aspects of healthcare delivery that patients put a premium on. An empirical review on patient satisfaction, for example, may reveal that hospital costs, service delivery, and patient interactions with hospital staff have a greater impact on patient satisfaction than the physical healthcare environment.
By utilizing AI, or artificial intelligence, Authenticx can help healthcare institutions analyze customer interaction data that they already have. With Authenticx, you can aggregate and organize audio and visual data to help you understand customer concerns and make impactful changes in your organization. While it is not a call center service, Authenticx allows you to tap into customer interaction data at scale when customers contact your service agents.
Why Patient Satisfaction Is Important
The importance of patient satisfaction surveys cannot be underestimated. By listening to patient feedback, organizations can understand customers' needs and identify customer eddies, or disturbances in patients' healthcare journeys. When clients feel that they are caught in a frustrating cycle of eddy experiences, this can erode patient satisfaction, waste valuable company resources, and directly impact an organization's bottom line. One way to resolve eddies is to identify the leading indicators of eddies and surface them in customer conversations.
As a conversational AI software, Authenticx can instantly analyze customer conversations stored in a customer care center. This allows healthcare institutions to focus on implementing the necessary actions that will benefit their customers.
Authenticx can help reveal transformational opportunities in healthcare organizations. By aggregating, analyzing, and activating customer interactions in a single platform, institutions may gain actionable insights for intelligent decision-making to drive business growth and improve patient experience.