Your customers are talking. Are you listening?
Get actionable insights from comprehensive and relevant customer feedback to build a customer-centric brand strategy.
See How Authenticx Helps
Authenticx analyzes customer conversations to surface recurring trends.
Identify Disruptions with Actionable Data Insights
Understand the member experience with comprehensive and relevant customer feedback through conversational data.
View Case Study
AI Data Analytics
If the old adage that knowledge is power is true, data analytics can help take your company's knowledge to the next level. As more businesses come to understand the value of customer and market data, organizations from every industry around the globe are investing in greater data analytics capabilities. And for a good reason – with recent improvements and advancements in artificial intelligence (AI) and machine learning (ML) technologies, businesses have more power than ever before to harness customer data and extract insights to help streamline various processes and optimize workflows.
AI data analytics has come a long way since the invention of artificial intelligence applications in the middle of the twentieth century. As programmers and developers continue building and developing ever more capable technologies, businesses continue to implement these technologies however they can in order to aggregate better, more precise data. This data can be used to help inform marketing campaigns, craft customer engagement strategies, and help customer support teams provide even better customer experiences.
In this article, we will discuss what is the difference between data analysis and machine learning, how artificial intelligence in data analytics works, as well as analytical AI examples, and more. There are many things data and analytics can do for a company, but the process can be complex and multifaceted. Artificial intelligence analytics is the process of automating data analysis. Traditionally, analyzing data was a labor-intensive task that took up lots of time and resources. But thanks to continual technological advancements in artificial intelligence and machine learning capabilities, AI programs are now better equipped to tackle unstructured data to provide rapid insights like never before.
Modern organizations utilize predictive analytics and AI/ML analytics to help marketing teams, developers, and other departments. Predictive analytics refers to the process by which data is analyzed in order to determine the likelihood of future events or trends. Similar to how meteorologists and other professionals might use data models to determine future events, predictive analytics empowers businesses both small and large to adapt quickly to ever-changing marketplaces. While meteorologists may not always get the weather forecast exactly right, predictive analytics means that models are improving and the information is getting steadily more accurate as time progresses. For businesses hoping to be at the forefront of the next big marketing trend, implementing a robust data analytics platform is one of the best strategies currently out there.
Data Science
Generally speaking, data science is the broad term used to describe how businesses and their employees are able to extract insights from data to help inform business decisions. The process itself can be highly complex and involved and can require a multidisciplinary approach in order to extract the most significant insights. The umbrella term "data science" borrows heavily from fields like statistics, mathematics, computer engineering, artificial intelligence, and many others as well. When data is analyzed from all these different perspectives and disciplines, it becomes much easier to paint the bigger picture and help a business determine its next steps in terms of planning marketing initiatives, streamlining workplace operations, or developing greater customer engagement strategies.
All businesses are unique and operate differently; even competitors that are similar in size can face drastically different obstacles, which is why data analytics can be such an invaluable tool. One company's solution to a problem or challenge may not be the right remedy for your organization and vice versa, but being able to rely on your company's own data analysis initiatives can allow your teams to develop solutions for the most immediate challenges in a timely manner.
The difference between data science and machine learning (and artificial intelligence) basically boils down to how a company intends to define its data science efforts. Increasingly, more companies are relying on artificial intelligence and machine learning, but those aspects do not necessarily equate to data science. And when it comes to the difference between big data analytics and AI, an important fact to remember is that artificial intelligence can help support data analysis. However, AI by itself is not a substitute for data analytics.
Later on, we will delve deeper into the difference between artificial intelligence and machine learning and deep learning and data science. For the foreseeable future, it's likely that AI-powered analytics and data science will likely continue to play an invaluable role in modern organizations' efforts to improve operations.
What is Business Analytics?
We have touched on some of the basics of data science and some of the capabilities of artificial intelligence in data analysis automation, but what is business analytics exactly? Business analytics refers to the process of utilizing data and other information to glean insights and improve business operations and optimize workflow. Increasingly, this looks like automating data analysis using artificial intelligence. In other words, business analytics seeks to provide organizations with comprehensive solutions regarding data management, predictive modeling, data visualization, and more – anything that could help a business improve operations or profitability.
The primary difference between data analytics and artificial intelligence is that data analytics is a broad term that refers generally to data examination and organization, whereas AI represents a specific tool that can help expedite data analytics processes. And there are numerous benefits of utilizing AI platforms to help support business endeavors. AI can potentially help businesses design new and better products in addition to updating existing ones, and AI can improve supply chain logistics and inventory processing. There are innumerable ways businesses are relying on AI to help optimize their systems and more are being developed every day.
A machine learning data analysis example might look like a program poring over troves of data in order to recognize patterns and "learn" to prioritize certain information in order to provide more meaningful analysis or organization. Machine learning technology relies on algorithms and statistical models and can also contribute a significant amount to business analytics initiatives.
As more companies invest in data and machine learning capabilities, the marketplace will become increasingly more competitive as businesses continually optimize and develop better methods of retaining customers and increasing their profitability. Organizations that are able to successfully integrate automated data analysis initiatives into their workflow are positioning themselves to be able to quickly adapt to shifting market trends or customer demands.
How It Works
Gain a deeper level understanding of contact center conversations with AI solutions.
Learn More
Aggregate
Pull customer interaction data across vendors, products, and services into a single source of truth.
Analyze
Collect quantitative and qualitative information to understand patterns and uncover opportunities.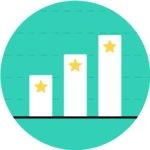 Activate
Confidently take action with insights that close the gap between your organization and your customers.
AI Analytics Companies
Some of the top AI companies to invest in are themselves investing in developing better technologies and workforces that can utilize that technology effectively. While some industry giants like IBM have been involved in artificial intelligence virtually since its inception, more businesses realize the value of data and data processing in today's digital era. Some of the world's largest and most powerful technology companies are investing heavily in artificial intelligence capabilities to develop even better ways to optimize businesses and improve profits.
As more industry professionals sign up for data analytics and artificial intelligence courses, AI data analytics companies improve their data management and manipulation capabilities. AI analytics companies can also help other organizations identify problems or issues within their own processes and quickly develop solutions. And as problems become increasingly modern in scope and complexity, businesses will have to develop modern solutions in order to remain competitive and profitable.
Many analytics companies know how much money there is in data and data analysis, and have purposefully positioned themselves within the marketplace to provide other organizations with invaluable services that can help optimize and streamline dozens of facets of their business operations. When companies take the power of data analytics into their own hands, management can decide how best to implement various strategies. Data aggregation and analysis can also help businesses identify their greatest strengths and weaknesses and work to buttress their strengths and remedy any weaknesses.
AI Data Analytics Tools
Utilizing artificial intelligence to streamline analytics makes a lot of sense – AI can work much faster than many humans combined, and when paired with knowledgeable human experts and industry professionals, AI can provide a wealth of opportunities for organizations of all sizes. AI data analytics tools can also expedite data-sensitive workflows which can allow product development teams, marketing teams, and other departments to accomplish their work more quickly and potentially reduce the turnaround time between projects.
Data analytics automation tools can help businesses streamline numerous data-driven operations, for instance. AI can also help find connections or patterns among disparate datasets, identify various types of data, and even recognize written or spoken human languages via natural language processing. Taking an AI data analytics course can provide greater insight into how AI data analysis software works and how to make the most of the AI data analytics tools available to your organization.
How companies decide to implement artificial intelligence into their workflows likely depends on the challenges facing that particular business. An organization that wishes to grow its customer base and foster greater loyalty among existing customers could utilize AI to help improve customer engagement strategies and marketing campaigns, for instance. As long as companies continue to occupy more digital spaces and as consumers continue to demand remote or digital access to companies' goods and services, data analytics and automation initiatives will continue to dominate the tech industry.