Find and listen to data that matters
Authenticx listens, analyzes, and activates customer voices to confidently identify dynamics and disruptions impacting the customer journey.
See a Preview
Authenticx analyzes customer conversations to surface recurring trends.
Call center speech analytics software that connects qualitative human emotion to quantitative metrics.
Collecting data is only part of the equation. Understanding begins by listening and engaging with the story your patients are sharing.
See Authenticx in Action
Over 50,000 customer interactions demonstrate how pervasive disruptions in the healthcare customer journey continue to be.
Speech Analytics Benefits
Speech analytics is the process of analyzing recorded calls to gather information on customer-agent interactions. This data can then be used to make improved calls for both parties. Speech analytics benefits are extensive and include the ability to answer questions, provide quality service, and enhance customer support.
It's one thing to analyze conversations at a surface level and another to dig deeper to identify meaningful trends and patterns. For instance, using speech analytics, you can pinpoint common problems faced by customers. You may not realize the extent of the problem when speaking with a single customer, but viewing your data holistically can reveal issues on a broader scale.
Authenticx offers speech analysis software that can draw meaning from an organization's unstructured data. The platform works to humanize conversational intelligence in healthcare, leveraging a combination of AI-powered tools to extract deeper, more meaningful insights from phone calls. Using Authenticx, you can reap the benefits of speech analytics while maintaining control of your data.
You can identify recurring trends in healthcare and make better decisions based on those trends. This can open the door to transformational opportunities for improving the experience for both customers and call center agents. Understanding speech analytics can be tricky, but Authenticx helps simplify the process for users, enabling them to get the most out of their data.
Speech Technology
Speech analytics technology has come a long way in recent years, allowing for an even closer analysis of conversations. With speech analytics software, you can discover the driving forces behind customer-agent interactions. You can hear directly from customers, understand their concerns more precisely, and look for ways to improve your call center procedures.
You can even use a speech analytics mobile app for easier viewing. An app can be extremely useful for remote workers, or even just those that want to be able to quickly pull up the software without having to access their work computer.
Authenticx offers speech analysis software that filters and analyzes customer interactions to deduce intent, emotions, and meaning. This goes beyond typical call center technology, providing a closer look at the customer experience and enabling users to extract deeper insights from conversations.
Speech analytics software benefits companies by granting them access to conversational intelligence tools so that instead of simply listening in on conversations, they can actively work to understand data more holistically and find solutions to meet customer needs from every angle.
With speech analytics technology, you can do even more with your call center data and connect with customers to provide improved support. You can also train agents to better interact with customers, offering them a better experience from beginning to end.
Analytics Examples
There are many speech analytics examples that show the importance of analyzing phone conversations on a deeper level. For instance, if you're a healthcare organization, you might use speech analytics software to learn more about the appointment scheduling process from the patient end. Your agents can ask them questions about their experience, and you can use your software to pick out certain trends and patterns in their speech that can inform better decision-making.
Even the best call analyst can overlook critical details, but speech analytics software makes it easier to identify key points and ideas that impact the way customers and agents interact on phone calls.
Your speech analytics system can help you stay organized and point out important metrics that are essential to your success as a business. It can also allow for better collaboration with your teammates. While you always have the option to analyze data through a speech analytics technology center, being able to access the software in-house can be extremely helpful. For this reason, platforms like Authenticx have become popular tools for analyzing call center data.
With the right speech analytics tools, you can connect more easily with customers and provide better training to agents. By examining conversations from every angle, you can get a more holistic understanding of the customer experience, seeing things from the customer's side, and working to identify the root causes behind some of the problems they encounter most frequently.
How It Works
Gain a deeper level understanding of contact center conversations with AI solutions.
See a Preview
Aggregate
Pull customer interaction data across vendors, products, and services into a single source of truth.
Analyze
Collect quantitative and qualitative information to understand patterns and uncover opportunities.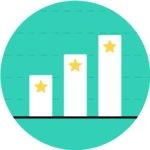 Activate
Confidently take action with insights that close the gap between your organization and your customers.
Speech Analytics Management
Figuring out how to handle your speech analytics management process is the first step in devising a solid strategy for conversational analysis. It can be a good idea to review some speech analytics best practices to ensure you're doing everything right to obtain useful results. For example, you should monitor and score every call—don't let anything go to waste.
It's also important to identify words and phrases to recognize sentiment in speech. Of course, as with anything related to analytics, you should go into the process with a good idea of what you're trying to get out of it. You might consider setting some goals or benchmarks in terms of your most desired data and what kind of information is most valuable to your organization.
Implementing speech analytics training is crucial to ensuring that your call center agents are all on the same page as far as customer interaction techniques. They should have a good understanding of what call monitoring entails and what sorts of things analysts are looking for when listening in on calls. That way, they themselves can help move the conversation in a more productive direction without shifting things unnaturally or alienating the customer.
Using speech analytics tools, you can gain greater control of your process. Authenticx's Speech Analyticx tool looks for themes and trends across customer interactions, summarizing them for users for easier viewing. These metrics can give you a big-picture look at your data.
Speech Analytics Case Studies
To learn more about how speech analytics can benefit call centers, you can browse speech analytics case studies. Audio analytics use cases, for instance, focus on calls and other forms of audio for gathering feedback. They can be helpful in determining sentiment and other critical details related to the customer experience.
There are many different kinds of call center analytics use cases, so it's important to do your research to find the cases that are most aligned with your business goals and can serve as a template for how to structure your speech analysis process. Ideally, you should look to use cases that pertain to your specific industry, as this can give you a better idea of how speech analytics can be applied to your particular line of work.
For example, when a global life sciences company was preparing to launch a new product, they turned to Authenticx for help understanding customer frustrations and friction.
By listening to the voice of the customer, Authenticx identified four key factors that were causing customers trouble: frustration, cost, access, and the Eddy Effect, or the way in which customers' ideal experience is disrupted by looping obstacles. Using these findings, the company's marketing team was able to change the messaging surrounding the product launch, revising their content to provide additional clarity and better communicate the product's benefits and pricing. This is just one example of how platforms like Authenticx can transform your call center data into meaningful insights.
Speech Analytics Metrics
Speech analytics metrics offer valuable insight into the customer experience. You can obtain useful information by analyzing the customer voice and identifying common threads in each conversation. Rather than relying on siloed sources of information, you can combine data to uncover common trends and patterns related to the customer experience.
Speech analytics benefits call center examples can also give you a better idea of how various metrics work together to offer a big-picture look at customer satisfaction. In addition, you might use a speech analytics benefits template to plan your process, seeing how each aspect connects to another to offer the maximum results to your company. Similarly, with a speech analytics benefits revenue template, you can determine how achieving certain metrics will impact your revenue stream.
Authenticx provides more than the typical speech metrics. The platform listens to and analyzes customer voices to affect meaningful change. Understanding that healthcare conversations are different from those of other industries, Authenticx connects qualitative data to quantitate speech analytics metrics to understand both human emotion and opportunities for business growth.
What's more, Authenticx makes it possible to account for each of the diverse voices within your organization. Healthcare needs are complex, and different patients face a number of different challenges, which is why the platform emphasizes connection across calls, texts, and more. By studying these interactions alongside each other, Authenticx can provide you with a data source that's specifically centered around your unique needs.