Your customers are talking. Are you listening?
Tap into existing customer conversations to reveal qualitative feedback. This unfiltered, renewable source of insights accounts for every customer voice – even those who don't respond to surveys.
Start Listening
Authenticx analyzes customer conversations to surface recurring trends.
Leverage your healthcare call center for actionable intel.
Improve compliance and increase quality scores across call centers by listening to customer interactions at scale.
Read more
Customer Insight Software
As a member of the healthcare industry, you know how important it is to collect and analyze customer data. Without this data, there can be no effective way to improve your customer service and give your customers the great customer experience they are looking for.
Since this data is so important, many healthcare facilities rely on surveys and questionnaires to get the feedback they need from their customers. But what if there was an easier way to get and analyze customer data? What if there was a way to analyze daily customer interactions without the biased sample of people who choose to fill out an experience questionnaire? Luckily for healthcare organizations of all kinds, there is an easier way.
Rather than relying on customer surveys and questionnaires, you can use customer insight management software to pull valuable insights from customer interactions. Customer insight, meaning the insights you can receive from analyzing and interpreting customers' experiences and questions, is an extremely valuable tool for any business — especially in the healthcare industry.
Now, what does this mean exactly? Well, your customers are offering valuable insights and information about what is working and what needs work each day when they talk to your customer service representatives. Of course, you are already recording and storing this data, but you're likely letting all of the valuable information hidden in these conversations go to waste by not analyzing it.
One great solution that allows you to easily collect real-time data from multiple different sources is Authenticx. Your customer interactions likely come from many different channels — such as online chats, text messages, voice calls, forms and questionnaires, and online applications. This means that you need a platform or solution that allows you to collect insights from all of these platforms and ensure that the data being collected is current. After all, you wouldn't want to make a change to a system and feel that it doesn't work because you are still looking at data from before that change was made.
A platform like Authenticx can bring together all of your customer insight examples into a single and easy-to-use platform. There you can analyze and organize your data and receive actionable insights straight from your customers in audio and visual manners.
Best Customer Insight Software
If you are looking for a customer insight data platform, you likely want to ensure that you find the best solution on the market. After all, if you are going to take the time and resources to invest in a new platform, you want to ensure that it is the absolute best solution out there. This is completely reasonable.
However, in practice, knowing which platform is right for you can get a little challenging. This is because not all businesses or organizations are the same. Even if two organizations are in the healthcare industry, what may work for one organization may not work for another.
This said, when you are looking for your customer insight solution, you will want to look for a solution that offers a few different features. Solutions that only offer one single tool or feature are not going to be able to give you the variety and scope that solutions that offer multiple features will. So, look for a customer insight software company that not only helps you to collect data across different sources into a single location but also a solution that helps you to analyze and gather valuable insights from that data.
Additionally, look for a solution that utilizes machine learning and speech analytics technology because these tools will be able to help you more effectively pull insights from your customers' call center interactions. One example of a platform that offers all of these features and more is Authenticx.
Authenticx also offers the additional feature of allowing you to hear insight directly from your customers by collecting audio samples from their conversations. This means that you can easily hear what your customers need in a custom-created montage of any particular topic. And on top of that, Authenticx collects real-time data so you can be sure you are working with your customers' right now.
Customer Insight Software Benefits
You may be wondering what exactly customer insight software solutions can do for your organization or how they can help you improve your customer experience. Put simply, customer insight software allows you to collect and interpret the data that your customers are giving you every day. This means that you will be able to create much more valuable insights and plans for improving your customer experience without even requiring your customers to fill out a survey.
With a software solution like Authenticx, you can easily collect and analyze the raw, honest, and unfiltered feedback your customers give you every time they contact a customer service representative. This data could come from call center calls, online messages, survey results, and much more.
The largest benefit of using a customer insight software customer portal is that you are able to get a realistic view of what concerns are most important to your customers. With survey questions, you do not get the context of why something is concerning or causing confusion. Survey results also tend to be a biased sample size because they require the patient or customer to willingly fill them out. This can lead to a skewed selection of responses and not tell you what areas of your customer experience are truly lacking.
How It Works
Gain a deeper level understanding of contact center conversations with AI solutions.
Learn More
Aggregate
Pull customer interaction data across vendors, products, and services into a single source of truth.
Analyze
Collect quantitative and qualitative information to understand patterns and uncover opportunities.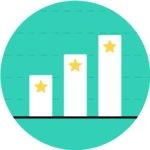 Activate
Confidently take action with insights that close the gap between your organization and your customers.
Customer Intelligence Platform
As the world of artificial intelligence (AI) continues to grow, there are more and more tools and software options for all kinds of intelligence. Of these tools, one of the most popular and important for organizations that work with customers is customer intelligence. Now, because these tools offer valuable insights into customer needs and desires, there are numerous customer intelligence companies to choose from. However, this said, not all customer intelligence tools are going to be the right fit for every organization.
As an organization in the healthcare industry, you will want to focus on the customer intelligence platforms and solutions that allow you to identify context around customer concerns and help you draw insights from your customer interactions. Because of this, a customer data platform that utilizes customer intelligence, like Authenticx, can be an excellent tool for improving customer experience with your organization.
Authenticx's platform allows you to aggregate and analyze customer interaction data to create and act on actionable insights to improve the most important customer concerns first. This prioritization is essential because it helps show your customers that you hear their concerns and are working to fix them.
Customer Intelligence And Analytics
Since customer experience has become a focal point for businesses of all sizes and industries, there has been a rise in the number of customer intelligence analyst positions and software solutions over the years. While the customer-centric approach is nothing new for healthcare organizations, these tools and software options can be incredibly useful in speeding up and improving the effectiveness of any current customer analytics your organization may be using.
For example, maybe you are currently using a third-party customer intelligence analytics business to help you sort through and highlight your customers' concerns or simply relying on surveys to give you the information you need. In whatever case, a customer intelligence platform like Authenticx can help you to step up your game.
With a platform like Authenticx, you can easily start receiving real-time, valuable insights from the day you start using it. This is because, unlike many other customer intelligence platforms, Authenticx collects ongoing and near real-time data without creating any interruptions for your customers.
Stepping up your customer intelligence analytics means really being able to maximize the feedback data you already have, gathering not only the customer concerns but also the context around them, organizing your unstructured data into valuable categories, and more effectively identifying where your customers are running into problems with your business.
Customer Intelligence Examples
Because technology, especially artificial intelligence, is constantly evolving, it is important to know what type of customer intelligence will be the most helpful for your business before diving into a new solution.
As a healthcare facility or organization, you are likely going to be looking for a predictive customer intelligence solution or a solution that utilizes machine learning to organize and score customer conversations so that they can best be used to gather insights.
Similarly, you will also want to look for a solution that offers some form of speech analytics software that helps you gather contextual information and utilizes sentiments behind words to help you understand what your customers are looking for. You can find both of these features in Authenticx's platform as it is made to help businesses in the healthcare industry.
There are, however, numerous other customer intelligence examples, such as SaaS customer intelligence. This type of customer intelligence tool is more focused on software-as-a-service companies and will therefore offer solutions that are specialized to businesses within that industry.
So if you are looking for a solution for your healthcare organization, you will likely not want to go with a SaaS customer intelligence platform because it will not provide you with the particular tools and features you need to best work with your customers.