Invest to optimize your digital front door.
Operations leaders need to be able to confidently identify disruptions impacting customers across the enterprise. Authenticx was founded to surface meaningful insights from unstructured data.
Learn More
Authenticx analyzes customer conversations to surface recurring trends.
Leverage your healthcare call center for actionable intel.
Improve compliance and increase quality scores across call centers by listening to customer interactions at scale.
See Authenticx in Action
Call Center Operations
Many companies – especially larger companies that deal with a greater volume of interactions with clients or customers – need to have a facility that can handle all those customer requests. Such facilities are often referred to as call centers, but what is a call center? Call centers can be some of the busiest, most hectic places due to the high volume of calls they receive on a daily basis. Understanding call center operations is the first step toward optimizing your operation to run as efficiently as possible.
Call center operations are the ins and outs of everyday functions that ensure the timely intake of customer calls and responsiveness to customer orders, questions, or concerns. But what is call center operations' primary concern? Depending on the goods or services you provide your customers, call centers can address a wide variety of customer inquiries – from ordering additional products to providing troubleshooting information and everything between.
If a call center receives too many calls to adequately answer them and respond in a timely manner, if a call center has too few agents, or if the agents are not sufficiently trained to handle the unique and diverse reasons for customer calls, all of these factors can contribute to a call center operating in sub-optimal conditions.
The goals set by your company determines call center success. Whether your primary focus is on responding to higher volumes of calls, or if you are looking to optimize your call center operations to reduce the overall number of calls received, there are many ways companies can improve their call center operations.
Authenticx can help your company's call center operate more efficiently while you develop a greater understanding of your customers' concerns and implement new strategies to help your company reach its goals.
How to Improve Call Center Operations
Since there are so many different methods or techniques a company might try in order to improve call center operations, it can be difficult to know where to begin. Understanding your company's long and short-term goals is certainly helpful when determining how to improve call center operations. Once you have an understanding of the current challenges, it becomes much easier to develop a well-thought-out call center performance improvement plan.
As with most businesses, organization and efficiency are critical for streamlined operations. Identify challenges that are making organization difficult and eliminate ineffective steps within your process to save your agents valuable time and energy. But how can an organization identify challenges that are worth addressing?
Authenticx can enable call centers to improve their operations because Authenticx software offers a comprehensive view of important metrics like agent performance, customer insight, and it can identify disruptions and help reduce call volume.
With more access to specific data, it can be easier to provide higher call center quality assurance. This invaluable data collection provides highly detailed insights into various aspects of your call center operations and allows your team to address the most pressing concerns.
Call center improvement ideas can include focusing on specific aspects of each individual phone call, or ideas can be more broad – relating to daily operations, personnel training, or improving facility amenities and comforts. The implementation of a call center performance improvement plan template may also be helpful for keeping organized throughout the optimization process.
Call Center Representative
The call center representative is arguably the backbone of any call center; these dedicated individuals are the voices representing your organization to your customers. As such, it is immensely important to have an action plan for call center agents. Call center rules and regulations for employees are crucial to maintaining a safe and efficient work environment for every employee and for callers as well.
Call centers can utilize Authenticx to develop actionable insights and training opportunities with individual agents so that they can make any necessary or appropriate recommendations. There are countless tips for working in a call center floating around the internet and on social media sites, but the best tips come from reliable data. Your company can then analyze this reliable data and help your call center representatives address customer concerns more efficiently and effectively.
At busy call centers, some call center representatives can answer several dozens of calls per day. Some organizations may have ideal targets for their agents – no more than fifteen or twenty minutes for one call, for instance – and some calls may require additional follow-up as well. Without the assistance of some sort of data aggregation software, it would be rather taxing for a human being or a team of people to listen to and analyze each and every call.
Utilizing software that can help streamline your call center process can be vital to keeping your organization running smoothly and seamlessly even on the busiest days.
How It Works
Gain a deeper level understanding of contact center conversations with AI solutions.
Learn More
Aggregate
Pull customer interaction data across vendors, products, and services into a single source of truth.
Analyze
Collect quantitative and qualitative information to understand patterns and uncover opportunities.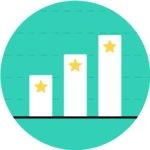 Activate
Confidently take action with insights that close the gap between your organization and your customers.
Call Center Development Plan
If your company is new to call centers or if you are looking to improve upon an existing operation, a call center development plan can help you stay organized throughout the process.
A call center development plan should also outline the factors that positively and negatively impact operations so you can develop ways to maintain or improve what's working and eliminate what isn't. Especially for larger companies or larger call center facilities, it's important to have a good understanding of the larger picture before moving forward.
Authenticx's new call center technology collects ongoing, data to enable your company to glean more meaningful insights from customers. With such a continuous and reliable source of information, your company can use this data to develop more substantive call center development ideas. With access to such valuable metrics, the task of overhauling the call center's operational efficiency becomes much more manageable and attainable.
Call center automation ideas can help eliminate some of the more mundane and repetitive tasks undertaken by your agents; this can allow them to spend more time working to address customers' questions or concerns. All of this information can be analyzed and used to help determine a call center development plan that works in line with your company's goals. Once you have the proper plan drawn up, ensure you have a well-equipped management team in place to help your team stick to the plan.
Call Center Operations Management
Call center operations management can be a challenging yet rewarding endeavor; a well-oiled operation can help boost sales, retain customers, and improve your company's brand recognition. Conversely, a poorly-managed call center can damage your company's reputation and exacerbate customer relations.
For these reasons and others, it is important to undergo call center management training in order to master call center workforce management fundamentals. An effective call center operations manager can make a world of difference when it comes to optimizing your inbound and outbound communications.
Whether your company is looking to improve its call center case management or if your company hopes to improve call center management in general, Authenticx can help your enterprise organize and aggregate data specific to your company and customers to inform your decisions moving forward. And when you help your customers have more positive customer experiences, you are also helping your company's bottom line.
Call center operation managers have a demanding job – there are several responsibilities they must oversee like personnel hiring and training, scheduling the workforce, and anticipating call volumes just to name a few. The more information your call center operations managers have at their disposal, the better prepared they are to overcome any unforeseen obstacles which may arise.
Outside of normal daily supervisory tasks and decisions, call center operation managers work to develop ways of streamlining the process, maintaining respectful and communicative decorum within the call center, and ultimately helping to improve customer satisfaction.
How to Structure a Call Center
Call centers generally consist of three primary positions. The first is general staff, which are the agents and customer service representatives who answer the phones. The second is supervisor positions, who are in charge of ensuring safe and timely processing of inbound and outbound calls. The third and final is managerial positions, who manage higher-order concerns like the overall structure and efficiency of the entire facility or operation. These roles work together to manage the whole call center which can largely reflect upon how your business is perceived by your customers.
There are a number of call center strategic objectives that can help streamline the process and ensure an efficient structure remains in place. Depending on your company's industry, and the nature of your goals and trajectory, there are several possibilities for how to structure a call center.
Once you have devised a sensible call center requirements checklist, you can proceed down the list and ensure that your company includes or has plans to include each item on the list.
Operational efficiency in call center environments is vital to the success and longevity of your operations. Ensure that your call center training material is up-to-date with the latest pertinent details so your agents are processing calls effectually and utilize aggregated data from your calls to help improve operations and customer experience for future interactions as well.
A well-organized call center can help other parts of your business run more smoothly as well; customers who have positive experiences with a company's customer service personnel are probably more likely to become repeat customers.