Invest to optimize your digital front door.
Operations leaders need to be able to confidently identify disruptions impacting customers across the enterprise. Authenticx was founded to surface meaningful insights from unstructured data.
Learn More
Authenticx analyzes customer conversations to surface recurring trends.
Leverage your healthcare call center with actionable insights.
Uncover why your patients are calling and create Respond to patient calls and highlight opportunities to improve schedules and agent training.
See Authenticx in Action
Call Center Quality Assurance Checklist
A call center quality assurance checklist is a collection of standards and best practices that can be used to measure agent performance. Call center quality assurance guidelines might include items such as a standardized greeting, response times, verifying the caller, and other actions. They also might include pre-call and post-call tasks such as finishing the notes or uploading any new or changed information into the system. Call center quality assurance templates can help both analysts and managers stay on the same page when it comes to performance expectations and quality. Creating achievable call center quality monitoring guidelines that keep the customer's goals at the center can improve customer satisfaction and decrease negative feedback. 
Call center quality assurance checklists allow staff to communicate transparent expectations of call flow and desired results. It also provides analysts with a roadmap to achieve those desired results. Call center checklists should be designed with the customer in mind as well, especially for healthcare-related calls. It may also be helpful for quality assurance guidelines to be designed with first-call resolution in mind. First-call resolution can increase customer satisfaction and decreases the possibility of multiple calls about the same issue. 
It can be difficult to know how to create a call center checklist that has the best chance of pushing your customer and your analyst toward success. One way of ensuring that a checklist or guideline has helpful tasks is to look back on previous calls and outcomes. Authenticx utilizes artificial intelligence to record and score customer conversations with call centers, allowing analysts and managers to look back and see what went right – or what went wrong. Authenticx analyzes calls to identify dynamics between your organization and your customers as well as any disruptions they are experiencing on their customer journey.  
Call center managers or healthcare administrators can use data collected by Authenticx to create a template for the perfect call. That template can then be used as a checklist for other analysts to follow, resulting in more successful outcomes and satisfied customers. Authenticx uses machine learning to identify call topics and score the conversation based on criteria you create. Call monitoring with Authenticx can also ensure that your customer service is always up to par. Great customer service is necessary to improve customer retention and loyalty. Without tools to measure the success of customer service, the metric may suffer, and customers can leave for competitors as a result. 
Industry Standards For Call Center Quality Assurance
While not every call center service is in the same industry, there are a set of call center metrics that tend to be the best indicator of quality assurance across the board. These metrics are not tied to any industry niche and, therefore, can be the best way to measure call center performance and customer satisfaction at a glance. The most common metrics used as industry standards for call center quality assurance include:
#1 Response Time
A recent study by HubSpot found that 90% of customers rate an "immediate" response as important or very important when dealing with customer service. Answering a customer inquiry is no time to be coy – agents should pick up the call as fast as they can. A quick response time is one of the key call center metrics industry standards.
#2 Average Handling Time (AHT)
Average handling time is the total duration of one customer interaction. AHT includes any amount of time that the customer was on hold, as well as the length of the conversation and any follow-up tasks required. Average handling time can be a good indicator of agent efficiency, however, it is not always good to have the shortest AHT. It's important to have a balanced AHT that can resolve all of a customer's inquiries without sacrificing efficiency.
#3 First Contact Resolution (FCR)
First contact resolution is the rate at which an issue is solved on the first interaction. As omnichannel communication increases, it can be more difficult to accurately measure FCR as the line of "first communication" can become blurred. The industry standard for FCR is between 70 and 75%. 
#4 Case Escalations
A case escalation occurs when an agent has to pass a case up to the next level of analyst, often to a manager or a supervisor. Case escalations can be used as call center agent performance metrics because a high rate of escalations could be indicative of inadequate training or a poor job fit.
Checklists and industry standards can be used as call center quality assurance tools. While every call center is different, having an industry benchmark to compare to can be useful when evaluating efficiency and ROI. 
Call Center Quality Assurance Metrics
Call center metrics calculations can be difficult to achieve. After all, much of what call agents and customers discuss can be subjective. Relying solely on an agent's notes to get a sense of the customer conversation, their intent, their satisfaction, and the end result can give an inaccurate picture of the interaction as a whole. If this process is repeated on a large scale, it can result in a lack of organizational insight into the customer experience. Having a pulse on customer satisfaction is an important part of providing customer-centered care. 
Authenticx takes the guesswork out of call center metrics, analytics, and reporting. It uses machine learning to score conversations between customers and analytics as they happen. These insights can be used to take valuable action that can impact customer retention, satisfaction, and your revenue overall. Speech Analyticx reviews transcripts and audio to classify conversations and identify topics. Smart Sample can search your database to find conversations that are relevant to your toughest business challenges. 
Call center metrics examples include quality assurance scoring, customer satisfaction, average abandonment rate, maximum occupancy, and more. Authenticx can track important data to your organization to determine where a communication breakdown is happening between your agents and your customers. It can also help identify brand detractors or negative experiences they have had that are disrupting their customer journey.  
Call center quality assurance metrics might look like customer sentiment, satisfaction, or the net promoter score (NPS). Authenticx uses AI to accurately determine customer sentiment and satisfaction, automatically scoring conversations. This can lower other call center metrics, such as AHT and after-call work because agents can spend less time recording notes from the call. Identifying quality assurance metrics is a valuable part of creating a quality assurance checklist. Using a tool like Authenticx can create certainty and streamline processes to create better results. 
How It Works
Gain a deeper level understanding of contact center conversations with AI solutions.
Learn More
Aggregate
Pull customer interaction data across vendors, products, and services into a single source of truth.
Analyze
Collect quantitative and qualitative information to understand patterns and uncover opportunities.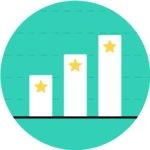 Activate
Confidently take action with insights that close the gap between your organization and your customers.
Call Center Checklist
While every call center should develop its own specific call center checklist to serve the unique needs of its customers, a basic call center quality assurance audit template may contain the following tasks: 
#1 Review relevant information in advance.
If the call is planned by an agent and not a spontaneous call from the customer, agents should take a look at the customer's account beforehand. They should review things such as the date of previous conversations, their caller/customer ID and phone number, as well as the topic of previous conversations. 
#2 Prepare for the conversation by referencing your script and notes.
Have a plan for the call and have relevant resources available if they become necessary. Many callers have a specific goal in mind when they call. Keeping a tab of common resources on hand may be helpful in reducing the handling time without sacrificing call center quality assurance monitoring.
#3 Answer the call within a certain time frame.
While the industry standard is to answer a call in less than 20 seconds, every call center is different. Call center agents should answer the phone as quickly as they can. Customers expect a near-immediate response from customer service agents, and long hold times can set both the customer and the analyst up for failure.
#4 Verify the caller's identity.
Caller verification is of the utmost importance when it comes to discussing personal health information over the phone. Failing to verify a caller's identity can result in a HIPAA violation. Every call center should have a preferred method of verifying identity, whether that is through their social security number, customer ID, or other contact information. 
Only a handful of possible tasks for a call center audit checklist are listed here. Call center checklists should continue through to the end of the call and should be based on data from previous successes.
Call Center Quality Assurance Feedback Examples
Call center quality assurance best practices extend beyond what happens during a call. Quality assurance is achieved through many factors, all working together to create a great experience for the customer. Call center quality assurance feedback examples include programs such as coaching, training, and recognition. It's important to recognize call center employees and give them a chance to grow their careers and professional development. Agents that are not treated well and not given the opportunity to grow will leave the organization, resulting in high turnover. This can trickle down to the customers, who are interacting with new people all of the time who may not be fully trained. 
Benefits of call center quality assurance include increased customer satisfaction and loyalty, higher revenue due to the decreased customer and employee churn, increased employee engagement, and better metrics overall. A strong quality assurance strategy should include a focus on both positive and negative feedback. Negative feedback can be more useful than positive feedback as it provides a clear snapshot of what has gone wrong and why. When placed in context, negative feedback can be used alongside other data to enact meaningful change.
One way to improve quality assurance at a call center is to create a learning culture. By creating a call center continuous improvement culture, agents are eager to learn and grow their skills every day. This eagerness to learn and grow can pass along to the customers, who are comforted by their agent's desire to help them. 
Quality assurance in a call center can be multi-faceted, and it's important to create a list of guidelines or a checklist to place every agent on the same page.