Confidently Identify ROI
Operations leaders, it's time to invest in data-driven quality assurance insights at scale.
Learn More
Authenticx analyzes customer conversations to surface recurring trends.
Leverage your healthcare call center for actionable intel.
Improve customer experiences, business results, and health outcomes by addressing agent navigation.
See Authenticx in Action
First-call Resolution Formula
The importance of a first-call resolution formula for customer service cannot be overstated. The first call resolution is a company's ability to resolve a customer or patient's call, question, or complaint during their first interaction about that specific issue. A high first-call resolution rate likely means that customer service at a company is good – customers do not have to jump through multiple hoops to solve their problems. At Authenticx, we call that the "Eddy Effect." When customers' problems go unsolved, they often are stuck in cycles without support, and that causes customer satisfaction and retention to go down. A good rate of first-call resolution helps retain customers and improve customer satisfaction.
Many organizations might find it helpful to identify their first call resolution rate – something easily identified thanks to Authenticx's reporting dashboards. After they've identified their first-call resolutions, they can study these calls deeply in the Authenticx platform to determine what made them so successful and create a first-call resolution formula for their agents to follow. In most cases, there is a first-call resolution script that many agents can follow to ensure the best results on the first instance. For example, agents should be certain that they understand the patient's problem and needs fully. They should be able to ask clarifying questions and repeat their understanding back to the patient to confirm that they are understood so they can move forward. Some first call resolution phrases that an agent might use are: "So from my understanding, it sounds like… Is that correct?" Agents can also ask clarifying questions that ask for more information, such as "How long has this been occurring?" or "When did this issue first begin?"
After agents have clarified the issue at hand and they are sure they understand the problem, the next step in first-call resolution best practice is to set appropriate expectations. Keep the patients informed about the steps you are taking to resolve their issues and keep them in the loop. Possible phrases to use during this step could be "I'm going to look into this account issue from my end. It might take a few minutes, so please stay on the line with me while we sort this out." Be realistic about their issue and let them know how it is being resolved. If the issue is not resolved in one step, continue to keep the caller involved and updated during every new stage that has to be taken while they are on the phone. Organizations interested in learning how to improve their first contact resolution rate should first explore the data that they already have access to with patient interactions that are already occurring so they can learn what works with their patients directly.
How To Improve First-call Resolution
First-call resolution is such an important metric for call centers and their employers to show that there are job opportunities for agents with first-call resolution careers. Organizations seeking to know how to improve first-call resolution must first discover what affects first-call resolution. Impacting factors of first-call resolution will likely vary from organization to organization. By analyzing the data found in call reports, companies can determine which steps were taken in calls that were resolved during the first contact. In the same vein, companies can also determine which actions send customers back to the starting line with their problems. Not many call analytics software is able to identify sticking points in the customer service experience, but Authenticx does. First-call resolution calculations can be done by dividing the number of cases resolved on the first try by the number of cases that were handled by call center agents in total. That number is then multiplied by 100 to make it a percent. For example, if 45 calls out of 100 were resolved on the first contact, the first-call resolution rate (or FCR) is 45%.
A first-call formula can be determined by going through data of existing calls. Using those calls as an example, first-call resolution tips for agents can be taught and trained to improve FCR and in turn raise customer satisfaction and retention. A few popular tips to increase first-call resolution are: Be kind, empathetic, and confident with the customer on the line. Keep them informed on the steps that you are taking to resolve the issue by letting them know what you are currently checking on to solve their problem. Let them know the timeline and realistic process of their inquiry. However, don't overwhelm your customer with completely unnecessary information or too many details. To the best of your knowledge, anticipate a customer's needs and answer all of their questions or provide them with an additional resource if you cannot answer their questions immediately.
First-call Resolution Best Practices
Some companies without an analytics platform might attempt to keep track of their first-call resolution formula in a spreadsheet. However, this is not a scalable solution, nor does it provide additional support to staff with custom reports and trackable success. A first-call resolution calculation formula is fairly simple to devise. However, a simple first-call resolution calculator only takes numbers into account. Numbers do not resolve calls, questions, inquiries, and complaints – people do. Authenticx aims to put the customers back into customer service by recentering their experiences. Authenticx encourages companies and healthcare providers to keep patients at the forefront of their minds when handling customer service issues and empowers healthcare organizations through data analysis.
With Authenticx, healthcare providers can look at the data that they already possess to determine which calls are being resolved on the first try – and how they are being solved. First-call resolution best practices include getting to the bottom of the delayed resolution – meaning identifying Eddies – avoiding transfers, providing top-quality training to agents, clear communication, and measuring customer satisfaction alongside the first-call resolution rate.
The data that patients give their healthcare providers every day through routine customer service may be the best indicator of internal issues that are driving customers to use the line in the first place. The only way to obtain this data is through careful information combing through hundreds of hours of customer service calls unless the organization invests in software such as Authenticx that can sort customer calls by cause for a call, sentiment, and more. The use of this data is key to identifying why a first-call resolution rate is not higher. After organizations have a good idea of what they could improve on, they should begin to monitor customer satisfaction and first-call resolution rate in tandem.
Related Resources
How It Works
Gain a deeper level understanding of contact center conversations with AI solutions.
Learn More
Aggregate
Pull customer interaction data across vendors, products, and services into a single source of truth.
Analyze
Collect quantitative and qualitative information to understand patterns and uncover opportunities.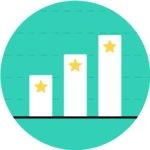 Activate
Confidently take action with insights that close the gap between your organization and your customers.
First Contact Resolution Rate
What is a good first contact resolution rate for most companies? For most organizations, 70-75% is the standard first contact resolution rate. The higher an FCR is, the better. So for most companies, the first contact resolution example to follow is 70% or above. However, that means that 30% of patients are calling for a repeat issue and are susceptible to churn. Most first contact resolution rate formulas are calculated in the same way – the number of FCR cases divided by the number of cases handled in all, multiplied by 100. However, not every company improves its first contact resolution rates in the same way.
For example, a company that has a poor FCR due to agent policies would not improve its rate in the same way as a company that has a poor FCR due to long wait times. Analyzing the data is one way to determine what is causing a low FCR and provides the first indication of the action that can be taken to fix the problem. However, there are a few standard steps that most organizations could take to clean up their processes overall and improve their FCRs.
Keeping customers informed of the steps that an agent is taking to resolve their problem has been associated with higher FCR. Additionally, grouping customers by interaction and utilizing contact ownership may also improve the first contact resolution rate. Contact ownership is when a patient or customer is assigned to the same agent their entire journey through the customer experience pipeline.
First-call Resolution Call Center
A first-call resolution call center should pride itself on its resolution rate. In a first-call resolution company, the resolution rate should be high, resulting in increased customer satisfaction and reduced customer churn. A first-call resolution formula should be customer-informed, driven by their experiences and agents' past success in similar situations. Previous data can be used to create first-call resolution action plans that can then be used to train agents and onboard new recruits so that they have all of the information they need to start solving customer problems on their first call.
First-time resolution customer service is a great asset both to the customer and the agents and organizations utilizing the call center. Well-performing agents should be rewarded for their work, and the company wins customer loyalty and improved customer satisfaction and retention. To achieve a high-resolution rate, call center agents should attempt to get to the root of the problem so that they can stop it at its source or at least report it to someone who can. Additionally, agents should appear empathetic and confident with their customers, keeping them informed every step of the way and giving them a realistic process for how their issue will be resolved. Creating an environment where the customer feels heard and respected is important to maintaining customer satisfaction and gaining their trust and loyalty. Additionally, agents seeking to improve their FCR should try and anticipate customer needs as much as possible and attempt to prevent this same type of call from happening again. They might provide prescriptive knowledge or say something like, "If this ever happens again, you can…."
The key to solving a poor FCR is to determine why it is happening and what steps can be taken to resolve it. Authenticx gives healthcare organizations all the tools they need to find out where their customers are departing in the customer journey and how they can be brought back on track.