Invest to optimize your digital front door.
Operations leaders need to be able to confidently identify disruptions impacting customers across the enterprise. Authenticx was founded to surface meaningful insights from unstructured data.
Learn More
Authenticx analyzes customer conversations to surface recurring trends.
Leverage your healthcare call center for actionable intel.
Improve compliance and increase quality scores across call centers by listening to customer interactions at scale.
See Authenticx in Action
Quality Assurance in a Call Center
What is quality assurance in call centers? Quality assurance (QA) is a systemic approach or process to determine whether or not a product or service is meeting company and customer expectations. Breaking down this concept can help answer the question: what is quality assurance? In a call center, quality assurance is an essential function that goes hand in hand with customer service.
The role of quality assurance in call centers emphasizes to call center workers the importance of effective communication. Understanding their role better ensures conversations with customers are achieving the desired results. Since call centers are the backbone of customer satisfaction, their need for quality assurance is crucial.
Why is quality assurance important in a call center? The answer is quite simple: When customers have issues with a product, it is up to the call center to address them. Having quality assurance in call centers is key to helping operations leaders identify disruptions in any customer-facing function and manage them accordingly. Doing this in a timely fashion helps customers maintain their confidence in the company or brand.
Quality assurance and customer service can make or break a company's brand loyalty. No matter how much consumers love a company's product or services, customers may flock to other brands without hesitation if their customer service is inadequate. Quality assurance in call centers, which typically handle customer service scenarios, can help combat this negative impact for a company, keeping their customers satisfied and loyal.
All companies, in some capacity, have a process that ensures employees perform according to the company's standards. Companies that rely on call centers for customer service should provide call center quality assurance best practices. Having best practices in place can help mitigate errors and disturbances in the quality assurance process for call centers.
Quality assurance in call centers may appear daunting at first. Luckily, various tools simplify the process for a seamless quality assurance system.
Call Center Quality Assurance Software
The best workforce management software for call centers should have a variety of abilities to streamline the quality assurance system. Having tools in place to effectively simplify quality assurance tasks in call centers offers a more significant opportunity for call center employees to approach customer issues better.
With quality assurance software like Authenticx, companies can effortlessly identify and address discrepancies in the quality assurance process for call centers. Authenticx is a powerful call center quality assurance software, offering a comprehensive view of agent performance while identifying disruptions to reduce call volume and increase customer insights.
Call center quality assurance software, like Authenticx, can make all the difference when trying to understand customers better. With call analysis software, calls undergo screening and transcribing and are then analyzed further. The data helps determine how customer issues are handled and provide a comprehensive overview of the agent's performance.
Companies can experience an influx of efficiency with automated quality assurance protocols in place. Call centers, especially, can bridge the gap between quality assurance and customer service with the complex tools available in software like Authenticx.
Call Center Quality Assurance Scorecard
The first step in effective quality assurance measures is getting a complete understanding of customer interactions. An excellent way to better understand these interactions is by using a call center quality assurance scorecard.
A call center quality assurance scorecard, or call center quality monitoring scorecard, is a tool to observe service interactions between customers and agents that are then graded to evaluate their effectiveness. Using a quality assurance call center quality monitoring scorecard can help further analyze the communication between agents and customers.
Call center quality assurance scorecards can help identify a number of problems associated with your company's QA responses. Authenticx's listening capabilities allow you to analyze customer interactions and determine how and why these interactions are needed. Investigating the interactions helps dive deeper into customer issues and help define whether or not the matters are singular or part of a more significant problem.
Call center quality monitoring scorecards are a great way to visualize and address the customer issues at large. When you understand the necessity of customer communication, you can make the leap toward better quality assurance. If you are unsure about how to create a call center scorecard, you can find a QA scorecard template on the Authenticx website to help get you started.
How It Works
Gain a deeper level understanding of contact center conversations with AI solutions.
Learn More
Aggregate
Pull customer interaction data across vendors, products, and services into a single source of truth.
Analyze
Collect quantitative and qualitative information to understand patterns and uncover opportunities.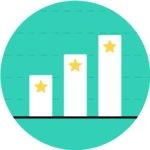 Activate
Confidently take action with insights that close the gap between your organization and your customers.
Call Center Audit Plan
If not handled correctly, customer issues can be extremely costly for companies. Some companies spend hundreds of thousands of dollars, possibly more, combating negative happenings experienced by customers. Audit plans can help companies see what is giving rise to unprecedented customer dissatisfaction.
Similar to scorecards, companies can use Authenticx to collect ongoing, real-time data without creating friction for the customer. This data can be used in call center audit plans to help get a better understanding of customer issues and agent responses. Call center quality assurance metrics deliver quantifiable data that reflects the customer experience and can be translated to one of the many quality assurance scoring methods.
Call quality audit sheets help agents recognize common themes among callers and relevant issues at hand, allowing them to make actionable and meaningful changes. These changes will positively impact quality assurance and carry over into customer satisfaction. Mapping out a call center audit template emphasizes the select metrics of the highest importance.
Call Center Quality Assurance Training
As with any job, your company provides training in areas that may be unfamiliar to you. This same concept can be easily translated for quality assurance for call centers. Understanding customer needs may be dire for call centers, especially in healthcare. You may have to revisit some training in your tenure with the company if voids in your performance are present.
More than understanding customer needs, Authenticx also helps determine agent performance. Monitoring for a period of time can help bring light to current or potential gaps in skills or knowledge. Once you have utilized call center agent scorecard templates and audit plans, you can analyze the data collected further and determine where the gaps are. You can then bridge those gaps with structured call center quality assurance training.
The call center quality assurance scorecard templates provide clarity to issues in agent performance or customer needs. From there, call center training modules can be tailored accordingly. These modules offer comprehensive educational tools to help agents perform their best when communicating with customers, thus improving the call center's quality assurance.
How To Improve Quality Assurance In A Call Center
Companies can use Authenticx to access conversational data to evaluate customer and agent voices to discover critical insights. These insights can highlight key gaps in education or skills and be used to tailor training to alleviate these gaps.
Call center KPI benchmarks by industry can vary, as some sectors place higher importance on specific customer service needs than others. Having a call center quality assurance checklist in place for your particular industry can be extremely helpful when creating an action plan to improve quality scores and understand how to improve quality assurance in a call center.
Healthcare is a particular industry with a keen emphasis on QA performance. How to improve quality assurance in healthcare may differ from other sectors simply based on the reason of the industry itself. With people's lives at stake, the healthcare industry cannot miss a beat when it comes to quality assurance and customer satisfaction.
The insights gained from listening to call center interactions, especially for the healthcare industry, can fuel better contemplation for more sound decision-making. With the stakes being higher in healthcare, missteps in the customer journey can be a matter of life and death. Easily consolidate data from multi-channel interactions for a more effective QA approach in the healthcare industry.
Smart Action Plan For Call Center Agents
Utilizing a quality analyst call center to understand customer interactions can help determine issues at large. However, guidelines and best practices should be in place, so agents know how to handle these occurrences. This is where having a smart action plan for call center agents is beneficial.
Quality assurance call scripts are often used to help walk agents through customer interactions. These scripts act as a guideline to help agents understand the customer's needs. An action plan should include a script for agents. If you're unsure how to get started, you can find call center quality assurance feedback examples on Authenticx's website.
Certain industries may place more significance on quality assurance than others due to the nature of the industry. Healthcare, for example, is one of many industries where quality assurance is of the highest importance. It is imperative for healthcare companies to have a reflective, efficient quality assurance process in place. When these companies rely on call centers, it is even more crucial to understand agent performance and its impact on customer satisfaction.
Voice listening tools, scorecards, and scripts are all effective measures for call centers and help prepare agents to react as positively as possible. After all, showing the customer you care about the issues at hand lets them be confident in your brand or company.