Confidently Identify ROI
Operations leaders, it's time to invest in data-driven quality assurance insights at scale.
Learn More
Authenticx analyzes customer conversations to surface recurring trends.
Leverage your healthcare call center for actionable intel.
Improve compliance and increase quality scores across call centers by listening to customer interactions at scale.
See Authenticx in Action
How to improve Call Center Operations
What is a call center? A call center is a business that handles phone services on behalf of another business, especially regarding customer service. Many healthcare organizations utilize call centers or contact centers to handle inquiries about medication, appointments, costs, services, and other general questions. What many healthcare leaders want to know is how to improve call center operations?
What makes a business a call center vs contact center? A contact center is similar to a call center but handles communication through many different channels, such as email, text, chatbots, and audio calls.
The call or contact center plays a vital role in the healthcare organization's business as it is a front line of support for the organization's customers or patients. Therefore, when a healthcare organization is selecting a call center to partner with for patient inquiries, it is important that they also have a way to measure that ongoing relationship.
It's difficult to know how to improve call center operations if healthcare organizations are not sure how the call center agents are performing in the first place. When brainstorming for call center improvement ideas, conversational data software like Authenticx might be a good addition to the list for any healthcare organization.
Authenticx can be a useful tool for healthcare organizations in managing call center operations. What are call center operations? Call/ Contact center operations include managing the day-to-day activities of speaking with patients, problem-solving, measuring agent performance, and tracking customer satisfaction.
Authenticx is a conversational data artificial intelligence software that uses machine learning to decode customer and call center agent conversations to discover customer sentiment, the topic discussed, and other subjects.
Authenticx can also indicate agent performance and which agents are performing well and need more training on any given subject. The necessary subject of training can also be deduced via the Authenticx analytical results of the calls.
How To Improve Call Center Agent Performance
What is a call center agent in the context of healthcare? Many call centers specialize in healthcare calls, so while not every call center agent is a healthcare professional, they may have some experience in healthcare terminology.
However, many call centers also do not specialize, and instead, serve a large range of clients. How to improve call center operations? One way is by ensuring that agent training is enhanced and organizations address areas that need to be improved. Every agent should have a solid understanding of healthcare terminology and common patient inquiries before picking up the phone. If an agent is not properly trained to speak with patients and handle customer concerns, they are being set up for failure.
Smart goals for call center agents' examples might include setting a target for a number of patient problems successfully solved or fielding a higher volume of calls. If you're still wondering how to improve agent performance, creating a call center agent performance improvement plan might be a logical next step.
Communicating the plan to all agents and informing them what kinds of actions will result in positive outcomes against a call center agent performance scorecard may be a way to engage agents and gamify an otherwise tedious training process.
Call Center Coaching Action Plan
A smart action plan for call center agents would include a list of go-to resources for difficult patient inquiries or problem-solving. Having a manual, such as a list of call center script best practices, might help in tough situations when call center agent finds themselves in a problem they aren't sure how to solve with a disgruntled patient.
Additionally, if your call center handles inbound and outbound calls, it might be helpful to provide agents with a call center script sample & outbound call examples. Outbound calls can be more difficult to manage than inbound calls at times because outbound calls are often not always expected by the patient.
When creating a call center coaching action plan, looking at an action plan sample for call center agents might be helpful. It can be useful to stay up to standard with industry best practices or to consult a healthcare-specific call center action plan for call center agents.
Authenticx can give healthcare providers valuable data about what topics their agents are struggling with, so that the proper coaching and care can be given to agents, improving patient retention and agent retention.
Related Resources
How It Works
Gain a deeper level understanding of contact center conversations with AI solutions.
Learn More
Aggregate
Pull customer interaction data across vendors, products, and services into a single source of truth.
Analyze
Collect quantitative and qualitative information to understand patterns and uncover opportunities.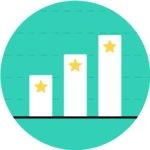 Activate
Confidently take action with insights that close the gap between your organization and your customers.
Call Center Innovation Ideas
Creating successful call center strategies often requires the use of a tool of some kind. Data is a key player when you're wondering how to improve utilization in call centers. Without accurate data, call center innovation ideas operate something like throwing spaghetti at a wall and hoping something sticks.
Using a software tool or conversational data artificial intelligence can put a call center's performance light years ahead of a call center that still tracks agent performance manually. Authenticx's call center software can provide healthcare providers and their call centers with real-time, ongoing data to help identify call center performance and room for growth.
Authenticx can help identify call center benchmark statistics that are indicative of performance, good or bad. Thanks to Authenticx's constantly refreshing and updated data, healthcare providers and call center managers can see in near real-time which call center process improvement techniques are working and which ones are not.
Authenticx has a robust reporting feature and can allow healthcare providers to search for nearly any criteria they would need, including customer sentiment, which may be a good indicator of call center agent performance. Authenticx can also show analytics unique to each agent to better understand how and why an agent performs the way that they do.
Operational Efficiency In Call Center
A call efficiency definition in the context of a call center is a general term that is composed of many other call centers efficiency metrics such as average speed of answer, call abandonment rate, conversation-to-close ratio, average hold time, average handle time, and few others.
Authenticx can provide all of the data necessary to identify operational efficiency in call centers that healthcare providers use for their services. For example, one of Authenticx's clients wanted a way to track and improve the quality score of their overall member service calls. They began using Authenticx on a monthly basis to monitor customer calls. They were able to gain agent quality and skill insights based on the individual agent.
Authenticx also provided monthly montages using their Montage Builder to identify agent strengths and training opportunities. Since the client joined Authenticx, their quality score has increased by 32%.
Creating a call center strategy is about identifying call center best practices and putting them into action based on the healthcare provider's plan and solution context. Call center agents have front-row access to patients and represent the healthcare providers with clients.
The way that a call center agent treats a patient could have a large sway in whether or not that patient returns as a customer, so it's important for a healthcare provider to invest in their call center strategy and ensure that the agents have everything they need to be successful.
Call Center Management
While healthcare providers more than likely have zero say in call center rules and regulations for employees, Authenticx can still provide helpful context into how and why call center agent interactions with patients happen the way they do. Authenticx also does not provide call center workforce management fundamentals, but a statistical analysis of agent performance can be a helpful tool for healthcare providers to determine if a relationship with a certain call center is working. Authenticx can help provide context or ideas for call center 101 training topics for healthcare services since Authenticx can provide statistics based on the agent level.
Utilizing a conversational data AI like Authenticx in call center operations management can streamline call efficiency, create training opportunities, and improve customer retention.
Good call center management and creating call center goal examples for an agent team should all rely on a solid foundation of data. Authenticx can provide the data necessary to identify a link between call center agent performance and patient retention. If a call center and a healthcare provider have a solid partnership, Authenticx can also give ideas on how to improve efficiency, therefore strengthening the relationship and improving both businesses.
Call Center Organizational Structure
While staff members at healthcare providers may not know anything about how to structure a call center, they may be able to provide call center development ideas or a call center requirements checklist on fulfilling the healthcare provider's obligation to the patient. Call centers utilized by healthcare providers must be HIPAA certified, which can provide a basic call center performance improvement plan template, but there are many fine details that go into patient communications that HIPAA may not cover.
If a healthcare provider wishes to give a call center development plan to their partnered call center, they should have accurate and factual data to support that plan. Authenticx can be the ultimate tool used by healthcare providers to determine if a relationship with a call center is beneficial to their business and their patients.
Healthcare providers often do not have anything to do with their partnered call center organizational structure. Rather, Authenticx helps healthcare providers utilize the data received from call centers and patient interactions.
Insights gained from Authenticx can be used in compliance and risk mitigation, marketing efforts, customer service, and general operations. Using a software tool to evaluate call center operations can positively impact a healthcare organization's ROI and patient retention.