Identify customer trends and disruption
Build a customer-centric strategy with AI that unlocks a renewable source of customer insight and trends from genuine, unsolicited feedback.
Get insights with Authenticx
Find honest thoughts and feelings of your customers with existing conversational data to transform your CX. Download the guide!
"]
Emerging Insights from Chat-driven Conversations
Using Authenticx AI, a pharmacy benefit manager identified patient friction via chat animation, text-to-voice technology, and visual storytelling.
Read the Customer Story
Omnichannel Customer Feedback
The omnichannel experience is ideal for customers to interact with your healthcare brand. This experience has similarities to a multichannel approach and is often used interchangeably, though the two have some critical differences. Regarding omnichannel vs. multichannel approaches, the former is a customer-centric approach, allowing for integrating different communication channels into a single solution, ensuring that all channels are accessible and providing a simplified and accessible customer experience. An omnichannel approach has room for customization, allowing all departments to remain in contact with one another to best serve the customer. Omnichannel focuses on all channels for customer interaction and feedback rather than a select few. In comparison, a multichannel approach focuses on several channels but does not necessarily focus on every single channel like an omnichannel approach. 
Getting omnichannel customer feedback is essential to guarantee your organization's omnichannel solution is efficient and effective. Omnichannel feedback means your organization has a robust system to collect customer feedback at every touchpoint possible, ensuring you have a complete view of customer opinions about your organization. An omnichannel feedback approach is much broader than a multichannel strategy because it ensures you know everything about your customers and how they view your healthcare brand. Platforms like Authenticx provide software to aid your organization in this process, ensuring you collect feedback at every opportunity possible for a well-rounded understanding of the customer experience.
Omnichannel feedback collects feedback from every channel possible, such as the following:
Surveys and polls sent to customers
Online feedback forums for customers who have recently come in contact with your brand
Social media comments, posts, and other material shared about your organization
Comments on blogs or other posts from your organization
Customer support inquiries through your platform or directly to your organization
Unsolicited emails or solicited email responses from customers about their experience with your organization
Customer telephone conversations/interviews collecting feedback over the phone
Q&As
And more!
Collecting omnichannel feedback ensures that you know everything there is to know about how customers interact with your organization and how they feel following these interactions.
Omnichannel Survey Tools
A suite of omnichannel survey tools can be critical for making a difference in how your healthcare organization serves its customers. However, Authenticx provides several omnichannel tools to ensure your organization collects feedback from every customer touchpoint, guaranteeing a well-rounded understanding of customers' perceptions of your brand. Authenticx's software facilitates integrated customer feedback collection and management to provide actionable insights about customers' experiences with your organization, allowing you to determine areas of improvement to enhance the customer experience. Authenticx offers cohesive multichannel feedback management to seamlessly collect and analyze user feedback, simplifying gathering feedback, brainstorming solutions, and implementing these solutions.
Authenticx's intelligence tools are built for healthcare organizations seeking to improve their operations and better meet customers' needs. For example, Authenticx helps healthcare organizations examine critical customer interaction data using artificial intelligence (AI) to analyze phone calls when customers interact with your contact center. By allowing you to aggregate and organize critical audio data and visual data, you can better understand customer concerns and make effective changes to your customer service approach.
Authenticx's solutions offer powerful insights to fuel your decision-making process and combine customer data across various channels and data silos. The platform combines quantitative and qualitative insights, allowing you to take action confidently and with minimal error during decision-making processes. Authenticx goes beyond customer feedback to integrate agent performance and understand how call center agents can improve customer interactions. Its solutions allow you to collect and analyze customer feedback, take corrective action to meet customer needs and address pain points.
Authenticx provides thorough omnichannel satisfaction tracking to gain comprehensive insights across customer touchpoints and make well-informed decisions to enhance customer interactions with your organization. Without actionable insights, taking action to improve customer well-being is challenging for organizations, and customer satisfaction often fails to increase without these insights. Authenticx offers insights that traditional surveys and net promoter scores (NPS) typically fail to cover, guaranteeing depth and context to insights that can transform your organization's offerings to its customer base.
Furthermore, Authenticx allows you to organize your conversational insights by needs, drivers, sources, and other critical customer satisfaction indicators for efficient monitoring and effective action. Through its approach to integrated customer feedback and multichannel feedback management, Authenticx offers a holistic approach to aggregate, analyze, and activate consumer feedback and behavior for a more cohesive approach to boosting the customer experience and fostering a better image for your brand. Authenticx's targeted evaluations and data-backed storytelling capabilities allow you to truly understand your customers and what they seek when they turn to your brand's solutions.
How It Works
Gain a deeper level understanding of contact center conversations with AI solutions.
See a Preview
Aggregate
Pull customer interaction data across vendors, products, and services into a single source of truth.
Analyze
Collect quantitative and qualitative information to understand patterns and uncover opportunities.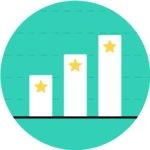 Activate
Confidently take action with insights that close the gap between your organization and your customers.
Gaining Customer Feedback
Collecting customer feedback is critical to how a healthcare organization serves its customers and meets customer needs and demands. Gaining customer feedback requires understanding your organization's specific customer feedback objectives and strategy to meet these goals. These objectives should be based on your ultimate goal when collecting customer feedback and enhancing the overall customer experience. For example, you might want to collect feedback on a specific offering your business provides customers to see how they respond to your product or service. Without actionable insights collected through platforms like Authenticx, meeting these goals becomes impossible, as your organization won't understand which direction to take to bring its goals to life.
The ultimate objective of an omnichannel strategy to gather customer feedback is to understand how your organization treats your customers and take action to address areas of improvement. Without customer feedback from the people most impacted by your organization's products and services, your business quickly becomes an echo chamber void of new and innovative approaches to customer service. Some concrete objectives for gathering customer feedback include:
Identifying critical areas for improvement
Gathering feedback for improved product development processes
Quality control to monitor and manage the quality of your offerings
Customer retention by addressing and solving common pain points
Innovation to discover new ideas and better meet customer needs
Enhancing overall customer satisfaction by taking a new approach to omnichannel feedback
Improving your marketing and messaging tactics to appeal to a broader customer base
Identifying your customer feedback objectives requires comprehensive omnichannel examples to better serve customers and meet their needs and desires. An omnichannel customer feedback example available through Authenticx's solutions is critical to ensure your organization can meet its objectives and improve the customer experience, providing a holistic care experience for those who rely on your company's services.
The platform's approach to customer journey immersion is one example of how omnichannel customer feedback with Authenticx can enhance your business operations and help you meet objectives. This approach provides visibility into the customer journey to identify specific disruptions in the customer experience, allowing you to understand barriers that lower customers' access to care. If your objective is to address and eliminate barriers to care, Authenticx's suite of solutions will allow you to solve problems preventing customers from accessing your organization's services. This solution allows organizations to identify brand detractors and systemic barriers that detract from the quality of care your customers receive when interacting with your organization.
Addressing Customer Feedback
Addressing and utilizing customer feedback effectively is critical to your overall success as an organization. Enhancing customer satisfaction is possible through several customer feedback solutions provided by Authenticx. By aggregating, analyzing, and addressing customer feedback through Authenticx, organizations can boost the overall customer experience and provide customers with the services they need to achieve their healthcare goals. Authenticx takes a unique approach to customer responses by categorizing customer feedback, providing a high level of organization to address specific customer pain points and determine the best solutions available to meet shifting customer needs.
Authenticx simplifies understanding customer feedback by categorizing and tagging existing data to provide structure and share information across the organization. The platform allows users to combine existing information about customer interactions across all channels organized around your institution's needs, interests, sources, and categories, accounting for every patient voice and allowing you to address specific needs. Authenticx offers solutions to address various customer concerns and enhance offerings, delivering impactful changes and organizational improvements.
While you might know that your organization needs to take action to improve customer interactions, understanding how to bring this objective to fruition is challenging without resources to categorize and analyze interaction data for actionable insights and information extraction. Authenticx solves this issue by categorizing omnichannel customer data to identify the most valuable insights available through this information, enabling healthcare organizations to collect, analyze, and address feedback from customers seamlessly. These feedback categories can be divided in various ways, depending on the purpose of your feedback collection or the sources where customer feedback is collected.
The platform categorizes quantitative and qualitative feedback for accurate and cohesive insights, helping you easily identify opportunities to address customer pain points and integrate customer feedback into your offerings. Authenticx aids in understanding customer feedback patterns to identify the most common issues customers have with your organization and offers actionable insights into solving these issues effectively. Understanding and addressing various customer concerns is critical to enhancing overall customer service and experience with your organization, leading to impactful changes and organizational improvements.
Some potential categories to collect and organize customer feedback insights might include the following:
Customer service feedback
Customer experience information
Product feedback
Sales feedback
Product feature requests
Complaints or suggestions from customers
All these categories are relevant for accurate and actionable feedback analysis, allowing you to understand areas for improvement and meet customer needs effectively and efficiently. Through Authenticx, healthcare organizations can organize and understand customer feedback data that is too often stored and ignored.