A comprehensive view of agent performance
Traditional quality feedback doesn't account for the human side of the experience. Maximize existing conversation data to uncover actionable call center insights.
Learn More
Develop and build a truly customer-centric experience in today's healthcare environment.
"]
Leverage customer interactions to create actionable healthcare intel.
Improve compliance and increase quality scores across call centers by listening to customer interactions at scale.
See Authenticx in Action
Customer Service Feedback
For many businesses in the modern era, customers are the primary drivers of revenue, but customers can also be a vital resource to help companies develop better products and services. One of the methods of tapping this resource is the cultivation of customer feedback, but what is customer feedback and why is customer feedback important? Firstly, it's important to understand that customer feedback comes in all shapes and forms. Not every piece of feedback from every customer is going to provide game-changing insights, but when companies develop a robust customer service feedback platform, they can get a much better assessment of the types of things customers are saying about a business's assortment of products or services. 
Customer service feedback can help engineers and product development teams design more effective and functional products, for example. Additionally, feedback can provide marketing teams with insights about how they might be able to devise more effective marketing campaigns or other customer engagement strategies. Customer feedback can also help customer service teams provide better and more rapid customer service. And for companies that have been able to cultivate a solid foundational customer base, tapping into that base as a source of feedback about how a business can make improvements shows how symbiotic the business and customer relationship can be when leveraged effectively. 
But how do organizations go about collecting all this customer feedback data? A customer satisfaction survey, for instance, can provide detailed information about specific questions. If your organization wants detailed feedback about a new product line, you might consider writing a customer satisfaction survey that asks questions about the features of new products, for example. If your business recently made several updates to its website or digital app, you might consider asking survey questions about the changes. Data aggregation initiatives can provide businesses with innumerable insights that can be used to improve numerous processes of workflow operations. 
The purpose of all of this effort is to provide customers with a better customer experience, help reduce waste and inefficiencies where possible, and to cultivate a better brand perception among existing customers and throughout the market more generally. And when companies actually take the steps to engage with customers about products or service feedback and then implement changes based on that feedback, it shows customers that their voice and contributions are meaningful – thereby potentially improving customer loyalty levels and broader satisfaction rates. And in today's hypercompetitive marketplaces, what company wouldn't want more customers, more loyal customers, and higher levels of customer satisfaction? 
Types Of Customer Feedback
In order to make sense of the many types of feedback a business may receive from customers, it can be helpful to implement or utilize a categorization method. Some of the most common types of customer feedback are related to product feedback, customer experience, customer service, sales feedback, feature requests, and miscellaneous complaints or suggestions. While these categories may not be exhaustive, they can ensure that data is categorized correctly to ensure accurate and relevant analysis. 
When determining how to collect customer feedback efficiently and effectively, it can help to meet your customers at their preferred channel of engagement. If a significant portion of your customers utilizes your company website or app, your business might consider using those platforms to deploy a customer satisfaction survey. Customer feedback data can also be instrumental for businesses in determining how could customer feedback be used more effectively. 
While there are many types of customer feedback and some forms of feedback aren't necessarily as helpful as others, there are also several themes in customer feedback that can provide additional context for companies seeking to internalize feedback to improve services. Additionally, by implementing a customer data platform, companies can streamline and optimize their workflows while ensuring that departments have access to business analytics and other insights gleaned from customer feedback to improve decision-making. And when companies make better decisions, the company benefits, sure, but the customers are also beneficiaries because an organization is using their feedback to improve systems. 
Customer Feedback Examples
There are virtually as many ways to collect feedback as there are types of feedback, and many businesses – especially smaller businesses with fewer employees and resources – may struggle to identify the most effective way to collect helpful customer feedback. Or if data aggregation isn't particularly challenging for your organization, then the proper analysis may be a challenging hurdle. Regardless of the specifics involved in your business's situation, there are several ways to collect substantive feedback from customers.
Because of the value of customer feedback, many organizations are researching and developing better methods of how to improve customer feedback. Many of these efforts begin with developing new and better methods of data aggregation, which is the process of gathering and organizing customer and market data. There are numerous customer data platforms available from a variety of different providers. As data continues to become enmeshed with the way modern businesses seek to identify trends in the markets and customer behavior, more companies are striving to improve their data aggregation and processing capabilities – especially as it relates to gathering customer data and feedback. 
Positive feedback examples or examples of good customer feedback may involve praise about a product's usefulness or certain features that make it stand out against competitors. Good customer feedback can also let companies know what things they are doing well so they can preserve the positive aspects of daily operations while recalibrating to eliminate inefficiencies. 
Examples of customer reviews and other customer feedback examples can also provide information about ways to improve certain products or services. Even very negative customer feedback can still provide an opportunity to explore a new idea. And if your customer service representatives continually hear negative feedback about a specific product or service, the company might wish to evaluate and see if there are improvements that can be made quickly and affordably. 
How It Works
Gain a deeper level understanding of contact center conversations with AI solutions.
See a Preview
Aggregate
Pull customer interaction data across vendors, products, and services into a single source of truth.
Analyze
Collect quantitative and qualitative information to understand patterns and uncover opportunities.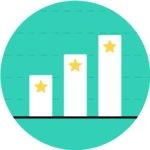 Activate
Confidently take action with insights that close the gap between your organization and your customers.
Strategic Questions To Ask Customers
Businesses may also simply reach out to customers by way of customer satisfaction surveys, but are companies really asking the right questions? And how can an organization tell if a question on their customer satisfaction survey form is going to provide valuable insight or not?
There are a variety of customer feedback questions businesses may choose to include in survey materials. Customer feedback form questions can be a great tool for businesses as long as you know the right questions to ask – but what are the right questions to ask?
Some general examples of decent questions businesses can ask customers on customer survey forms can include inquiries about how the customer might make improvements to existing products or services. For example, the survey might ask: "If you could make any changes to your favorite product in our lineup, what would you change?" In some cases, however, customers may not have time or the desire to respond to open-ended survey question prompts like this. In those instances, it helps to ask questions with multiple-choice answers.
There are a number of factors to consider when developing questions for a customer feedback form. For example, multiple-choice questions on customer satisfaction surveys can help provide insight into specific products and services. Internal customer service survey questions, on the other hand, may seek to glean information about how well customer services teams are responding to customer inquiries and/or concerns.
Examples of strategic questions to ask customers may include: "what is your preferred method of communication?" or "are you likely to recommend our products and services to a friend or family member?" These types of questions can provide information about customers' preferred channels and the likelihood that they will provide word-of-mouth advertising for your organization.
Customer Feedback Importance
While methods of obtaining customer feedback may vary broadly from one company to the next, the importance of feedback in business is – for many modern enterprises – invaluable. Customer loyalty can only last for so long without quality products and services. Organizations that seek to preserve the quality of their goods and customer engagement strategies know that their customers are one of the primary reasons they are in business. Of course, it makes sense to consult with the primary stakeholders involved in the business.
Customer feedback importance generally refers to how much an organization relies on data like customer feedback to make better-informed decisions when it comes to product design, marketing campaign strategies, and more. And for many organizations, customers represent the very lifeblood of operations, so the importance of customer feedback would be difficult to disregard. If your customers are willing to engage with your organization and provide answers to survey questions or general feedback, why not utilize that information to improve business operations?
Implementing customer data platforms is one of the best ways for organizations that use customer feedback to improve service. With an automated platform supported by artificial intelligence and machine learning, many companies can accomplish much more work with equal or fewer resources. Departments don't have to allocate resources or personnel to help cultivate additional data, and if your organization implements a centralized data platform then every department can have access to relevant customer and market data whenever necessary.