Do you know why patients keep calling?
Improve efficiencies, decrease volume, implement quicker employee onboarding, and deploy more effective communication with Authenticx for Contact Center Management.
Learn More
Improve your call metrics and their quality of care by blending regulations with human connection. Get answers about your script strategy.
"]
Moving from a transactional to patient-centric customer experience
A life sciences company wanted to bring a patient-centric approach to their contact center. Authenticx AI data insights helped drive decision-making, allowing them to meet their quality goal within 6 months.
Read the Customer Story
How Artificial Intelligence Is Transforming Contact Centers
Artificial intelligence (AI) is quickly becoming a common term in many industries, including contact centers so it is understandable industry leaders want to understand how artificial intelligence is transforming contact centers. AI works using computer systems that can perform automated tasks that typically require human intelligence. The development of AI includes teaching computer systems to work intuitively and employing adaptive qualities that allow systems to learn and make changes, understand, and make decisions simulating human intelligence. AI-powered contact center solutions include tools such as interactive voice response IVR systems and intelligent call routing. Other examples of the role of AI in customer service include chatbots and virtual assistants. AI-powered chatbots are capable of engaging with customers in real-time to answer frequently asked questions or provide essential support with the capability to route customers to live agents when necessary.
AI is a powerful tool in the contact center industry. Let's explore how artificial intelligence is transforming contact centers by enhancing agent and customer experience. AI-driven contact center transformation is implemented to increase efficiency through automation. Using AI to streamline the most frequent customer interactions with fast answers to repeated questions, guiding customers through an organization's system for booking appointments or making reservations, and routing customers to live agents as needed increases contact center efficiency. AI automation for repeated questions and processes also increases customer satisfaction by drastically reducing call wait times.
AI-driven contact center transformation significantly benefits businesses across industries and their customers in many ways. For example, offering 24/7 customer support is more feasible with AI automation in contact centers. AI-powered systems can provide immediate assistance all day, every day, ensuring customers are answered promptly after hours. AI technology boosts productivity by streamlining repetitive tasks and allowing live agents to focus on more complex tasks and customer issues. Another way AI is transforming contact centers and customer service is through AI-powered analytics. AI can collect and analyze massive amounts of data in real-time. Gathering data and performing analytics provide valuable insights into customer behavior and trends empowering businesses to make changes to improve customer experience and optimize operations.
Industries like healthcare also benefit from AI solutions. The benefits of AI in healthcare contact centers include improved operations for employees and healthcare administrators, enhanced electronic medical records solutions, customer relationship management, and real-time guidance and coaching for call center agents. AI solutions in healthcare also benefit patients with improved efficiency in rapid responses to frequently asked questions, scheduling and rescheduling appointments, and call routing.
Enhancing Customer Experience With AI
Artificial intelligence provides companies with tools for enhancing customer experience with AI through increased engagement, encouraging brand loyalty, and improving customer retention rates. AI does not replace human contact; however, the technology drastically increases efficiency, improving customer satisfaction. Across industries, customers today expect fast response times to questions, short call waiting times, and fast resolutions to issues. AI-driven healthcare customer service is taking a leading role in healthcare contact centers. Healthcare contact centers are improving patient satisfaction with AI through enhancing communication, reducing wait times, encouraging patient engagement, offering patient education, and timely and accessible information through AI-powered chatbots and virtual assistants.
In addition, AI greatly enhances patients' ability to schedule, cancel, or re-schedule appointments. Healthcare facilities are using AI for personalized healthcare customer interactions, from appointment scheduling to handling insurance claims. The advanced technology of AI is improving the personalization of these processes for patients by streamlining and simplifying access to patient information. The introduction of AI-powered healthcare customer service drastically improves healthcare customer service systems for healthcare providers and patients.
AI is a powerful tool for enhancing processes and customer service in the healthcare industry, but is there a place for AI chatbots in healthcare contact centers? A chatbot is an AI automation tool that simulates an intelligent conversation with a human user. Healthcare chatbots can use information about a patient's condition and insurance information to help with appointment scheduling. Chatbots provide patients with a more personalized way of interacting with healthcare facilities. For example, a chatbot is more directly connected to the healthcare facility as an alternative to browsing websites or communicating with a third-party such as an outsourced call center. In addition, customers today prefer immediate responses through chatbots instead of filling out online inquiry forms and waiting for replies.
How It Works
Gain a deeper level understanding of contact center conversations with AI solutions.
Learn More
Aggregate
Pull customer interaction data across vendors, products, and services into a single source of truth.
Analyze
Collect quantitative and qualitative information to understand patterns and uncover opportunities.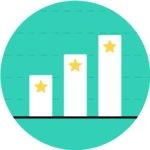 Activate
Confidently take action with insights that close the gap between your organization and your customers.
Automation And Efficiency In Contact Centers
Automation and efficiency in contact centers involve using software and technology to perform routine, repetitive, time-consuming tasks and processes. Automation significantly reduces or eliminates the need for human interaction, increasing efficiency, productivity, and employee satisfaction for call center agents. Relieving the burden of repetitive tasks from call center agents improves employee satisfaction and enhances customer satisfaction. AI is a powerful tool in call center automation processes. For example, streamlining contact center operations with AI may include call scheduling, customer interactions through chatbots and interactive voice response systems, sales and marketing automation, and virtual queuing.
How artificial intelligence is transforming contact centers is exemplified by AI-powered automation transforming healthcare customer service for patients and increasing efficiency and productivity for providers. One way this is evidenced is through intelligent routing and queuing with AI in healthcare. Intelligent routing uses AI-powered classification technology to gather customer inquiries and then apply rules to route calls to the best agent to meet their needs. Call center operation strategists aim to optimize customer and employee experience. Call center optimization is achieved using modern digital tools, including artificial intelligence and other technologies, to improve customer experience and boost employee satisfaction. Implementing AI in call centers is optimizing performance in many ways. AI analytics for contact center performance optimization is effective through in-depth analytics on call times, immediate resolution data, and more KPI data that can help spot trends and provide valuable insights to improve customer and employee satisfaction. Another significant way AI impacts call center operations is by lowering operating costs. Implementing AI solutions like chatbots, intelligent routing, and queuing can significantly decrease the cost per call for call centers across industries. Automation and efficiency in call centers are improved through the use of AI. When implementing AI, call centers experience enhanced call routing, can access real-time data analytics, improve the effectiveness of customer interactions, and equip agents with real-time coaching.
Data And Insights In Contact Centers
Data and insights in contact centers are more accessible through artificial intelligence. Data visibility is crucial for contact center management. Access to metrics regarding agent performance, call flow, and customer behavior is vital for making well-informed decisions and improving overall call center optimization. AI analytics in healthcare contact centers helps healthcare providers improve patient care through increased patient engagement and satisfaction and proactive healthcare management. Predictive analytics for healthcare contact center forecasting can be used to help identify high-risk patients or forecast the need for certain resources. Insurance companies are another healthcare industry area where predictive analytics can help better understand customer behavior and needs. For example, using AI to gain healthcare customer insights may involve predictive modeling surrounding patient behaviors like avoiding readmission, enhancing clinical decision support, and streamlining inventory management at healthcare facilities.
Predictive analytics is impacting the healthcare industry through data-driven insights that help healthcare organizations predict potential issues and anticipate the needs of patients. Also, predictive analytics can help identify health trends in a population quickly, helping healthcare professionals prepare to respond rapidly and effectively. Another way predictive analytics is impacting the healthcare industry is by assisting providers in predicting patient outcomes and allocating appropriate resources. AI predictive analytics can lead to improved quality of care and significant cost savings for healthcare providers and patients. In addition, through predictive analytics, healthcare providers are empowered to make better-informed treatment decisions and deliver more personalized treatment to meet individual needs.
Future Of Contact Centers With AI
The future of contact centers with AI involves chat bots, agent analytics, settlement analysis, request routing, customer journey management, transcriptions and call summary services, and many more valuable tools and techniques to optimize resources and productivity. AI trends in healthcare contact centers help reduce workloads for healthcare providers, produce faster diagnoses, and increase patient engagement and satisfaction. The role of AI in the future of customer service is transformative through increased personalized customer engagement, increased sales, reduced costs, and promotion of brand loyalty. Using data collection, analysis, and classification, AI-powered customer service can predict consumer behavior and categorize customers or patients into different groups based on the data collected.
AI is a powerful tool across industries, including healthcare. Harnessing AI for proactive patient support, AI can support improvement in patient care outcomes and significantly improve how patients engage with healthcare providers. In addition, using AI in the healthcare industry can increase the productivity and efficiency of patient care. Automation with AI in healthcare helps address many challenges in the healthcare industry, like scheduling, rescheduling, and canceling appointments, enhanced follow-up following healthcare procedures, and empowering patients to handle insurance claims promptly. AI can also improve healthcare by streamlining diagnoses, eliminating redundant healthcare tasks, managing medical records, and managing customer service chatbots. In healthcare, AI is also effective in areas outside of healthcare contact centers. For example, AI in healthcare is effective for early diagnosis and treatment. Healthcare providers can use data analytics to gather information to help reduce errors in diagnosis and create real-time health risk alerts.