Unfiltered feedback that's raw, honest, and renewable.
Tap into existing customer conversations to reveal qualitative feedback. This unfiltered, renewable source of insights accounts for every customer voice – even those who don't respond to surveys.
Start Listening
How Artificial Intelligence Is Changing the Way Healthcare Listens
Artificial intelligence is helping healthcare listen at scale. Understand how and why artificial intelligence is changing how healthcare improves customer experience.
Customer Intelligence Platforms
Customer intelligence platforms collect and analyze customer data from internal and external sources to provide insight into their needs, motivations, and behaviors. There are many different types of customer intelligence platforms, each of which utilizes various technologies to produce results.
Most of these platforms are AI-driven and rely on human-like tools and features to capture the customer's voice and obtain relevant data on the buying journey. This data can help make more informed business decisions to improve customer satisfaction, expand growth, and ultimately increase revenue.
Finding the right tools for customer intelligence is key to learning more about your customers and providing them with the products and services they're most interested in. Different tools are designed for different types of businesses, so you should consider your organizational needs when looking for tools or software.
Some tools, for example, are specifically designed for small companies and are easy to use and install. Others are made for capturing large volumes of complex data and compiling it into detailed reports. With the number of customer intelligence platforms on the market today, you should be able to find something well-suited to your business, regardless of your specific needs.
Viewing customer intelligence examples is a great way to learn more about some of the tools used in this process. These might include activity-based product recommendations, personalized communication, and geo-targeting based on environmental and other location-specific information.
Essentially, any tool that is designed to dig deeper into the customer journey, provide them with a more personalized shopping experience, and offer business insights to users could be considered a form of customer intelligence. Seeing how other organizations have incorporated these tools can be helpful when determining how to leverage them to your own advantage.
Customer Intelligence Tools
Customer intelligence tools allow users to analyze the customer experience from beginning to end. Many people mistakenly believe that businesses are only concerned with the driving factors behind purchases, but the customer journey starts much earlier than that. It is initiated when customers first hear about a brand or product and continues long after they have made their first purchase.
Companies are tasked with finding ways to reach customers at all stages of this process, from the initial phases of marketing to follow-up after purchase. By customizing the buying journey you can not only attract, but retain customers.
With the right customer intelligence software, you can do more with customer data and improve the way that customers interact with your products. This is crucial to achieving greater business growth and, eventually, expanding your product offerings to include items that are better tailored to what your target audience is looking for.
Different customer intelligence companies offer different types of tools, so it's worth exploring your options and seeing what's out there before you jump in and make any final decision on a solution. A customer intelligence tool example can also be useful when trying to understand how these tools actually work.
Authenticx is effective customer intelligence software because it can analyze customer conversations so that organizations can gain near real-time insights in one centralized platform.
Authenticx works by listening to and analyzing customer voices to identify trends in their behavior and figure out what roadblocks, if any, they're experiencing in their journey. Listening to the customer is especially important in healthcare, which is why Authenticx has built a platform to aggregate, analyze, and activate critical data.
You can organize customer interactions across channels to more easily understand which groups of customers are impacted by different aspects of the customer journey. This can help you to improve your business operations all around.
Customer Intelligence Analytics
Customer intelligence analytics help businesses to better understand their customers and uncover trends in the buying journey. There are many ways to obtain these analytics, but the most convenient way is through a customer intelligence platform.
Rather than having to pull data together by hand, the platform will automatically generate relevant insights based on customer interactions. These interactions typically take place over the phone, or through email or live chat. They are crucial to understanding the customer experience from the customer's point of view and finding ways to improve support.
The job of a customer intelligence analyst is to work with these analytics and determine what steps should be taken to improve business outcomes—both for the organization and for their customers.
A customer intelligence analytics business is a company that helps other organizations obtain customer insights and use that data to their advantage. Working with an analytics business, you can do more with the tools that are available to you, and even work with new solutions for monitoring customer interactions. Having a team of experts by your side is vital to understanding customer intelligence, especially if you're just getting started with the process.
Authenticx uses conversational intelligence to enhance customer support. By analyzing conversations on a deeper level, the platform helps users understand their customers' interests, preferences, and what they may be struggling with. They can then decide how to proceed with their marketing efforts and customer support; they can also use this information to decide how to create better product offerings in the future.
Very often, the best way to measure customer satisfaction is by hearing directly from customers, and platforms like Authenticx make it easy for businesses to analyze the customer voice from multiple angles in order to improve the way they manage support.
Customer Data Platform
A customer data platform provides the tools and software for businesses to manage customer data. These are generally built upon a customer data platform architecture, which is a type of framework for understanding and managing customer-related data.
Different companies use different architectures and frameworks, and so viewing customer data platform examples can be helpful when determining which framework is most compatible with your data and what kind of platform you should work with in regards to customer intelligence. You can also search for the top customer data platforms to see who some of the key players on the market are today.
When choosing between customer data platform vendors, you should also consider functionality. You should ideally look for a platform that's going to centralize data to the greatest extent possible while providing a robust suite of tools and features to manage the customer intelligence process.
Authenticx's customer data platform combines existing customer interactions across channels organized around needs, interests, sources, and categories. This enables users to easily find what they need when they need it so that they can focus their time on what's most important—improving the customer experience.
Related Resources
How It Works
Gain a deeper level understanding of contact center conversations with AI solutions.
See a Preview
Aggregate
Pull customer interaction data across vendors, products, and services into a single source of truth.
Analyze
Collect quantitative and qualitative information to understand patterns and uncover opportunities.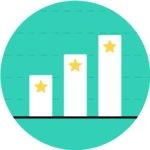 Activate
Confidently take action with insights that close the gap between your organization and your customers.
Customer Relationship Management
Customer relationship management is crucial to maintaining contact with customers and ensuring that they receive the support they need along their journey. A relationship intelligence platform can help you keep better track of customer data, and so it's a good idea to consider all of your options and look at the different platforms that are out there today.
As discussed previously, there are a wide range of solutions for customer intelligence and relationship management, and so you should think carefully about your most pressing needs in order to find the one that's right for your organization.
Predictive customer intelligence plays a crucial role in understanding the customer journey and uses statistics to determine future performance based on current and historical data. It's always helpful to guess what customers are about to do or say before they actually do it. That way, you can better prepare to meet their needs and help resolve whatever issues they're experiencing.
While predictive analytics aren't always indicative of how things will shake out in the future, they can be used to understand customer behavior in the near term and what businesses can do to serve customers where they are at the moment.
Customer Journey Software
Customer journey software allows businesses to understand the customer journey from multiple angles. You can look at the driving factors behind customer decision-making today, and get an idea of what they are likely to do in the future based on historical data.
A customer insights platform gathers data and makes it accessible to users so that they don't have to pull data from disparate systems in an attempt to make sense of it all. Customer journey software lays everything out in front of you and allows you to use that data in meaningful ways.
Browsing customer journey examples is a great way to learn more about this type of software and how it can be used to improve business outcomes across the board. As with any major purchase, it's important to consider your ultimate purpose for a platform like this.
What is your biggest challenge when handling the customer journey? What tools or features would be most useful to you? Authenticx is the best customer insight platform because it collects ongoing, real-time insights from all customer interactions. By bringing data together this way, Authenticx makes it easy for users to get a helpful overview of the customer journey and determine how to improve their business operations. With Authenticx you can analyze customer interactions to understand customers on a deeper level.