Your customers are talking. Are you listening?
Tap into existing customer conversations to reveal qualitative feedback. This unfiltered, renewable source of insights accounts for every customer voice – even those who don't respond to surveys.
Learn More
Actionable customer feedback without survey fatigue. See Authenticx in action:
When is the last time survey analytics gave actionable feedback?
Collecting data is only part of the equation. Begin listening and engaging with the story your patients are sharing.
See Authenticx in Action
Analytics to Improve Customer Experience
Many successful organizations, both large and small, know how important it can be to provide a seamless, painless customer experience – but precisely how does a business go about improving its customers' experiences? And how can a business know what is working and what is not working as it relates to customer satisfaction levels? More and more businesses these days are using methods of data collection in research and analytics to improve customer experience, but the process can be highly involved and complex.
There are many types of data collection methods, and more are being discovered and developed all the time. Data collection methods examples could include a customer satisfaction survey, for instance – or anything that measures, records, transcribes, or analyzes a customer interaction. Customer satisfaction surveys allow organizations to determine the types of questions that will be asked and how customers can respond to provide direct, first-party data for the company to analyze and use in the development of better customer experience initiatives moving forward.
Other data collection methods might include implementing social listening or leveraging your company's existing analytics and website cookies (web tracking). There are dozens of ways to collect valuable customer data, but it depends upon your organization's overall goals and objectives as to which data collection methods are better than others. It can be essential to gather a diverse array of data sets in order to put together a more comprehensive picture of your customer's experiences. Because of this, many companies try to develop multiple channels through which they can collect and analyze customer data.
Suppose your company's primary goal is to grow and expand its customer base. In that case, some of the most beneficial data collection methods are also some of the more straightforward approaches – customer surveys, customer interviews, focus groups, etc. Each of these methods can provide invaluable, in-depth data analytics. Interviews and focus groups are especially beneficial to businesses looking for data from different demographic groups. Other methods like online or website tracking, social media monitoring, and market analysis can yield much larger data sets that paint a broader image of customer behavior trends and other market trends.
As modern companies come to understand the value of their customer data, organizations with the resources may seek to unlock additional methods of data collection and aggregation so they can funnel that information to marketing teams and customer service teams to help improve the overall customer experience.
Best Customer Experience Examples
Companies using data to improve customer experience have to develop and maintain multiple channels of customer data in order to allow for more comprehensive analysis. B2B companies with the best customer experience platforms understand that customers are one of the most important pieces of their business model; when customers don't have a positive experience with one company, they will generally look elsewhere if they need a similar product or service in the future. Providing stellar customer service and ensuring that the customer has a positive experience is one of the best ways to foster customer loyalty and improve brand perception.
Some of the best customer experience examples can involve continual or consistent support, reasonable response times, and exceptional service etiquette. Additionally, more companies are devising ways to implement customer self-service capabilities to help reduce customer service queue times and provide an option for customers who would simply prefer to troubleshoot any issues on their own.
The top customer experience companies know how valuable customer loyalty can be. Indeed, one does not have to look far to observe examples of companies using data analytics to improve their customer engagement strategies. Even with modest growth in customer retention levels, businesses can often see a substantial increase in profit margins. And if your customers remain loyal to your organization, that likely means that they aren't being siphoned away from your competitors.
Companies that don't use data analytics, on the other hand, are missing innumerable opportunities to improve their customers' experiences and streamline overall operations. As for how many companies use data analytics, the list of companies using big data grows longer each day. As more companies come to rely on customer data to guide their marketing and product development decisions, the businesses that fail to listen to their customers will struggle to remain profitable and relevant in an increasingly competitive global market.
Customer Satisfaction
Why is the voice of the customer important? Without customers, many companies would simply cease to exist, and moreover, customer use case examples can provide invaluable insight into the customer's journey. Customer experience (CX) reporting and customer experience analytics use cases allow businesses to see what aspects of their customer engagement strategies are working effectively and which areas could be improved upon. Without a current assessment of a company's existing customer satisfaction data, it would be nearly impossible to develop a strategy to improve customer satisfaction or even measure how effective the new strategy was.
For these reasons and many others, numerous businesses today have developed extensive customer data aggregation initiatives with the goal of continually assessing and analyzing customers' reported experiences to make improvements and optimizations where possible. Improving customer loyalty and customer retention is not just good for long-term profit forecasts, but more thoroughly satisfied customers are also generally more likely to spend more money within your organization as well.
The voice of the customer analyst must be able to speak to customer satisfaction levels throughout the customer journey. Having an excellent lineup of high-quality products or services doesn't mean much if your customer service team isn't able to adequately address customer concerns, for instance. Companies must go to great lengths to ensure the seamlessness and painlessness of the customer journey from beginning to end.
Improving customer satisfaction can go a long way in terms of improving customer loyalty and brand perception. And as more companies develop better methods of accumulating first-party customer data, analytics will increasingly contribute to organizations' profitability and optimization initiatives. Companies without a robust enough platform to cultivate adequate customer data to improve customer satisfaction will have to grapple with how to compete when other businesses have invested heavily into their own customers' experiences and satisfaction levels.
How It Works
Gain a deeper level understanding of contact center conversations with AI solutions.
See a Preview
Aggregate
Pull customer interaction data across vendors, products, and services into a single source of truth.
Analyze
Collect quantitative and qualitative information to understand patterns and uncover opportunities.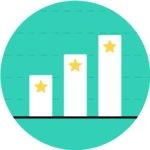 Activate
Confidently take action with insights that close the gap between your organization and your customers.
Customer Experience Platform
Some of the best CX companies and the best customer experience software providers understand that customer experience analytics tools can empower businesses to harvest data from customer interactions that can then be analyzed and utilized to help improve future customer interactions and marketing engagement strategies. As more amenities, services, and functionalities become available to customers, their expectations of companies and the services they provide will increase.
But what is customer experience management software, and how can it help companies improve their customer satisfaction metrics? And how can businesses know which customer experience platform is right for their company? Companies can invest in greater data aggregation techniques and empower their marketing and product development departments by using data to solve problems. Examples could include utilizing a customer experience tool to leverage greater insights from customer data to improve the customer experience.
Problems solved by data science only magically evaporate over time; they are usually solved by capable and dedicated teams with sufficient customer service tool experience and industry know-how. When companies invest in implementing or developing a capable customer experience platform, they are also investing in their longevity.
Why is Customer Experience Important?
Throughout this article, we have touched on many topics surrounding the customer experience and how companies can utilize customer experience data to improve operations, but why is customer experience important? The short answer is that customer experience data can tell businesses a great deal about the ways in which customers interact with your organization. A slightly longer answer is that customers who have a positive experience with your organization are generally more likely to come back for more products or services. If a customer's first experience with your business is mostly negative, what reason would they have to return to your business if others provide similar products or services at similar price points?
Customer experience data analytics can identify trends in customer behavior and provide deeper insight into how customers prefer to interact with a company. The more information or data an organization has, the better companies can understand where their customers are coming from and meet their customers' expectations. It also helps to have a customer support team with ample customer service experience.
Customer experience examples can involve any type of interaction a customer has with your organization, whether online or in real life – perhaps they see a billboard or an ad that resonates with them that leads them to your company website, or perhaps the customer calls a support line or engages with a live chatbot. All of these instances are examples of customer experiences.
B2B customer experience statistics can tell a company a lot about how customers interact with their products and services. And business problems solved by analytics examples might include improving overall decision-making, increasing sales, enhancing sustainability efforts, or implementing better data analytics customer experience initiatives. Data-driven customer experience solutions are becoming increasingly popular among global enterprises, and many smaller organizations are noticing the trend and implementing their own strategies as well.