Your customers are talking. Are you listening?
Get actionable insights from comprehensive and relevant customer feedback to build a customer-centric brand strategy.
See How Authenticx Helps
Authenticx analyzes customer conversations to surface recurring trends.
Identify Disruptions with Actionable Data Insights
Understand the member experience with comprehensive and relevant customer feedback through conversational data.
View Case Study
Data Analysis in Healthcare
Data analysis is the process by which companies analyze data to identify trends and patterns to drive smarter decision-making. By cleansing, organizing, and transforming data, companies can do more with the resources that are available to them and ultimately boost revenue. Data analysis in healthcare is particularly important. But what is healthcare analytics? Healthcare analytics refers to the analysis activities performed on healthcare-related data. This is often done with the purpose of furthering pharmaceutical and research data; understanding patient needs and behavior, and understanding clinical data.
The importance of data analytics in healthcare truly cannot be overstated. Taking the time to analyze data can yield actionable insights for improving care. This is vital to creating a positive experience for patients and meeting their needs in the most effective way possible. If you are new to the field, an introduction to healthcare data analytics course can be helpful for understanding healthcare analytics on a deeper level. By completing a healthcare data analytics certification program, you can equip yourself with the tools you need to succeed in healthcare analytics. This will allow you to get more out of your data and use that data in the most efficient way possible.
Big data can be especially helpful in healthcare. These data sets are too complex to be handled by standard data processing tools but can reveal a plethora of valuable insights when managed correctly. The benefits of big data in healthcare—and the benefits of data analytics in healthcare in general—include cost reduction, more accurate treatments, and personalized care. There are many ways that healthcare companies can use big data to their advantage, so it's important that these organizations take the time to understand different types of data and determine how to extract meaningful insights from that data.
Authenticx's solution was built from healthcare for healthcare, listening to and analyzing voices to identify key trends that are impacting the customer journey. With Authenticx, you can dig deeper into your data and extract key information that can be used to inform decision-making. Offering an immersive blend of both quantitative and qualitative insights, Authenticx categorizes existing data to help structure it so that users can more easily share it with others in their organizations. The platform accounts for each unique voice in your patient population and can provide you with a helpful overview of what your customers are experiencing as a whole when working with your organization.
Healthcare Data Analytics Programs
Those that are new to analytics can benefit from participating in a healthcare data analytics certificate program. By engaging in a public health data analysis course or data analysis in healthcare course, you can learn more about healthcare analytics and obtain official certification demonstrating your competence in the area. This can serve as a great segue into analytics in general, helping you to get a broad overview of the topic before you delve into specifics within your own organization.
There are many different healthcare data analytics programs that you can enroll in, so no matter your specific needs, you should be able to find something that fits your schedule and budget. You might consider participating in a healthcare analytics course online if you are looking for greater freedom and flexibility in how you complete coursework. For this reason, healthcare data analytics certification online programs may be especially beneficial for learners that work or attend regular school during the day. Rather than having to meet for class at a certain time or place, you can log onto the platform when it's most convenient for you and work through course material at your own pace.
Once you've received your healthcare analytics certificate, you can get to work implementing your acquired skills in your own business. Certification programs prepare learners to get the most out of their data, so it's important to look for any and all ways to improve your business operations using the tools and techniques that are available to you. You might even look into group learning programs if you intend on getting your whole team on board. You can ensure greater success throughout your organization by having your entire team obtain certification.
Data Analytics in Healthcare Examples
Viewing examples of data analytics in healthcare is a great way to learn more about data and how it can be used to improve the patient experience. Healthcare data examples range from basic medical records to biometrics and behavioral data, all of which are incredibly valuable to healthcare providers and researchers alike. By browsing data analytics in healthcare examples, you can get a better understanding of how different healthcare organizations use data to drive better decision-making. They can serve as a template for how to pattern your own data management strategy.
You might look specifically at big data analytics in healthcare examples to see how those in the healthcare space are using big data to their advantage. For instance, big data is currently being used to predict staffing needs and improve patient engagement. It also assists with electronic health records, allowing providers to dig deeper into patient demographics, medical history, and more. Likewise, you can view examples of small data in healthcare to see how data is being used on a smaller level. This kind of data can be particularly helpful for tracking things like patient appointments. It allows providers to understand the patient experience on a more personal level.
Business analytics in healthcare can be used in a number of different ways, so it's important to outline your specific needs and organizational goals to determine how to use them most effectively. There are special tools and software platforms that can help simplify the data analysis process. Authenticx is one such platform that enables users to extract more meaningful insights from their data. Instead of trying to manage everything by hand, you can take advantage of specialized software that is designed to help users understand the customer's voice and make meaningful changes to meet patients where they are.
How It Works
Gain a deeper level understanding of contact center conversations with AI solutions.
Learn More
Aggregate
Pull customer interaction data across vendors, products, and services into a single source of truth.
Analyze
Collect quantitative and qualitative information to understand patterns and uncover opportunities.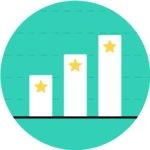 Activate
Confidently take action with insights that close the gap between your organization and your customers.
What is Healthcare Data
So what is healthcare data, and what is the role of data analytics in healthcare? Healthcare data refers to any data used in healthcare. This ranges from patient health records to more specific data on patient needs, such as the number of times they visit the ER. Data analytics plays an important role in healthcare, as it allows providers to understand patients on a deeper level. They can get a general feel for their overall experience and work towards creating a better experience for those they work with. There are different types of healthcare analytics, each of which serve a critical purpose in improving the patient experience. Knowing how to manage analytics is crucial to extracting relevant insights and using those insights effectively.
So what are the major benefits of data analytics in the healthcare supply chain? The biggest benefit is that analytics help speed up the production of life-saving devices and medications. By analyzing data on a deep level, the healthcare industry can better understand the patient experience and what patients need most in today's world. To truly understand the impact of data analytics in healthcare, however, you need to view examples of analytics in action. Take note of what healthcare companies are doing to manage and make use of their data. When and where possible, try to incorporate similar strategies into your own business, as this will not only enable you to better serve patients but improve operations all around.
Healthcare Industry
The healthcare industry is undergoing a drastic transformation. Providers are increasingly realizing the importance of the patient journey, and this most often involves digging into data to identify common trends and using those insights to enact change. Health data analysis allows healthcare institutions to understand patients on a more holistic level, seeing what's working well for them and what could be improved.
There are many different types of healthcare analytics and ways that businesses can use data to achieve key objectives. Studying data science in healthcare and reading some of the latest, most relevant case studies can be helpful for those that are trying to learn more about analytics as it relates to the healthcare industry. This can help you to develop a solid strategy for managing data and using that data to hit key targets related to the patient experience.
Descriptive analytics in healthcare provides users with insights based on historical patient data. By relying on past data, you can more accurately predict what might happen in the future. This is vital to improving the patient experience and truly understanding their needs. While speaking with each patient on an individual level can allow you to provide personalized care, getting a clear picture of patient needs overall is key to making critical changes at the organizational level. Data analytics in healthcare is all about helping providers and researchers serve patients more effectively, develop products and services to meet their needs, and engage them in a way that matters. By taking the time to analyze their data, those in the healthcare space can put their businesses in a better position to meet the needs of the modern patient.