Are you listening to what your customers are saying?
Existing customer conversations to reveal qualitative feedback through an unfiltered, renewable source of insights. Account for every customer voice – even those who don't respond to surveys.
Learn More
Actionable customer feedback without survey fatigue. See Authenticx in action:
"]
Simplify the patient experience amidst complex sitatuions.
Uncover actionable insights and training opportunities. Receive real-time training on how to better respond to patients and maintain a strong patient experience amidst complexity.
Read the Case Study
Intelligent Triage
Every year in the U.S., more than a billion customer interactions take place across the healthcare industry. But even with the advent of advanced technology in healthcare like telehealth and chatbots to streamline and speed up processes, patients, and payers still find themselves stuck in a seemingly-neverending customer service loop between their health facility and their insurance company.
Modern health systems continue to grow quickly and become more complex, and the digital tools needed to support them have a hard time keeping pace. Tracking patient experiences with artificial intelligence and digital tools can will help uncover recurring issues for patients and payers. Yet, the industry is still overly reliant on surveys, which can't provide data on customer perceptions and behavior in real time, making quick and accurate triaging difficult.
Speed, accuracy, and empathetic customer experiences are possible when using digital tools supported by listening and analyzing customer conversations which are seamlessly integrated across all communication platforms. Instead of resolving requests day in and day out around issues like product delivery, tech glitches on web portals, and billing, human-centered systems optimize what patients and payers are saying and requesting at scale. Customer knowledge insights can help power tools like intelligent triage, which helps save time and resources for the healthcare system, and keeps patients and payers healthier and happier.
Read on to learn how intelligent triage can mend the broken loop between payers, providers, and pharma.
What is Intelligent Triage?
Intelligent triage is an automated process designed to quickly and accurately assess the individual needs of patients using artificial intelligence (AI). At a hospital, predictive triage helps provide speedier, more accurate decision support about what care a patient needs next, based on the insights from millions of aggregated patient experiences over time.
Customer care providers in healthcare can also use intelligent triage to analyze and automate personalized responses to patient inquiries. Predictive triage tools can answer general questions and more specific ones like 'Which healthcare providers are covered by my insurance and are close to my house?'
Decision support triage tools like these can powerfully reduce the number of issues and questions that staff needs to answer using predictive triage to better prioritize requests.
The History of Intelligent Triage
The concept of intelligent triage for customer service in healthcare has been around for a few years, but the technology to support it has only become more widely available recently. Intelligent triage systems emanate from the manual, decision-support triage systems used in medical settings to help healthcare professionals determine the urgency, severity, and type of treatments that are required to keep the patient's health from worsening.
Artificial intelligence can now power more automated, predictive triage processes to ease the many administrative strains on the healthcare system.
Significance of Intelligent Triage in Healthcare
In healthcare, the significance of these new, predictive triage tools has the potential to transform the quality of customer service in modern healthcare systems.
How? With a better understanding of patient and payer experiences as a whole, facilities, and insurers can use intelligent triage systems to make decisions despite uncertainty, subjective descriptions of issues, and gaps in data, in order to provide better customer support. When it's clear where patients and payers are confused or stuck in the healthcare system, trying to get care or customer support, customer service departments can proactively work to more clearly communicate aspects of the system that are relevant to the person's requests in order to move forward.
A large healthcare system used Authenticx, a conversational intelligence platform, to listen to customer conversations and learn about common bottlenecks, so it could improve customer service on their busy call line. Using insights from their previously unused conversational data, they were able to lessen call volumes by providing clearer information upfront on billing statements and using an intelligent triage management system to provide more automated services. This contributed to a 12% decline in patient calls around billing statement confusion, saving the system $250K.
Dealing with patient and customer issues efficiently using better processes and personalized care can help your organization stand apart.
How Does Intelligent Triage Work?
Intelligent triage uses AI and automation to address bottlenecks in the healthcare system by smarter routing. Quicker identification of a patient or payer's requests allows organizations to speedily deploy a customized workflow through automated communications – or forwarding the conversation to the most knowledgeable person available. This streamlined approach behind-the-scenes provides more personalized responses for customers more quickly.
Organizations benefit by only using their most relevant resources and saving money with bespoke, targeted resolutions. In some instances when patients or payers have particularly complicated issues or customer experiences, intelligent triaging can identify that this patient should be handled by a single person rather than the first agent available to answer their call.
Some aspects of predictive triaging that providers and pharma find helpful are:
Triage Protocols are predetermined steps to follow based on the type and urgency of the patient's issue. Triage protocols speed up the experience for patients or payers by detailing backend tasks that are informed by similar situations.
Triage Assessment leverages insights from patient conversations by autoscoring queries and issues. This allows clinicians, call center agents and analysts to quickly and accurately assess their needs in order to make decisions about the next and best course of action.
Triage Workflows allow healthcare professionals and insurance companies to easily manage and track patient issues. Standard triage workflows ensure that all necessary steps are taken.
Triage Optimization shows how predictive analytics can improve the functionality of triage by quickly and accurately identifying areas of improvement. Crucially, making changes that are informed by customer data ensures that patient experiences are as efficient and effective as possible.
The Role of Intelligent Triage in Decision Making
When triaging in healthcare, every decision point is more accurate when it's supported by the knowledge of similar cases.
In practice, intelligent triage decision-making tools were imperative during the response to the COVID-19 outbreak. At times during the pandemic, hospital space and staffing were severely low in many facilities. To meet the urgent need for patient care, clinicians designed an algorithm to quickly improve the intelligent triage decision-making abilities of overworked clinicians and administrators. This algorithm mimicked the cognitive triage systems using triage analytics to automate many of the generally accepted ways and manual methods that clinicians used to diagnose patients. With this tool, clinicians could more quickly identify which patients had a high risk of experiencing respiratory failure in the next two days and who would need ventilator support.
How It Works
Gain a deeper level understanding of contact center conversations with AI solutions.
See a Preview
Aggregate
Pull customer interaction data across vendors, products, and services into a single source of truth.
Analyze
Collect quantitative and qualitative information to understand patterns and uncover opportunities.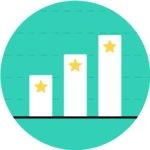 Activate
Confidently take action with insights that close the gap between your organization and your customers.
Machine Learning-Based Triage Systems
Opportunities for better customer experiences based on data have been stored and ignored for too long – partially because human conversations are complex. Here's a glimpse into how smart triaging is supported by machine learning:
Smart triage systems use machines that 'learn' by combing through overwhelming, messy, and siloed customer data.
Data that was previously 'dark,' and unusable due to privacy laws is processed to de-identify personal information, combining data into an aggregate.
Using algorithms such as sentiment analysis, that are based on information gained through machine learning, computers can better understand spoken and written human language. Then, triage decision-making categorizes customers by their attitudes – positive, negative, or neutral.
Decision tree algorithms create a tree-like display of protocol based on customer categorizations which power automated decision-making about how to handle each interaction.
Aggregated datasets that are stitched together using machine learning help identify regular feedback loops, or recurring instances, in a customer experience. These patterns help uncover the needle in the proverbial haystacks of information that organizations can use to optimize their processes and inform needs for training.
In short, customer satisfaction is heavily improved by the use of artificial intelligence triage systems.
Triage Tools
Triage management tools in healthcare can take on a variety of use cases that tell patients where to go next or what to do. Digital triage tools can help:
Support clinicians to make more informed decisions
Improve patient and payer interactions for non-clinical staff
Patients understand what steps they need to take without contacting external sources
Intelligent triage solutions can take the form of digital tools such as software applications and mobile devices. For instance, clinicians can triage patients based on their symptoms – like dermatology triage management apps – that ask patients to photograph their symptoms and submit their pictures on the app. Using photographs and specific questions, the app can instruct whether the person needs to see a physician or instead simply buy over-the-counter medications. Similarly, a web-based triage system available to people in the Netherlands acted as a gatekeeper for patient care. It referred 85% of people to doctors, whereas the other 15% received fully automated advice for self-treatment that was specific to their problems.
However, for improved service for patients and payers, triage solutions must be rooted in service, like Smart Predict™. The platform generates nuanced, accurate insights using machine learning on dark datasets. The data is harnessed and integrated into intelligent triage systems to remove bottlenecks in customer service performance while handling immense data inputs that continue to grow in size and complexity.
Intelligent triage tools have the ability to transform under-resourced healthcare systems – and the experiences of patients and payers within them.
Watch this two-minute video to see how Authenticx analyzes customer conversations to benefit your intelligent triage system.